Sat., Aug. 27, 2016
If sports was asked to write a "what I did in the summer" essay, what would it come up with?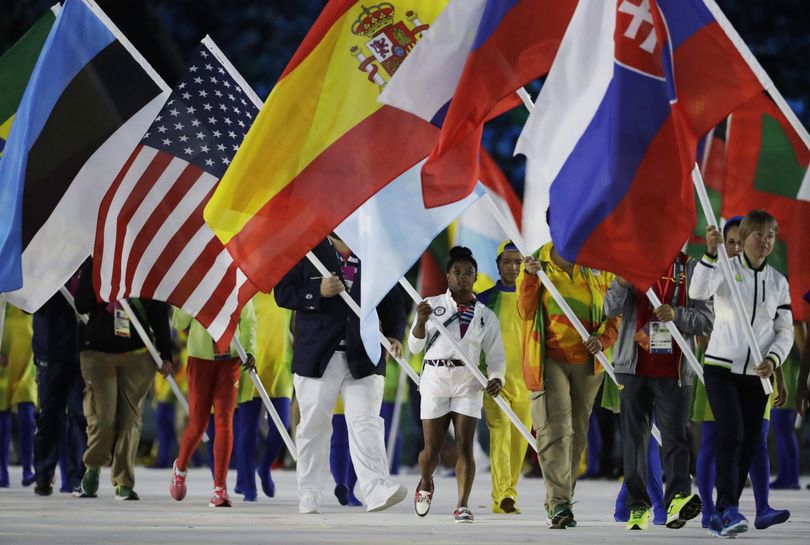 A GRIP ON SPORTS • Walked through one of the big box stores the other day. The back-to-school supplies had been picked over like last Thanksgiving's turkey. We have to admit it is time to turn the page on summer. So where did it go? Read on.
••••••••••
• We are speaking metaphorically, of course. Summer doesn't "go" anywhere. But the essence of the best time of year has a tendency to float away on wings fueled by sporting events. Baseball games, golf rounds, Olympics. They all were in abundance in the summer of 2016. The Mariners have actually won a few games since spring training, enough to be in the thick of the wild-card race. That's been fun. Golf's majors this summer showed us once again how important it is for the sport to have one dominant player, an Arnold Palmer, a Jack Nicklaus, a Tiger Woods. The majors were fine, it's just not the same must-see-TV without that dominant guy. And the Olympics filled up much of this month with sports you rarely see on television – how many of you have watched team handball or modern pentathlon since the last Games? – except every four years from some dressed-for-television city. Other than that, summer was filled with long walks, lazy days and lots of warm nights spent under a backyard tree. And a lot of gyms. That's just me, of course. Results vary for others. There were some days I wished summer would go on forever, like some weirdly comforting Twilight Zone episode. And other days? I couldn't wait for football season to get here, if only to change the landscape. Well, it's here. Baseball is still going on, of course, but now we can sit down at night and turn on a football game – well, this week, at least we can turn on Hard Knocks – and enjoy what the sport has to offer. Last night, if you wanted, you could actually have sat outdoors and watched a high school game. Next week the same offer applies to college games. The week after that, the NFL takes over. We're ready. Wistful, sure, but ready.
•••
• WSU: Will Shalom Luani be playing when the Cougars open a week from today by hosting Eastern Washington? Jacob Thorpe's story today tells us the safety's case is still being investigated by the Pullman Police. ... Missed this the other day but Sports Illustrated has this feature on Luke Falk. ... The WSU women's soccer team feels it can compete with anyone in the nation. Jim Allen previews the season for all of the areas' teams. ... The volleyball team upset one top 25 team yesterday but fell to another. ... Around the Pac-12 in football, the season began today – it's a time zone thing – in Australia, with California defeating Hawaii 51-31. The Bear defense, as everyone expected, has some holes. Transfer quarterback Davis Webb, however, will be just fine. ... So will Utah and its quarterback. ... The WSU flag showed up in Sydney. What, you expected anything else? ... ESPN.com's Pac-12 blog has its weekly mailbag and a preview of the Cougars' season. One note: The EWU quarterback listed in the preview is now a backup. ... How will Washington's season turn out? ... Rich Rodriguez's staff does a nice job recruiting to Tucson. ... With all due respect to Alabama, "Tusk" is USC's song. ... Oregon has found its starting quarterback and possibly lost a defensive lineman to a police matter. ... Colorado is happy with its offensive line. ... UCLA has to find a way to neutralize Texas A&M's best pass rusher. ... The Sun Devils are getting healthier.
• EWU: With the opener in Pullman a week away, Eastern held a scrimmage yesterday morning highlighting the backups. Jim Allen was there and has this story. He also has another one on the Eagles' prep for WSU.
• Indians: Spokane's slide continued with a 7-3 loss to visiting Tri-City. Josh Horton was at Avista Stadium and has this game story. He also posted a notebook on the blog yesterday. ... Everett has already clinched the North's second-half playoff spot, so the AquaSox and the Indians will meet in the playoffs. ... Eugene picked up a win and stayed atop the South standings.
• Preps: As we said, high school football began last night in Idaho, with Bryce Erickson's debut for Lake City not what he wanted. Greg Lee has the story of the 48-7 loss to visiting Madison.
• Mariners: The White Sox held an Elvis Presley tribute night, so it's no wonder the King, Felix Hernandez, came up big. Hernandez pitched into the eighth and handed off to Edwin Diaz, who finished up a 3-1 win over Chris Sale and Chicago. ... Kyle Seager hopes to play today.
• Seahawks: Cuts have to be made by Tuesday, so who helped themselves on Thursday night and took a big step toward making the 53-man roster? ... Jimmy Graham is going to be on the roster as soon as he's healthy.
• Sounders: Though the Sounders travel to Portland on Sunday for another showdown with the rival Timbers, their thoughts right now are on Clint Dempsey. He will miss the game as doctors try to find out what's behind an irregular heartbeat. ... Real Salt Lake still has Colorado's number at home.
•••
• Football season always sneaks up on me. I don't know how that is actually possible, but it does. Until later ...
---
---