Mon., Aug. 29, 2016
The last week has brought a lot of Mariner fans back to reality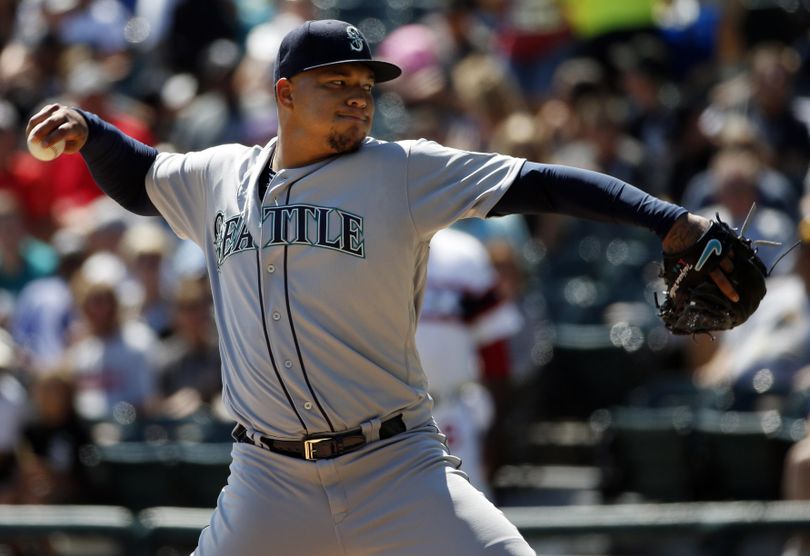 A GRIP ON SPORTS • The thud you heard yesterday afternoon may just have been Mariner fans coming back to earth. After a season of exceeding expectations – and outplaying their roster – the M's lost three of four in Chicago and saw their wild-card hopes seemingly disappear. Read on.
••••••••••
• OK, that's a bit of an exaggeration. The M's have just as good a chance to win a wild-card spot as, I don't know, six other teams. And that's the problem. Too many teams in contention. Look, either Boston or Baltimore or Toronto is going to win the American League East. The other two – right now Boston and Baltimore – are going to contend for one wild-card spot. Sure, they'll beat each other up but as the final 30 or so games wind down, there is little chance two of the three completely collapse. They are too good for that. That basically leaves one spot open for six teams, including the Mariners. Going into a three-game series at A.L. West-leading Texas, which starts tonight, the M's are three games behind Baltimore for the final postseason spot. That's not a big deal. Three games can be made up in, well, three days, if everything breaks right. But the problem is, there are also four other teams within three games of Baltimore. One of them is the defending world champion Kansas City Royals, finally healthy and playing like the team we've seen in the World Series the last two years. Detroit is also ahead of the M's, with the Yankees a half-game back. All those teams' fates are in others hands. See, down the stretch, the M's play only A.L. West teams – and the yin and yang of the American League. The two out-of-division opponents are Toronto, by record the best team in the league, and Minnesota, the worst. The Blue Jays come to Seattle, the M's head to Minneapolis. The Mariners also have six games with the Astros remaining, another of the five teams close but currently out of the wild-card race. Seattle and Houston are 68-62 today, but the M's got to that record by losing five of their last six and seven of nine. Houston, on the other hand, has won seven of its last 10 games. There is still time for the M's to turn it around, of course, but is there the talent? The lineup, one of three pillars of the stool Seattle has been standing on all season, has gone into a funk just when its needed the most. In four of their recent five losses, the M's have scored five total runs. In the other, they put six up – only to see a bullpen that's been holding up the stool all season, break under the weight. The other leg, the starting pitching, has been alternately OK and splintered all season. Felix Hernandez missed more than a month. Taijuan Walker, who pitched just fine yesterday, and James Paxton, have been their usual rollercoaster selves. Hisashi Iwakuma has been solid. The rest of the rotation has been a combination of Wades and Nathans and not-too-good guys. Right now the pitching – starting and relieving – is tired. And, so it has seemed the past week, are the bats. But if there is anything that should give the M's energy, it's a pennant race. Starting tonight in steamy Arlington, Texas, the M's have 32 games remaining. They need to win at least 20 of them to ensure a postseason berth, and even that might not be enough. After 130 games, Seattle is six games over .500. A fine record, if mediocrity is your goal. But with two-thirds of the American League still in the postseason hunt, mediocre play isn't going to get the M's to the promised land. Only an exceptional stretch run will do that. Do they have it in them? The last week seems to indicate they don't. Which means this season, like everyone since 2001, will end with a big old belly flop. That's not the type of splash the M's and their fans wanted.
•••
• WSU: Jacob Thorpe put up his Saturday post-practice video of Mike Leach a little later than usual, as it showed up on the blog after our Sunday morning post was finished. ... Around the rest of the Pac-12 heading into the first crowded game week of 2016, questions abound. ... California already has played and it was a fine time. ... Washington begins by hosting underdog Rutgers. The Huskies are pretty well thought of before the season starts. ... Arizona still hasn't decided who will start at quarterback against BYU. ... UC Davis helped put Oregon on the football map. ... It's been a long time since USC was true national title contenders. ... Utah opens with a Big Sky school that hopes to emulate Portland State. ... Arizona State is breaking in a new offensive line. ... UCLA has a strength coach. A mental-strength coach. ... You never know what the right position might be until you find it.
• Gonzaga: For the first time in school history, Gonzaga's women's soccer team earned a win over Washington State. It happened last night in Spokane by a 1-0 score. The teams have met 25 times.
• Chiefs: Spokane held its annual intrasquad battle yesterday, the Red-White game and it was the veterans who won. Tom Clouse was in the Arena and has this story. And Jesse Tinsley has a photo report. ... Everett also held a public scrimmage yesterday.
• Indians: The second half of the season can't seem to end quick enough for the Indians, who lost their 10th consecutive game yesterday. Tri-City swept the series with an 11-inning, 3-2 win over Spokane. Josh Horton has the story. ... Next up for Spokane is Hillsboro, which beat Boise yesterday and clinched a playoff spot in the South. ... The Hops will meet Eugene, which set a franchise record with its Sunday win. ... Everett lost just its eighth game of the second half.
• Mariners: We covered at the start the ramifications of Sunday's 4-1 loss to the White Sox. ... It's been a year since the M's made a change in the front office.
• Seahawks: Cliff Avril is surprised some Dallas fans are mad at him. He made the hit that broke a bone in Tony Romo's back. A football play? Sure. That's why Avril is surprised. ... No one is surprised Colin Kaepernick's national anthem sit-in is creating a firestorm and no one will be surprised Michael Bennett is backing Kaepernick's right to protest. ... And there is no surprise here either. The offensive line is still in a state of flux as the first cuts loom. ... There are some injuries to deal with, as always.
• Sounders: The Portland Timbers surprised a Clint Dempsey-less Seattle with four first-half goals and cruised to a 4-2 rivalry win.
•••
• Want to know what I'm surprised about? The M's have been in the race this long. It's made the summer a bit more interesting, that's for sure. Maybe they'll win this series in Texas and come home ready to make September one to remember. One can only hope. Until later ...
---
---