Mon., Feb. 1, 2016
A look at Idaho, EWU in race for Big Sky tourney bye
As many as seven teams are bundled in position to grab what is likely two available spots in the Big Sky Conference's top four, garnering a bye into the quarterfinals of the Big Sky's 12-team tournament in Reno, Nevada.
The Pacific Northwest will be heavily involved.
At the half-way mark of the conference schedule Idaho, Eastern Washington and Idaho State are all in contention for one of the final two spots to receive a first-round bye, assuming Montana and Weber State maintain position as the top two squads.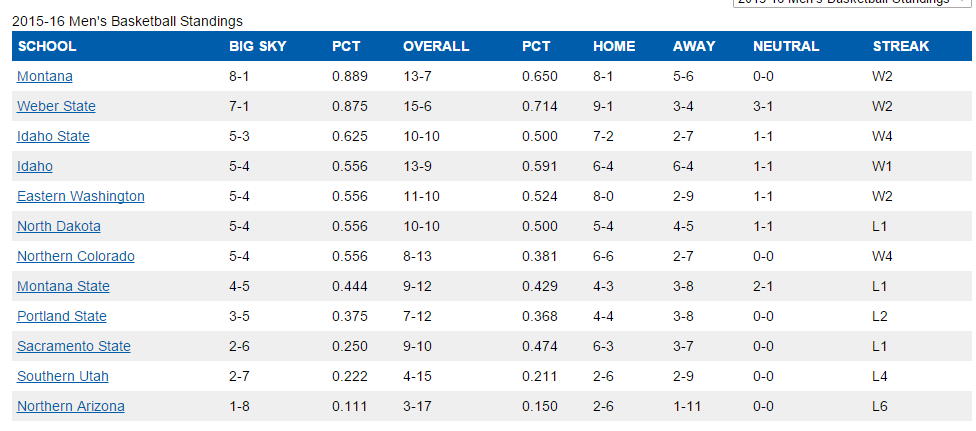 The surprise squad is Idaho State. The Bengals began the season 4-10 against Division I schools, but have reeled off four straight wins in conference play. Idaho State is 4-1 in Big Sky play at home, including a 69-68 upset win over Weber State in Pocatello.
Eastern Washington has recovered from being swept in its opening road trip of the season, winning five of its last seven. The Eagles are 5-0 at home and 0-4 away from Cheney in Big Sky play. A trip to bottom-of-the-standings Southern Utah and Northern Arizona is forthcoming for the reigning Big Sky Tournament champions.
And then there's Idaho. The Vandals have split their last six contests without starting point guard Perrion Callandret and Saturday won for the first time in three tries without leading scorer Victor Sanders. The Vandals beat Portland State 56-55 Saturday night to stay above .500 in Big Sky play.
- - - - - - - -
Whether Idaho can stay in contention for a top-four spot depends on how quickly Callandret and Sanders can return. Callandret is out for at least two more games. Sanders' recovery will take three to seven weeks on his broken right hand, which occurred on Jan. 22.
Idaho faces the Southern Utah and Northern Arizona road trip, two teams with three conferences between them. Idaho defeated Northern Arizona then fell to Southern Utah in double overtime after Victor Sanders fouled out, giving Idaho a three-minute window into what life was going to be like without the sophomore standout.
I would say Idaho needs to sweep this road stint to have a realistic shot at the top four, but the schedule isn't particularly difficult the rest of the way considering Montana doesn't make a return trip to Idaho, while Eastern Washington and Weber State play the Vandals in Moscow.
- - - - - -
KenPom look
The Vandals are ranked No. 5 in the Big Sky in KenPom at No. 226. North Dakota jumped to fourth at No. 217, while Eastern Washington is now third in the Sky at No. 197.
KenPom projects Eastern Washington to finish third with an 11-7 conference record and Idaho to finish fourth in a tie-breaker over North Dakota via the season sweep with a 10-8 conference record.
Although, these projections and data don't take into account Idaho's injuries. Idaho is a 70-percent favorite to beat Southern Utah on Thursday and 71-percent favorite to beat the Lumberjacks in Flagstaff. Those odds should be closer to 50 percent without Sanders and Callandret.

Here is how KenPom's data expects the race for fourth to play out.
3 - Eastern Washington, 11-7
4t - Idaho, 10-8
4t - North Dakota, 10-8
6 - Idaho State, 9-9
7t - Portland State, 8-10
7t - Montana State, 8-10
7t - Northern Colorado, 8-10
---
---