Thu., Feb. 4, 2016
It really isn't about the games as it's about the life lessons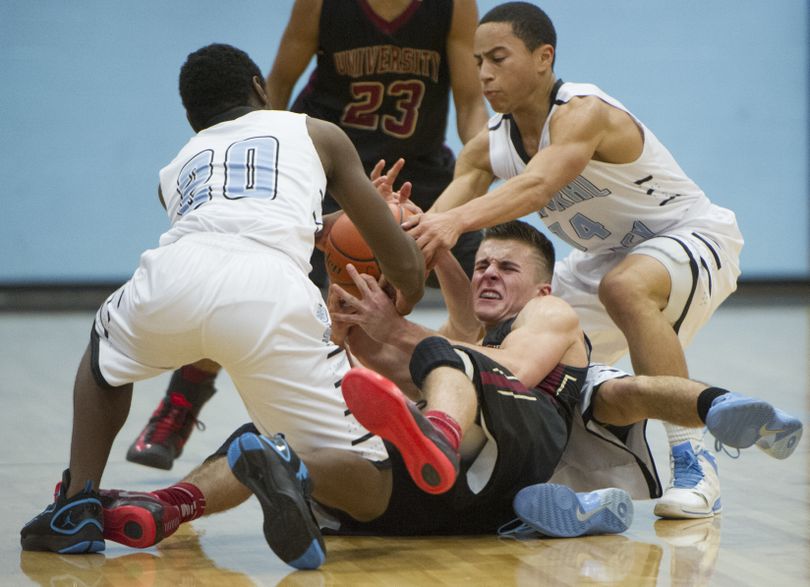 A GRIP ON SPORTS • Sometimes sports is instructive, sometimes destructive. Eli Emerson has turned what could have been the latter into the former. Read on.
••••••••••
• There is a story in today's paper you shouldn't miss. It's Greg Lee's feature on Central Valley High basketball player Eli Emerson. Why? Because it is a great read about a great subject, a kid who loved a game, had it pulled away from him and had it given back. It's a redemption story but not in the usual way. See, Eli Emerson didn't lose basketball because of something he did but because of something he couldn't control – a heart that was, in a sense, too big and strong. Greg explains all that in his piece, but I want to share a story behind the story. It all began four years ago. As some of you might know, since retiring from the S-R I have coached summer AAU basketball with Eastern Washington Elite, the long-time boys club that is affiliated with Hoopfest. I was asked to expand the program by coaching a U14 group, eighth-graders who would be moving on to high school after the summer. It's a transition time in their lives and I felt honored to be able to assist them – still do. That first year at the Fitz Camp, AAU's spring instructional clinic where we put together the team, we had made seven choices but was still looking for the eighth. We had plenty of guards – Max McCullough, who was headed to Post Falls, G-Prep's Logan Adams, Adam Thompson from Lewis and Clark and West Valley's Daniel Wee – and were really looking for another big to compliment the three we had, including WV's Brennen Folkins and Connor Verret of Mt. Spokane. But this little, left-handed guard kept catching my eye. Mainly because no one was working harder. Not just in the games, which is the fun component of any basketball camp, but in the drills. Now, those aren't always fun. But they are where players get better. And Eli Emerson attacked each one. No one in West Valley's gym that weekend worked with more focus. Or (pardon the allusion here, but it's true) played with more heart. And so, when it came down to the last spot, I wanted Eli. It is still the best choice I've made as a coach. He and Max were the team's point guards. And they were great compliments to each other. Max was fire. Quick, explosive, a great passer who could also score. Eli was iron. Strong, unbending, foundational. Summer basketball is different than local AAU or high school hoop. This group traveled up and down the West Coast, playing the best their age group had to offer (and, in a couple tournaments, the age group above). They played kids who saw basketball as a way out, not just a game. Pressure is constant. Occasionally, like any kid learning the game, Eli broke. Everyone does. You have to fail at times to learn how to succeed. He learned. He got better. When we won a game in July in Oregon on Logan's last-second shot, hardly anyone noticed it was Eli who made sure Logan had the ball in the right spot at the right time. A perfect pass at the perfect time. He was as good a defender as we had. Toughness was not a problem. Being undersized, teams thought, mistakenly, they could post him up. It takes will to fight around in front, to deny a bigger guard the ball. Eli never lacked that will. When we struggled against pressure in the season-ending tournament in Las Vegas, it was Eli who, having been tempered by a spring and summer of stress, held his teammates together. He exceeded even my high expectations. We said goodbye and Eli and his teammates moved on. The next spring I had a new group. And then Eli had his heart stop in Bellevue. He was lucky to be alive. I asked Kim, who is a cardiac nurse, if she ever noticed any signs the year before Eli was suffering from his condition. We wracked our heads but couldn't think of any. It just struck so suddenly. Eli was devastated. A quiet young man, he seemed even quieter after the incident. We texted now and again but it wasn't expansive. He had lost the sport he loved. Then Rod and Jen, Eli's incredible parents, reached out that fall and asked if I would meet with Eli. Just talk. It was an easy yes. Lunch was mostly quiet periods, broken by an occasional question and answer, both ways. He was Eli, a thoughtful kid who wasn't going to take no for an answer. Everyone has to say goodbye to the sport they love, I pointed out. I had no greater joy than playing baseball but finally my body made it clear I couldn't anymore. The time had just come earlier for Eli. Some solace, huh? I knew it wasn't. He knew it wasn't. He hoped to be able to play again someday. If anyone could, I thought, it was Eli. There are other avenues to be involved, I said, but we both knew I was blowing smoke. He wanted to play, to compete. If there was a chance, he was going to take it. He got one. He took it. As he went through the steps to be cleared, we texted once in a while. I watched him play after he returned to the court. I watched for his smile, the one I saw when he had imposed his will on his opponent. It didn't come often, but it was there. Still, I worried. He is a special young man. Too special to lose. As he's gotten better, he's opened up more. There have been more conversations. Every time we text or talk, I feel uplifted. Odd, huh? Last fall he called me. Wanted to ask a favor. He was putting together a resume and wanted to use me as a reference. Would that be OK? OK? I told him I would be honored. I am honored. And so glad that now all of you know Eli's story.
•••
• WSU: Usually Thursdays are for looking forward to the weekend's basketball games. Jacob Thorpe does that in this preview, but it's only about one game. That's because the Cougars hosted Arizona last night. They started fast but the Wildcats were better, winning 79-64. Jacob has the game story and video of Ernie Kent's post-game comments. ... There is also this coverage from the Tucson newspaper. ... Yesterday the Cougars welcomed their recruiting class of 2016. Jacob has the story on a class that committed itself to Pullman, and stayed committed. ... Washington trailed for much of the night, tied Arizona State late and pulled away in overtime, 95-83.
• Gonzaga: The Zags are in Los Angeles this weekend. Jim Meehan has the weekend preview. ... The game of the week in the WCC comes tonight in Provo when BYU hosts conference-leading Saint Mary's.
• EWU: Eastern has been great at home. But this weekend they are back on the road, where it hasn't been all that good. Jim Allen has a story on how Jim Hayford is trying to change that. Jim also has the weekly preview. ... The Eagles signed a football class of 19 and Jim has a blog post with all of them and this story that summarizes the group.
• Idaho: Ty Egbert, who also played in the Eastern Washington Elite program, has emerged in his fourth year at Idaho. Sean Kramer has the story. ... Sean also has his weekly preview and this blog post on the football signees.
• Chiefs: Spokane routed Vancouver in Canada last night, winning 6-2. ... Everett defeated visiting Portland, 3-2. ... Missed this yesterday, but Tri-City defeated Kamloops 5-3 on Tuesday night.
• Preps: Besides Eli Emerson's story, Greg has a notebook and another feature, this one on North Central's Megan Dean. We also have a list of all the area athletes who signed letters of intent yesterday.
• Seahawks: We are about to enter mock draft season. Oh joy.
• Mariners: The M's have signed Korean first baseman Dae-Ho Lee to a minor league contract.
• Sounders: The preseason opened last night and Seattle lost, 2-1, to Vancouver in an extra-long match.
•••
• Sorry to get so personal today. But anyone who has ever coached at any level understands this is why you do it. It's not the basketball or baseball or whatever. It's the players. Yes, you give them your time, your knowledge, your passion. But they give you so much more. They give you reason. Until later ...
---
---