Tue., Feb. 16, 2016
Boy, do we need baseball to begin soon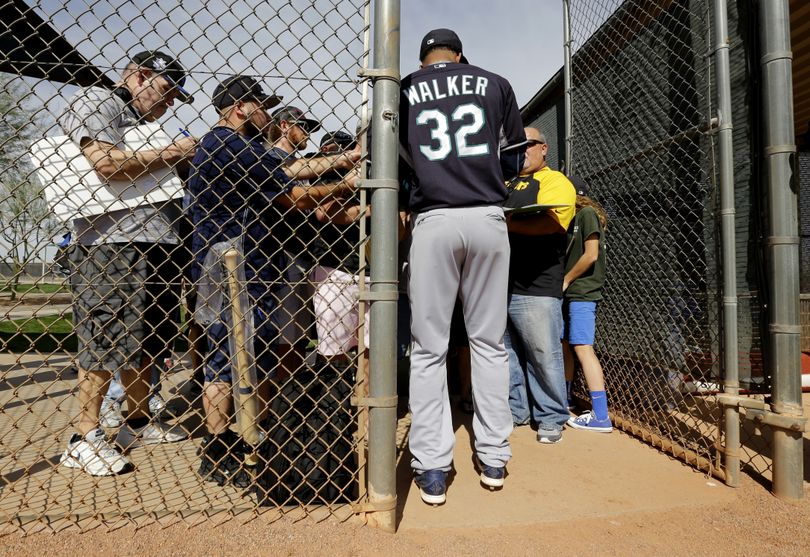 A GRIP ON SPORTS • Isn't it time for baseball to begin? If only for it to fill the void in our lives. You know the void I mean. When we want to talk sports. Read on.
••••••••••
• Sitting around with your buddies this time of year to kibitz about sports is usually a short conversation. "How about Phil Mickelson missing that putt, huh?" Silence. "Pass the beer nuts." Or "You think the Hawks are going to re-sign Bruce Irvin." "Maybe, if they can afford him." Silence. "Pass the pretzels." Ya, it's that bad. Baseball will end all that, especially considering all the new faces the Mariners will be putting on the field. Just think of the arguments you can have with your so-called friends about who is better behind the plate, Chris Iannetta or Steven Clevenger. Now won't that be fun? Heck, if the conversation lags you can bring up Mike Zunino and watch the adult-beverage sales go through the roof. Along with everyone's blood pressure. After everyone calms down, inject Chris Taylor and Luis Sardinas into the conversation and say which one you think will win that utility spot off the bench. See how much fun this is? Of course, I'm writing with my tongue in my cheek because, really, who gives a rat's tail? The only thing any baseball fan around here really cares about is whether or not the M's will compete. Whether the changes new general manager Jerry Dipoto has made will result in a few more wins. Or whether we will have to suffer through another spring, summer and early fall of disappointment. Again. Spring training won't tell us anything about that. Heck, Zunino looked as if he had turned a corner last spring and remember how he turned out. Actually, spring will tell us one thing. It will tell us how to pronounce new first baseman – and miracle-worker – Dae-Ho Lee's name. And whether a guy whose body looks a bit worse than the fellow at the end of the bar's can actually hit major league pitching. Or not.
•••
• WSU: What do you love about the Pac-12?
• Gonzaga: There are two more weeks in the WCC regular season, not enough time for BYU to get back into the NCAA at-large discussion.
• Idaho: Sean Kramer spent some time on the blog yesterday looking back at the Vandals' two home wins over the weekend.
• Chiefs: The U.S. Division is so tight all the playoff decisions could go down to the final week. ... Tri-City is outside the playoffs but is the hottest team in the division, winning again on the road yesterday.
• Preps: We are moving closer and closer to state, so we have a roundup of Presidents' Day playoff basketball action.
• Seahawks: It doesn't look as if the Hawks will place the franchise tag on anyone. ... Their free agents will be able to sign starting on March 9. ... As we said, this time of year is tough. ... Even NFL players have trouble trying to figure out what happened on any given play.
• Mariners: If you really are interested in the M's, you can mull over these pieces on the infielders and outfielders from different sources.
• Sounders: Is losing Obafemi Martins a gut-punch to the Sounders? The worst part about it is China's transfer window is different than everyone else's, so Seattle can't make a big deal until the summer. ... Brad Evans (pictured), the pride of UC Irvine, is still a big part of the Sounders' on-field leadership team.
•••
• I've got another discussion for you and your buddies. What should Seattle do with Key Arena? Now that should keep everyone talking until the pizza arrives. Until later ...
---
---