Wed., Feb. 17, 2016
Maybe Karnowski wants to stick around to become a Mystery Shopper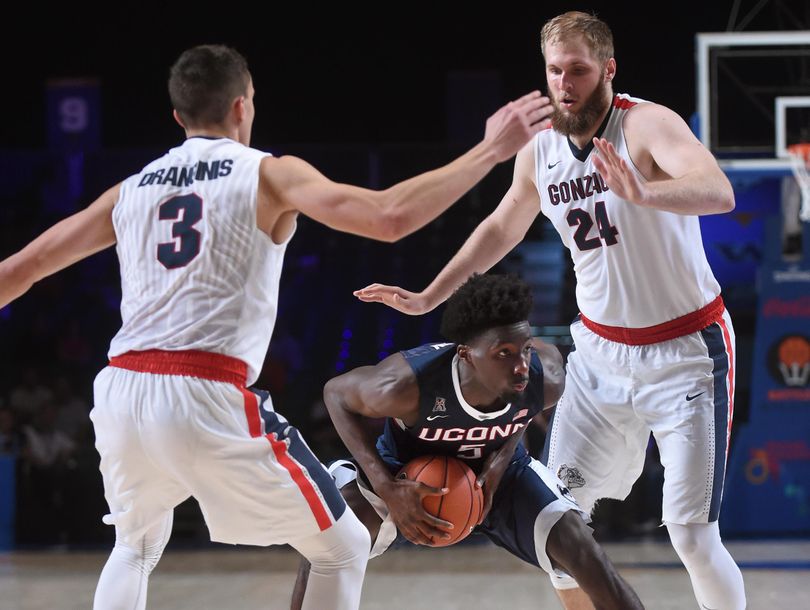 A GRIP ON SPORTS • Just about every day I receive five or six e-mailed job offers. They want me, the guy who still wears cords and New Balance tennis shoes, to become a Mystery Shopper. Though flattered, I think I'll pass. After all, just keeping up with the sports world around here is a full-time part-time job. Read on.
••••••••••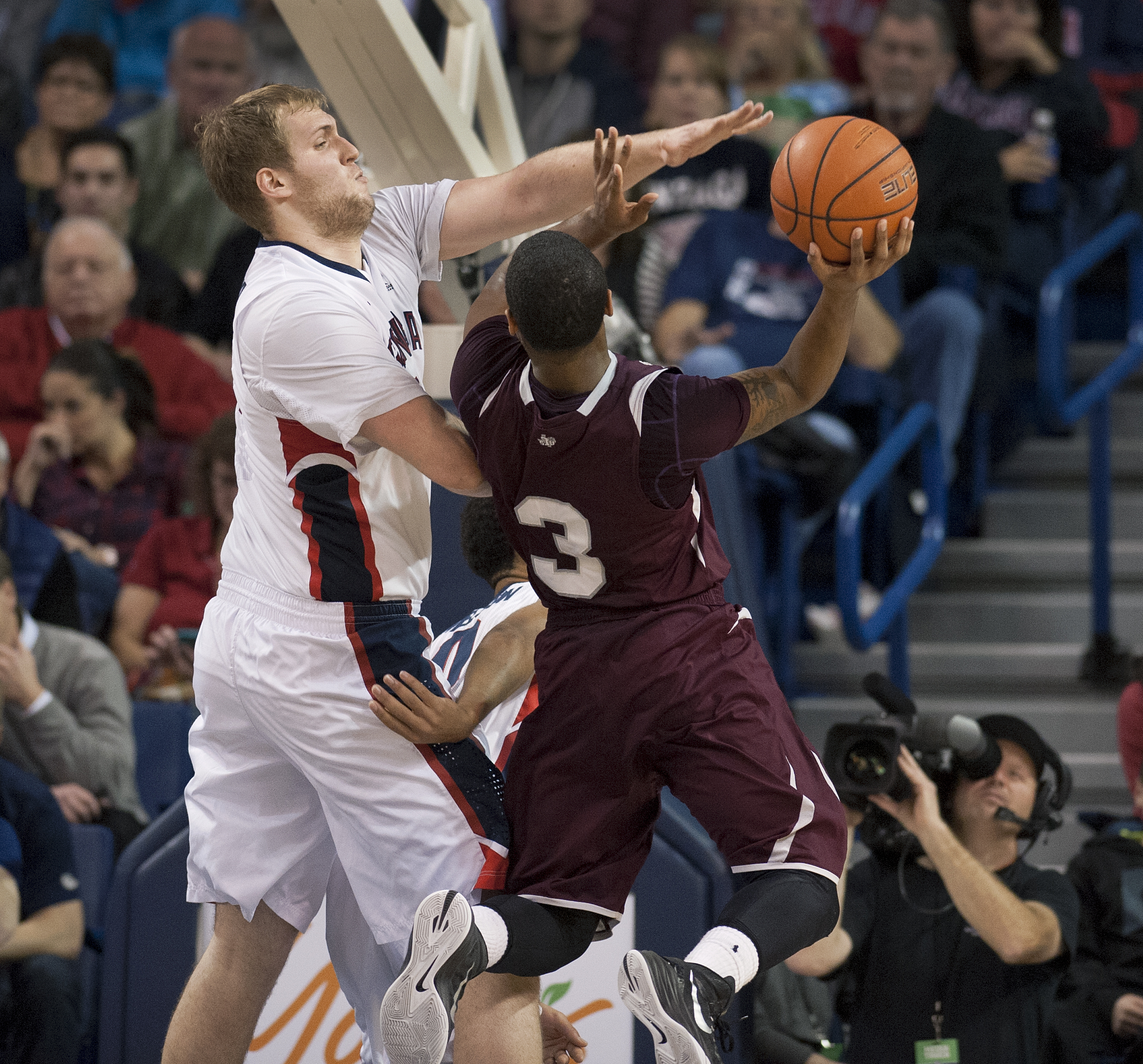 • Except maybe right now. I know. I'm beating a broken drum. And I also know it's about to change. Which is a good thing. A whole bunch of choices is always better. Luckily, Jim Meehan came through with a story today on Przemek Karnowski, the Gonzaga senior post who has missed most of the season after suffering a surgery-requiring back injury. What has Karnowski's absence meant to the Zags? Well, they have six losses. Only one, a one-point defeat to Texas A&M, came while Karnowski was healthy. Of the other five, his presence may have made a difference, especially in the home defeats to UCLA and BYU and the road loss at Saint Mary's. The Arizona game and last week's loss at SMU, who knows? But it's not hard to imagine with a healthy Karnowski, the Zags being at least 23-3 and being ranked in the top 10 in a season when there is no clear consensus on national-championship contenders. The one area Karnowski's presence would have really affected is defense in the paint. The 7-foot-1 hulk has transformed in his time at GU into an unparalleled rim protector, making up for mistakes from those in front of him. Even though Domantas Sabonis is not bad, no one on the West Coast was as good at it as Karnowski and, with Kyle Wiltjer even more limited this season with a foot problem, that talent would have helped GU immensely. But no one feels bad for successful teams when things are going bad, just as no one in the WCC will rejoice when they read Jim's article. Especially the news Karnowski is not going through the Senior Night festivities. There are reasons for that, sure, but one of them may just be he wants to come back for one more year. What would his presence next season mean for Gonzaga? Everything. The Zags' inexperience in the backcourt this season has bitten them badly. That should be a non-factor next season and not just because Josh Perkins, Silas Melson and Bryan Alberts will be a year older. I've been told before he got hurt Nigel Williams-Goss was the most impressive guard in the building on a daily basis. The transfer from Washington, who will be a junior, has been through the wars before and gives GU instant street cred when he becomes eligible next season. But there will be holes. Wiltjer (graduation) and Sabonis (NBA) will probably be gone, meaning the frontcourt could be a problem. Missouri transfer Johnathan Williams, a 6-9 athlete, will step in and contribute right away. Seven-footer Ryan Edwards has been getting better and better but is still a ways from being a 30-minute-a-game force. Which means a healthy Karnowski could be the missing piece. If he returns, Gonzaga is instantly a top-10 team again, though nationally they probably won't be seen as such considering their personnel losses and "struggles" this season. But that's for down the road. Right now Karnowski is in the painful process of rehabilitating his back. Of going in every day to work at getting better, at getting pain free. It's not easy. But, then again, nothing ever worthwhile is.
•••
• WSU: A quiet day on the Pullman front. The Pac-12 contenders, of which WSU isn't one, know one bad weekend, as USC just had, can change everything. ... Will Klay Thompson make the U.S. Olympic team?
• Gonzaga: Besides Jim's story and blog post on Karnowski, there is the usual WCC coverage today. By that, I mean there is a story available on BYU and not much else.
• EWU: Austin McBroom had a pretty good weekend and now is having a pretty good week. Not only was he named Big Sky Player of the Week, the point guard also was the Oscar Robinson Player of the Week, the national award.
• Idaho: Jim Allen's women's college basketball notebook this week leads with Christina Salvatore, who has helped the Vandals to third place in the Big Sky.
• NIC: Jim Meehan has an interesting story about an odd occurrence that will affect the Cardinals' chances at the national wrestling tournament.
• Preps: Yes, it's playoff time. Greg Lee has an advance of Idaho's girls state tournaments which are this weekend and we can pass along roundups of boys and girls basketball action from last night.
• Seahawks: You want to know more about Pete Carroll? Then don't miss Larry Stone's column about him today. It's really, really good. ... Jermaine Kearse has been talking with the Hawks. And don't miss our poll today.
• Mariners: Let's see. We cover the outfield again today as well as the revamped bullpen. ... If you don't know what PECOTA is, you won't care. ... The M's are in the middle of the pack in draft money to spend.
• Sounders: Speaking of money, Obafemi Martins may be worth a transfer fee of $2 million.
•••
• A quick heads up for the weekend. I have some commitments early Saturday morning so I won't be putting together a blog post that day. Which means you won't be able to read my prep basketball coverage from the night before. Yep, I'm going to make an appearance at a high school game – and then write about it. Talk about Throwback Friday. Until later ...
---
---