The memories for the seniors are different than the ones the fans have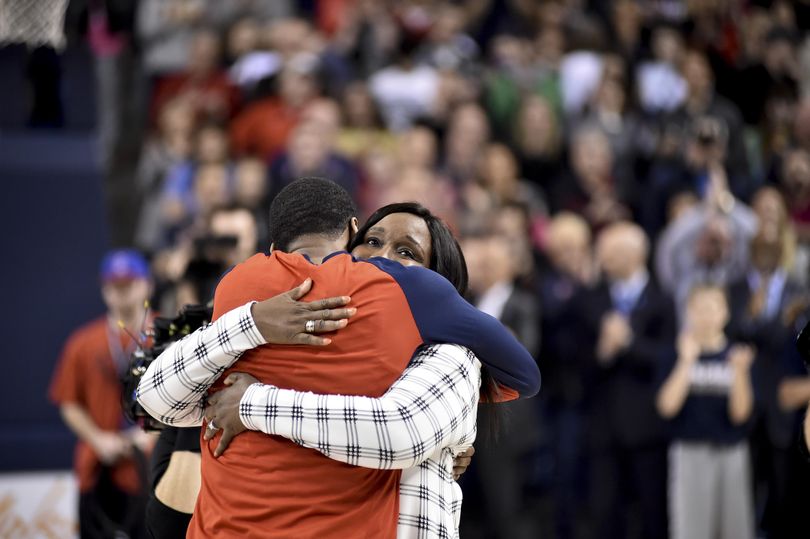 A GRIP ON SPORTS • Every year every college sports team says goodbye to its seniors. It's become quite a big deal. Read on.
••••••••••
• Gonzaga's men did it Saturday night. Then lost to Saint Mary's. Washington State's men did it Sunday evening. Then lost to California. There is no correlation, the wins and/or losses, but there is quite a bit of emotion. And that emotion can be a bit of a distraction during the games. And the games, even to the seniors, are what matters this late in a season. I guess I should have written, especially to the seniors. Because their days are dwindling. Quickly. Way too quickly. For the exceptional athlete who sees himself or herself playing professionally, senior day is just a step toward that new reality. But for the overwhelming majority of the seniors in college sports, it's the ending of the best time of their life. Oh, there are adventures ahead. Life is always an adventure. But rarely do I meet a former college athlete who doesn't look back fondly on those days. Even guys like me, who rarely played and basically did all the grunt work, remember with affection the days in the locker room or on the field, talking, joking, working. It's those bonds that endure. That's what's important. You hear alums say "once a (fill in your school's mascot here), always a (ditto)." For athletes who wear the uniform, it's really true. The memories you build through days and days of practice – even more so than the games or matches – stay with you until, well, I can testify they stay with you until you are getting the senior discount at IHOP, that's for sure. Those moments at practice where you fell down, either from exhaustion or laughter, they are embedded permanently in the memory. The late days after everyone had gone home and you and another catcher are playing long toss until it gets dark, trying to strengthen the throwing arm, they can be conjured up for years. The extra BP, the bunt drills, heck even the bullpens with the wild-armed senior who took pleasure in being able to bounce a curveball into your throat or a spot quite a bit lower that hurt even more, they stick with you. All those memories come rushing back on senior day. And the realization they will never happen again. The fans, they cheer the memories built at the competitions. The wins, the losses. The players? They look around, see their teammates and remember everything else.
•••
• WSU: The Cougars were unable to send their seniors off with a win, losing to California 80-62. It's been a tough stretch for WSU, losers of 13 consecutive games. Jacob Thorpe was there and has the box score, a video of Ernie Kent's postgame comments and a morning post. I could not find Jacob's game story on our website so all we can pass along is the short AP story. ... The WSU women won a nail-biter in Tucson. ... Utah handed USC its first home loss of the season. ... From football, Stefanie Loh has a feature on Joe Dahl.
• Gonzaga: Jim Meehan returned to the blog yesterday with his day-after post on the Saint Mary's defeat. ... BYU sees it can win a share of the regular season crown if someone beats the Gaels.
• Chiefs: Play Saturday night at home, then bus across the state for a Sunday game. It wasn't a formula for success for the Chiefs, who lost 4-1 at Everett.
• Preps: The sites and opponents for next weekend's first round of state hoops were announced yesterday and Greg Lee has them in this story.
• Mariners: With spring training ramping up, we have notebooks, reports and features to read. All right. And columns about baseball. Those too. ... Jerry Dipoto will be tested by his handling of Mike Zunino.
• Sounders: Portland picked up a 4-0 win in a tournament. ... The Copa America matches that will be in Seattle this summer were announced yesterday.
•••
• It's Monday again. Another work week awaits. Get something important done, will ya? Until later ...
---
---