Tue., Feb. 23, 2016
In the close-knit world of college football, most coaches aren't out of work for long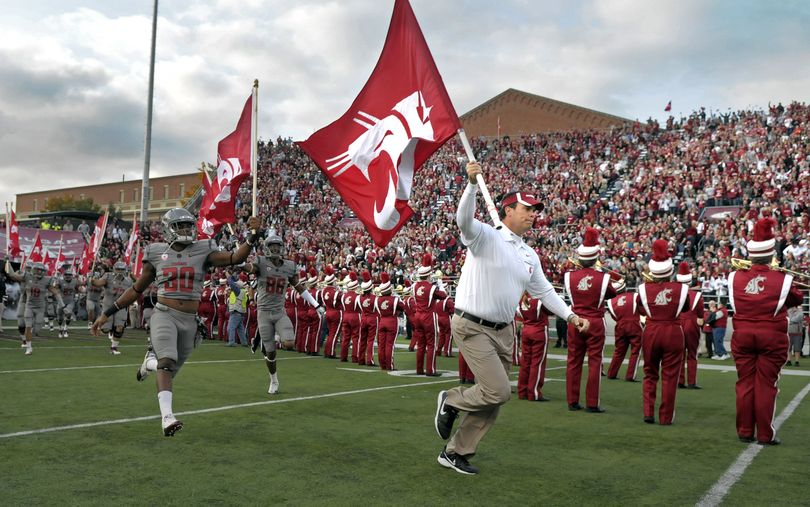 A GRIP ON SPORTS • Is it really true it's not what you know, but who you know? In the cozy world of college football, it's probably both. Read on.
••••••••••
• We saw this story yesterday and knew we were going to link it. Former Washington State head coach Paul Wulff has found work again. Not as a head coach but as an assistant. Who for is what makes the Sacramento Bee story so interesting – and, in my mind at least, heartwarming. Wullf will be working for his former college teammate and longtime assistant Jody Sears, the Pullman High product who has been the Hornets' head coach the past two years. Sears worked for Wulff at Eastern Washington and at Washington State, enduring the good – at Eastern the pair helped the Eagles win two Big Sky titles – and the bad – at WSU the Cougars won just nine games in four seasons. Since the end of their tenure at their alma mater, Sears has moved around the Big Sky, coaching at Weber State – he became interim head coach when John L. Smith left for a short gig at Arkansas and spent two seasons running the program – before moving over to Sac State. He was hired as defensive coordinator in California's capital, but became head coach after spring practice when the guy who hired him, Marshall Sperbeck, abruptly resigned. The Hornets were 7-5 in Sears' first year, 2-9 last season after Sears was named permanent coach and given a three-year contract. That record necessitated changes. So Sears reached out to his former boss, who grew up in the Sacramento area and needed work. It's a match that should help both. Coaches need to coach and Wullf, who bounced around from San Francisco to Florida to Iowa since leaving Pullman, loves to work with players. Especially the offensive line, his old position. That's part of the job he will fill at Sacramento State, coaching the guys up front. He'll help the Hornets. And he'll be a great help to Sears. Wulff has seen it all. No matter how you feel about his tenure at Washington State, and many Cougars were happy to see him go thanks to the myriad of losses, you would have to admit he gave it his all. And, except for a few harsh words when he was ushered out the door by Bill Moos, a guy who Wulff thought would give him a fifth year, Wullf took the slings and arrows with grace. He really felt he was doing the right thing, rebuilding Washington State in a manner that would assure long-term success. Obviously, his plan didn't work, though he did sow some seeds. If Mike Leach didn't like the roster – honestly, I've never really experienced a new college football coach who loved the roster he was handed by his predecessor – he should have seen it four years before. But football coaches are never out of work too long. Their peers take care of them. Jim Harbaugh admired Wulff's character and gave him work with the 49ers. That led to South Florida, coached by a Harbaugh protégé. When that didn't work out, Wulff ended up with a short stint at Iowa State, helping his old EWU and WSU offensive coordinator Todd Sturdy. And now he is in Sacramento. A tough place to win, no matter what the coaches say. Sacramento State athletics are about the sixth game in town, behind the 49ers, the Raiders, the A's, the Giants and state politics. The order of the top five may change though the Hornets never seem to crack it. But no matter. It's good to see Paul Wulff back in the game. He's good for it. He cares. And he's a great line coach, who will help Sears and his staff.
• By the way, there's another name Cougar fans will recognize if they peruse the Sacramento State staff list. The running back coach, James Montgomery. Yep, the same James Montgomery who transferred to WSU from California, had a 100-yard rushing game but was once also hospitalized with a lower leg injury that almost cost him his leg and, possibly, even more. But he persevered. And he knows how to be successful as a running back. Plus, he knows the head coach well. See how it all works out?
•••
• WSU: There is other Washington State-related news, though not a lot. New baseball coach Marty Lees earned his first win in his fourth try as the Cougars edged Texas State in 10, 9-8. ... Utah pulled out of its basketball series with BYU and now the Ute athletic department is under scrutiny by the state legislature. That's not a good look for anybody. ... Here's one person's basketball poll.
• Gonzaga: The Zags' struggles at home this season have opened the WCC title race to a couple other schools.
• EWU: The Eagles released their 2016 football schedule yesterday and it's a tough one. Jim Allen has the story. And, no, thanks to the Big Sky's inordinate amount of teams. Sacramento State isn't on the slate this fall. ... Weber State star Joel Bolomboy has a bone bruise and will be out indefinitely.
• Whitworth: Jim also has a feature on the Pirates' star K.C. McConnell. If this were 40 years ago, the rest of the Whitworth team would have been called The Sunshine Band. ... Sorry for the really old reference.
• Preps: There were boys playoff games in Idaho last night and we have a roundup.
• Seahawks: The Hawks need help on both lines but have other needs as well. ... Who will be the cornerback opposite Richard Sherman?
• Mariners: There is always something going on in spring training. ... The M's are getting close to signing a light-hitting, good-fielding Cuban to join their revamped outfield. ... The starting staff is coming together. So is the rebuilt bullpen.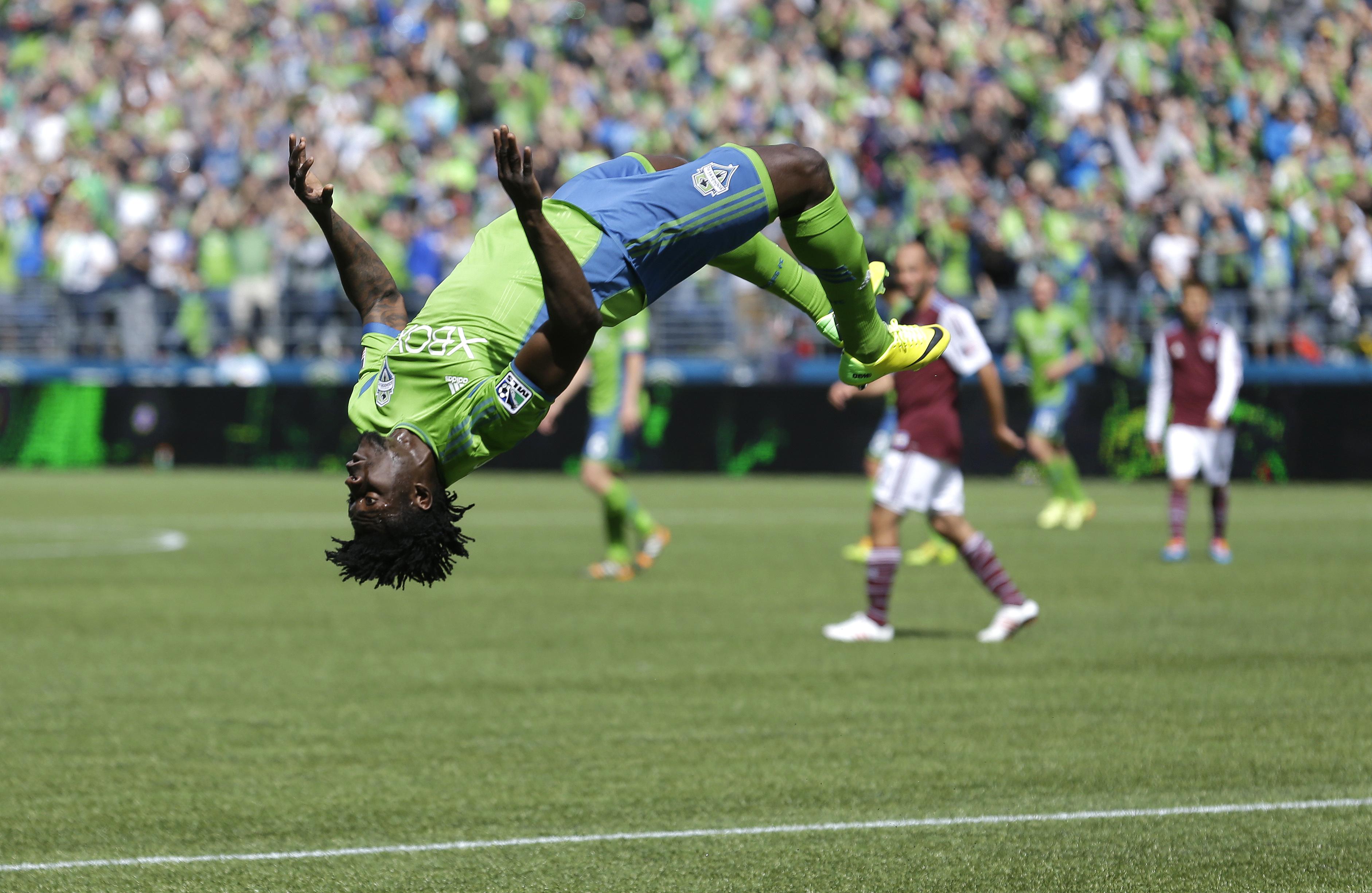 • Sounders: The Sounders are being forced to say goodbye to the most exciting player they've ever had, Obafemi Martins. But as Clint Dempsey said yesterday, who can begrudge Martins a chance to double his salary? ... The transfer comes at a tough time for Seattle, which has a tough Copa America quarterfinal match this evening. ... The Sounders made a minor roster move.
•••
• I'm not sure what's on the agenda today but I do know one thing. I will be doing some exercising. You know, I loved playing baseball and softball most of my life, but all that fun in the sun is now coming back to bite me in the hip and back and shoulder. No enjoyable deed goes unpunished, does it? Until later ...
---
---