Wed., Feb. 24, 2016
The Cougars were living a fantasy concerning Lynch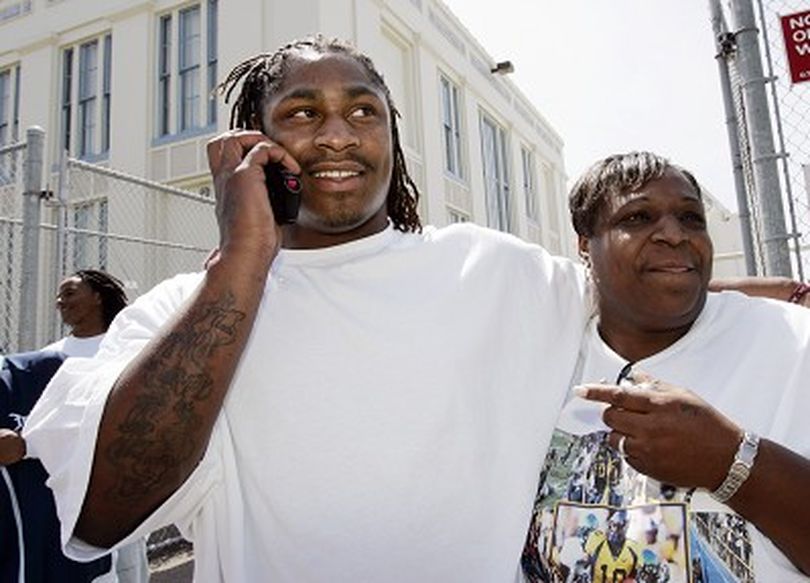 A GRIP ON SPORTS • Steve Winwood was just a teenager when he belted out the words to "Dear Mr. Fantasy" oh so many years ago. But even though Winwood is old enough to collect Social Security these days, some of the words still ring true. Read on.
••••••••••
• Winwood, he of the Spencer Davis Group ("Give Me Some Lovin' ") and Blind Faith ("Can't Find My Way Home"), had a distinctive voice. And, for him, it was all about the action, boss. Which leads us to Marshawn Lynch and a fantasy about Pullman, courtesy of one Jacob Thorpe. Jacob takes us down Memory Lane today with this story of Lynch's 2004 recruiting visit to Pullman, a trip everyone involved knew before it started wouldn't result in success for the Cougars. Lynch wasn't about to live the cozy confines of his mother's embrace for college and even then-WSU head coach Bill Doba knew that. But with a player of Lynch's ability and something of an in with running back coach Kelly Skipper, Doba tried anyway. Lynch, surprisingly, said yes and visited the Palouse. Of course, he didn't do anything to make everyone there happy, like commit. But what if he had? What if he had fallen in love with the place? What if his mom had moved to Colfax? It such thoughts that makes the trip so interesting. What of, in our fantasy, Lynch had shocked everyone – as he did throughout his professional career – and said yes? Would anything have changed for Doba and the Cougars? Probably not, despite Lynch's undeniable talent. Instead of Lynch, who went on to have a great career as a Cal running back and an average one as an equipment cart driver, the Cougars signed a ghost of a running back from Pasadena City College, one Jerome Harrison, and we all know how that reality turned out. In two years Harrison rushed for 2,800 yards (and, in one of the oddest statistical trivia events ever, Harrison ran for exactly 900 yards as a junior and exactly 1,900, a school record, as a senior). What if Lynch had been there as well? Would there have been more two-back sets? Would one have cannibalized the other's stats? And would Washington State have found a way to win one more game in 2004 or two more in 2005 and make a bowl game? As it was, the Cougars didn't, beginning a decade of failure, with the gloom only lifting when Mike Leach, a guy who probably listened to Steve Winwood growing up, arrived.
•••
• WSU: Besides the oral history lesson, Jacob advances tonight's Pac-12 game in Oregon, a game that has special significance for Ernie Kent and the Ducks. ... The conference held the money lead for just a short time. Now it is in danger of being left in the dust. ... Utah also plays Arizona State tonight as the Pac-12 tries to get back into the national discussion. ... In football news, Luke Falk is the subject of a post on ESPN.com's Pac-12 blog – there is also a look at the North's receivers – and the weight training coach makes an appearance in the Times.
• Gonzaga: Yes, the Zags are not assured of making the NCAA tournament. It isn't the first time. Jim Meehan takes his own trip down memory lane. ... Kyle Collinsworth has bounced back well from his devastating injury. ... Gonzaga's golf team was playing in Southern California.
• EWU: The Eagle women are chasing a Big Sky title along with Idaho, the team they face off with Saturday. Jim Allen has more in this women's basketball notebook.
• Chiefs: Spokane is fighting for a playoff spot but it is doing it with one hand tied behind its back. Tom Clouse documents all the injuries in this story. ... Tri-City picked up a much-needed 4-1 home win last night. ... Everett is looking for a star.
• Empire: Jim Meehan's notebook introduces us to a wide receiver turned running back.
• Preps: Coeur d'Alene has had a great boys basketball season but Lewiston seems to have its number. Sean Kramer has this story on the Bengals' latest win. ... University High has a new football coach. Greg Lee has the information.
• Seahawks: The NFL's draft combine is not about the workouts for the Hawks.
• Mariners: This season's spring training seems different for Ketel Marte. That's because it is. ... The M's did sign another outfielder.
• Sounders: Despite two goals from their go-to-guy – and team leader – Clint Dempsey, all the Sounders could earn Tuesday night was a 2-2 home draw against Club America in the Copa America quarterfinals. That didn't make them happy, as away goals mean more in the two-game series.
•••
• OK, maybe I reached a little too far with my intro today. But tell your old man to drag Walton and Lanier up and down the court for 48 minutes. Until later ...
---
---