Thu., Feb. 25, 2016
It always seems to be one or the other in Pullman, never both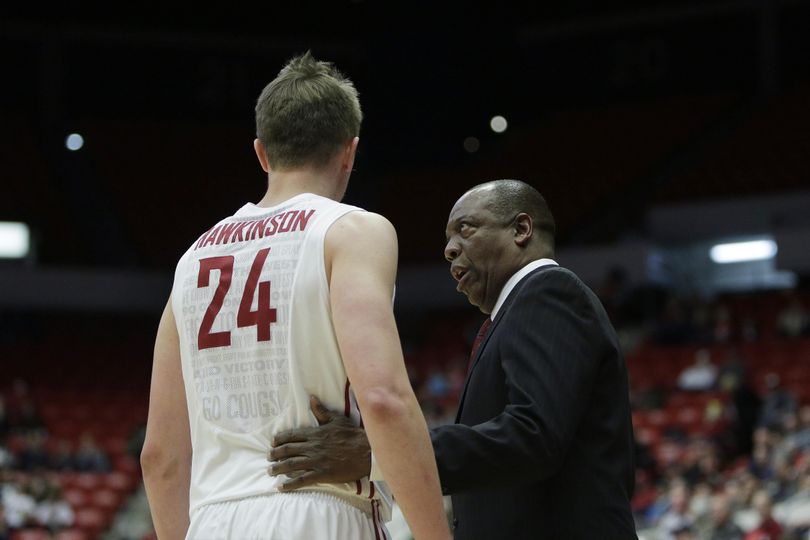 A GRIP ON SPORTS • Fourteen consecutive defeats isn't the type of statistic one brags about. But it's the one Washington State's basketball team is burdened with. Read on.
••••••••••
• If you are a Washington State fan, you are probably wondering why your school can't be good in football and basketball in the same season. Really. The football team was great at the turn of the century. The basketball program was in the dumps. The Bennetts arrived and turned Beasley into the place to be. Meanwhile, the football program floundered in the wilderness. Tony left, Mike Leach arrived and, finally, the football team looks like a Pac-12 contender again. The basketball program is in such a state, this season at least, some Cougar fans have already begun thinking about track. Yes, it's that bad. But that's the way it is in Pullman. And has been, seemingly, since the dawn of time. Ya, there was that magical year of 1994, when the Cougars went to the NCAA tournament in March and played in the Alamo Bowl in December, but other than that, the postseason hasn't lined up together. And, truth be told, those were two different school years, but who's counting? Because, in more than 50 years of modern football and basketball, there has been one calendar year when the two major sports excelled – I mean, really excelled – together. Sure, there have been a winning season for both here and there, like 2006 when Bill Doba's team won half its games and Tony Bennett's team went to the NCAAs that spring, but true success lining up? That just doesn't seem to happen. At least the die-hard Cougar fan didn't have to die a little this football season, because this basketball season has already been taken off life support. Losing all but one Pac-12 conference game with just a week left will do that to you. It had to hurt second-year coach Ernie Kent last night to face off against his old school while toting a 13-game losing streak. Especially considering the Ducks had tied a school record, set while Kent was coaching in Eugene, of 23 consecutive wins. Nothing changed Thursday. Oregon won, is now atop the Pac-12 and has set a school winning-streak mark in the process. The Cougars lost and, barring a miracle in Corvallis or an upset in Seattle, they may finish the season burdened with a 17-game losing streak. But there is hope and you don't have to look any further than the remodeled Martin Stadium to see it. The 2014 football team wasn't very good. OK, it was pretty darn bad, despite the bowl success of 2013. But this past season was about as good as gets in Pullman, what with nine wins, and the future looks bright. Kent's first season was OK, leading to hope this year would be even better. It hasn't been. But basketball is a year-by-year changeable sport in a lot of places, and Pullman is one of them. Look, there are no promises next season will be better but there is no guarantee it will be worse either. More than likely, though, if the football team does really well, than basketball season is doomed. If history has taught us anything around Pullman, that's it.
•••
• WSU: A 17-3 run to begin the game sapped any life out of the Cougars last night and turned out to supply the eventual winning margin for Oregon. Jacob Thorpe was at WSU's 76-62 defeat and has this game story along with video from Kent and a couple players. He also has his weekend preview of the game Sunday at Oregon State. Finally, Jacob has a morning post with links. ... Elsewhere in the Pac-12, Oregon is alone atop the conference because Arizona lost at Colorado. And Oregon State traveled a long way to defeat Washington, even though it was a Beaver home game. ... Down the road, maybe it's time to embrace the Ducks' somewhat-new arena. ... AT&T has plans to promote DirecTV more, which could be bad news for the Pac-12. ... The Cougars' linebackers should be OK.
• Gonzaga: The Zags' final regular season week is crucial for their NCAA hopes. Jim Meehan has his weekend preview, which includes a look at the trip to San Diego and the finale at BYU. ... Before the Zags get to Provo, however, the Cougars have some unfinished business with Portland. ... Saint Mary's has a couple of home WCC games than a non-conference game with Grand Canyon. Losing any of those and I believe it's win the WCC tourney or miss the NCAAs. ... Jim Allen has a blog post on the decline in shooting percentages among the Bulldog women.
• EWU: This is rivalry week for the Eagles (or, at least, travel-partner week) so there is just one game. That would be Saturday in Moscow vs. Idaho. Jim Allen has his weekend preview as well as a blog post on the game.
• Idaho: The Vandals should be close to full strength for Eastern's visit as Sean Kramer's weekend preview details.
• Whitworth: As the Pirates prepare for the NWC postseason tournament, they can look to George Valle to lead the way. Tom Clouse has more in this feature on the senior.
• Chiefs: There aren't a lot of 1-0 games in the WHL. The Chiefs came out on top of one last night at the Arena, though. Tom has the story. ... Everett rallied but still lost to Kelowna 6-5 in overtime.
• Empire: The Empire is different. How different? John Blanchette differentiates in this column.
• Preps: Wrestling takes center stage today, with Greg Lee looking back on Washington's state tournament in his column and toward Idaho's in this piece on Post Falls defending state champions.
• Seahawks: So Michael Bennett has a new agent. Now he wants a new contract. ... The Hawks do have more money available. But they have lots of places to spend it.
• Mariners: The position players are in camp, ready to take their physicals. To see what that means, our buddy Ryan Divish took one. And he survived to write about it. ... Nelson Cruz is getting older. Which means he may DH more. But it doesn't mean he will not be as productive. ... The M's may look for a veteran utility infielder.
• Sounders: When Seattle subbed with its young guys Tuesday, some nerves showed. But that's probably to be expected with all the new faces. ... Neither Portland nor Salt Lake City earned a win yesterday. The Galaxy tied, 0-0, which is a good thing.
•••
• It's Thursday. And half of the Pac-12 schools have already played one of this week's basketball games. That's hard to get used to. For us traditionalists at least. Until later ...
---
---