Fri., Feb. 26, 2016
When an opportunity is lost, it's rare another presents itself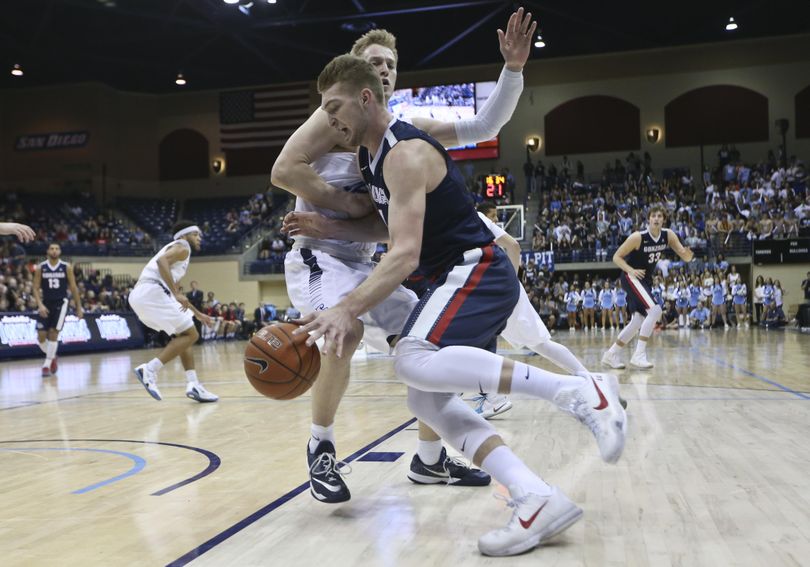 A GRIP ON SPORTS • For 17 consecutive years, the Gonzaga Bulldogs have participated in the NCAA basketball tournament. There may only be one opportunity for them to make it 18, no matter what happens Saturday. Read on.
••••••••••
• Life is filled with opportunities. Only sometimes we don't realize they were opportunities until we've moved past them. Such is the case with Gonzaga's basketball team this season. The Bulldogs have had many golden opportunities to burnish their resume. Now it may be too late. There was the tournament in the Bahamas to begin the season, the one in which they finished as the runner-up to Texas A&M. By a point. An opportunity lost. Then there were the non-conference home games against Pac-12 names Arizona and UCLA. Not just games in the Arena. Games in McCarthey. And they lost both. Another opportunity lost. There were conference games against Saint Mary's, both home and on the road, and BYU, in the Kennel. All resulted in tight losses. Then came the road game at then highly regarded SMU. Another tough defeat. Every time the Zags were presented with a chance to brighten an otherwise average season, they failed. Every opportunity turned into a lost chance. Now there is only one regular season game left. And one more opportunity. People who know college basketball know how hard it is to win in Provo, especially in a game in which the Cougars are highly invested. And they will be highly invested Saturday after routing Portland last night while Gonzaga was manhandling USD. But is this the classic case of too little too late? Yes it is. Even a win Saturday won't be enough to ensure Gonzaga an at-large berth no matter what happens in the conference tournament. The 22-7 record (after last night) isn't awful, it just isn't filled with the type of wins that excite the selection committee. Connecticut and Washington are OK, but not opportunities for the NCAA selectors to crow about. Sweeping Pepperdine is fine, but nothing unusual. It's just been that type of year. So the Zags head to Provo with another opportunity. The opportunity to build momentum and confidence heading into the WCC postseason tournament, which starts next week. Win that and the NCAA streak will reach 18. Lose, even in the finals to (more than likely) Saint Mary's, and the next opportunity will probably be an NIT home game. Which would present an opportunity of another sort: The opportunity for many Spokane folks who don't own GU season tickets to see a game in McCarthey. It's not the type of opportunity anyone over at Gonzaga thought would be possible when this season began.
•••
• WSU: Not a lot happening in Pullman with the long gap between games this week, but the baseball team left the bases loaded in the ninth and lost 3-1 in Texas. ... Around the Pac-12, both USC and UCLA went north yesterday and both lost, the Trojans getting spanked at Stanford and the Bruins succumbing to the same fate against California. ... Utah dominated Arizona State. ... In football news, WSU lineman Joe Dahl will work out today at the NFL combine while we found this piece on the defensive line.
• Gonzaga: Thanks to an 82-60 win over San Diego last night, Gonzaga will enter Saturday's game at BYU with a chance to claim at least part of another WCC regular season title. Jim Meehan covers that aspect as well as what happened during the week and the game in this story and blog post. He'll also be back today with a day-after post. ... The Gonzaga women lost another close game at home and are fighting to have a winning record in WCC play. Jim Allen has that and more in this game story. ... Elsewhere in the WCC, BYU prepped for its showdown with Gonzaga by avenging an earlier defeat to Portland. All Saint Mary's has to do is win Saturday at home against San Francisco and it will have the No. 1 seed to the WCC tournament. The Gaels routed Santa Clara and Pacific defeated USF last night.
• Idaho: Basketball waits until Saturday but there is track and swimming news out of Moscow today. ... There were games in the Big Sky, with league leaders Montana and Weber State winning. They will face off tomorrow in Ogden. ... Portland State lost at North Dakota and Northern Colorado handled Sacramento State.
• Whitworth: The Pirate men not only had little trouble with fourth-seeded Puget Sound – Tom Clouse has the game story from the Fieldhouse – but, thanks to Pacific Lutheran's upset win over Whitman in Walla Walla, seem to have an easier path to the conference's automatic NCAA Division III berth. ... The Whit women lost at undefeated George Fox and their season is over.
• Chiefs: Everett signed its first home-county player this week. ... The Americans are fighting for the final playoff spot.
• Empire: Spokane traded a defensive lineman for an offensive one.
• Preps: A fun night on the hardwood for Post Falls' Max McCullough, whose 36 points helped the Trojans eliminate Coeur d'Alene from the state playoffs. Greg Lee has the game story. ... Greg also has a feature on the six seniors who have led Lewis and Clark back to State.
• Seahawks: Pete Carroll met with the media at the combine and covered a lot of ground. He started up front with the offensive line, a group he felt improved over the season. (Will the Hawks make it even better through the draft?) He also said he wasn't sure what would happen with Michael Bennett but he was confident about Thomas Rawls and Jimmy Graham. ... Tyler Lockett shared some odd news yesterday.
• Mariners: Ah, spring. When everything is possible. Possible for Robinson Cano, after a frustrating 2015, and for the M's as a team, after an even worse 2015.
• Sounders: It's official. Obafemi Martins is headed to China.
•••
• Friday. Do I need to say more? There is a weekend of opportunity ahead. Don't miss it. Until later ...
---
---