Mon., Feb. 29, 2016
And the winner is … those of us who went to bed before midnight
A GRIP ON SPORTS • Let see. The Oscars were on last night. And no sports. So what to watch? Read on.
••••••••••
• Honestly, I went to bed. I figured some woman in a red dress would win one award and a guy in a tux the other. After that, it wouldn't matter. Watching the Oscars is sort of like watching diving or ice skating or gymnastics. You know someone is going to win, but you just can't figure out how that winner is decided. At least Sylvester Stallone finally won, right? That was the only category that I really cared about. I want to spend today finding videos of his acceptance speech. I'm sure he thanked Mick, Adrian and chickens everywhere. That should be fun. Wait, what? He didn't win. Someone named Mark Rylance won? For a movie 11 people saw? C'mon. Next you'll tell me the movie with the bear mauling didn't win Best Picture. No way. With a director that everyone worships and Leo, it was a lock. Besides, what was going to beat it? The new Star Wars movie wasn't even nominated, Adam McKay, the guy who did "Anchorman," directed one of the nominees, which should be an automatic disqualification, and another nominated film was about a desert wasteland. You know, newsrooms. None of those movies had a chance against a tale of one man's struggle to find his way back from near death – or another man's struggle to find his way back from near death. Oh well, I'm glad I didn't watch. I miss the days when the Academy was smart enough to hold its big gala the same night as the NCAA title game, ensuring there was something to click to during the interminably long time outs and commercial breaks. Now all the show interferes with is my sleep. Last night, I didn't even let that happen. I went to bed and put myself to sleep I by trying to figure out how the WIAA pairs its state basketball tournaments. Talk about a mystery. If you can figure out how that works, let me know, will you?
•••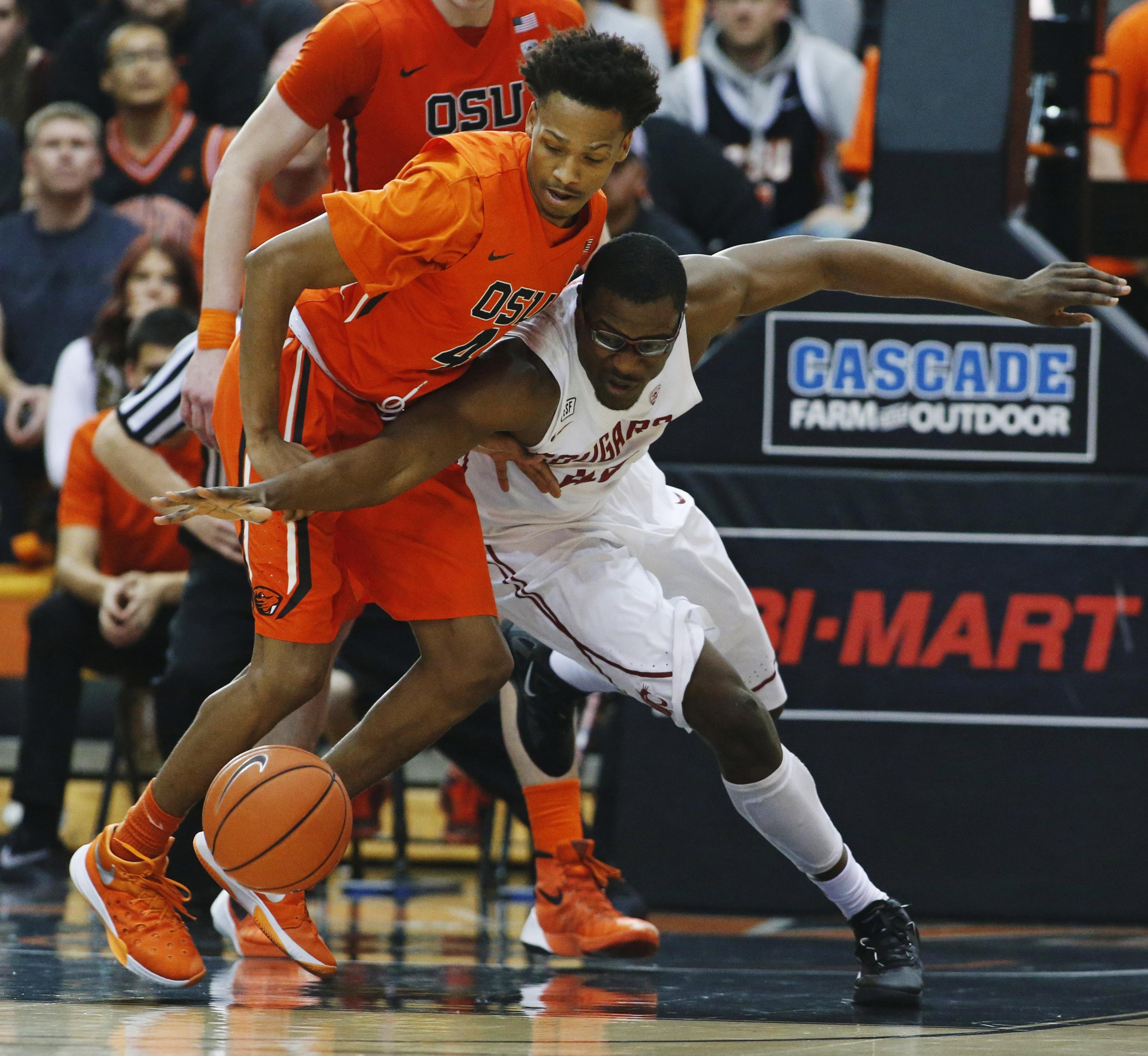 • WSU: The Cougars lost their 20th game yesterday, harkening back to the bad old days of Paul Graham. The 69-49 loss at Oregon State was also WSU's 15th consecutive defeat. Jacob Thorpe has seen them all and he has a game story from Corvallis as well as video from interview with Ernie Kent and a couple of players. He also has a morning post with links from around the Pac-12. ... The WSU women's regular season is over. They will open the Pac-12 tournament Thursday against USC.
• Gonzaga: Jim Meehan returned to the blog yesterday with his look back at the win over BYU. That victory gives the Zags some momentum going into the WCC tournament and derailed the Cougars a bit.
• Whitworth: The Pirates are off to the best start ever in baseball.
• Chiefs: Everett got back on track by handing Tri-City a 3-2 defeat.
• Preps: Speaking of the WIAA's pairings, Greg Lee has a story about the 4A and 3A ranks and how the choices affected local teams. ... On a sad, sad note, Greg also has a story on Jace Malek's death, which came yesterday. The former West Valley football player and wrestler was just 18.
• Seahawks: One thing that happens to players at the NFL's combine is their stock begins to fall due to a variety of reasons. That may mean the Hawks, who are once again drafting late in the first round, might face an interesting choice. ... It seems Michael Bennett and his new agents are talking with the Seahawks. ... So has Pete Carroll's representatives.
• Mariners: Despite the idea spring training is about competition for spots, the M's roster might be just about locked down already. ... James Paxton, who will start the Cactus League opener this week, doesn't have a spot guaranteed.
•••
• Honestly, though, when I got home yesterday after spending my Sunday in a gym, I forgot the Oscars were on. When I realized my mistake, it was bedtime. Which comes earlier than it used to. Until later ...
---
---