Fri., Jan. 1, 2016
The Rose Bowl is one thing that always cures a New Year's hangover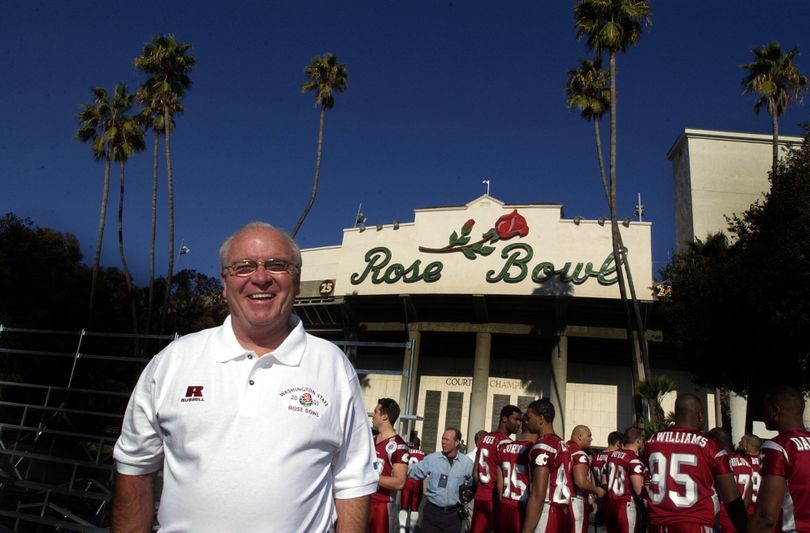 A GRIP ON SPORTS • Goodbye 2015. Hello 2016. How did we get here? Hard work. And how are we going to get through this new year? The same. What has that have to do with what follows? Nothing. Read on.
••••••••••
• Today is the first day of 2016. You know what that means, right? Yep. The Rose Bowl. OK, so tradition has been waylaid by the millions available in college football these days. But the Granddaddy of Them All (thanks for that, and a million other things, Keith) still tries to play in the middle of New Year's Day, just as it was played when I was young oh so long ago. My favorite memory: Sitting in front of our TV set some eight miles from the stadium, on a clear, crisp 70-degree day, and hearing my dad grumble. Why was he upset? "Because," he explained, "they are going to watch this game in Des Moines and 10,000 Iowans are going to move here next week." My dad always saw the bright side of everything. Anyhow, I have my favorite Rose Bowls that have occurred in the past 50 years (I do remember the 1966 Rose Bowl a bit, mainly because UCLA was so undersized and the Bruins still won). I'm sure you do too.
• No. 5 – 2006: This may have been the most exciting Rose Bowl game I ever watched (I don't remember 1963, when USC defeated Wisconsin 42-37 in a day and age when 30 points was a lot in a game). And I still remember one stupid play that I believe cost USC the win and Pete Carroll another national title. It's a play most people never mention, preferring to focus on Reggie Bush, the Heisman winner, not being in the game on a key fourth-quarter fourth-and-two. I go back to the second quarter, when Bush, for some inexplicable reason, tried to lateral the ball to a teammate at the end of a 35-yard catch-and-run that had the ball at the Texas 18. The Longhorns recovered. If Bush had just gone down, and the Trojans, who were dominating the game at that point, had scored to go up 14-0, I still believe they would have won. Bush's decision was, to put it kindly, an incorrect one, part of a decision-making process that was flawed most of his career. Texas won, 41-38.
• No. 4 – 1998: I'm sure this game is No. 1 to most Cougar fans. Despite the outcome. All I know is some of them believe they are still owed one more play. The Cougars hadn't been to the Rose Bowl since before World War I. Ryan Leaf led them to a Pac-10 title and a berth in the game, riding off on the shoulders of fans after a 41-35 Apple Cup win. The thing I remember about this game: Keith Jackson and Bob Griese calling it on ABC, with Jackson's Cougars meeting the Wolverines quarterbacked by Griese's son, Brian. Michigan won, 21-16
• No. 3 – 1977: My friend Kent and I sat close to field near the north end zone. The tickets were courtesy of a former girlfriend, a USC student with connections. It was hard to see the game – our seats were that low – but we had a great view of the USC song girls. I was just out of my teens. Guess what I focused on. Hey, don't judge me. USC won. I think.
• No. 2 – 1982: Such a high spot for a Husky win? Some of my friends are going to disown me. Well, sorry. This is the first time I stepped into the Rose Bowl as a media member. I wrote the sidebar for the Orange County Register. I don't remember the game all that well but I do remember the subject of my story: freshman running back Jacque Robinson, the game MVP. I also remember running into Merlin Olsen at one point. Man, he was big. Washington won over Iowa 28-0.
• No. 1 – 1972: This Rose Bowl game holds a special place in my heart. It was the first I saw live, sitting in the south end zone with my dad. I missed out at going the year before, when Heisman Trophy winner Jim Plunkett led Stanford in an upset of No. 1 Ohio State. My sister got to go with the Captain. (That's what Kent and I used to call my dad. It was short for "Captain Sunshine." I loved irony even then.) Anyhow, I got stuck with Don Bunce and the "Thunderchickens," Stanford's undersized and seemingly overmatched defense. But the thing I remember from that game was the difference in the splits on the offensive line. Michigan was like all Big Ten teams offensively, confined, with all the linemen foot-to-foot, basically. The Indians, as they were called then, weren't. From the end zone you could see it. Stanford's linemen were about a yard apart. It shocked me and I came to realize early in the game it allowed the linemen to have better angles to hit the bigger Wolverines. (As an aside, I wonder if a young Mike Leach was watching on TV somewhere and had an epiphany.) The other thing I remember: Rod Garcia's game-winning field goal came right at us and landed a few rows in front. Stanford won, 13-12.
•••
• WSU: The Pac-12 basketball season begins today – the Cougars host USC this evening – and there are a lot of conference previews available. We decided to pass on the ones we found. There are a boatload of them from around the West Coast. ... Jared Goff, to no one's surprise, is headed to the NFL draft.
• Gonzaga: The Zags held off Santa Clara in another of those Leavey Center games that they've played the past few years, but that wasn't the biggest news from yesterday. For that we have to turn to Jim Meehan's story of the ending of Przemek Karnowski's season (and possibly career) at GU. Karnowski, who has been out for a month with a back injury, had surgery yesterday. ... Jim also, of course, has the game story from Santa Clara as Gonzaga won, 79-77. This also might be the game we remember as when Josh Perkins took his first huge step as a leader. ... The big WCC game of the day – because the Zags held on – happened just up the road in Moraga. Saint Mary's proved it's for real with a 85-74 win over BYU. ... Portland couldn't get past USF, losing 107-95. ... Pacific got a much-needed win over USD, 77-75, giving interim coach Mike Burns a win over his old school. ... On the women's side, Gonzaga held USF's high-powered offense to just 25 percent shooting in the first half en route to a 68-47 win. Jim Allen has the game story and Jesse Tinsley has a picture story.
• EWU: The Eagles started fast in Greeley but Northern Colorado finished faster, winning 96-90. ... The Eagle women opened Big Sky play with a victory.
• Idaho: The Vandals traveled to Grand Forks to open the Big Sky and came away with a 74-71 victory over North Dakota. Sean Kramer has more in this blog post. ... Elsewhere in the conference, Montana State lost at Southern Utah and Montana got hot from the outside to win at Northern Arizona in double overtime.
• Chiefs: The New Year's Eve game at Tri-Cities is a tradition. So too, seemingly, is Spokane winning. The Chiefs won for the third consecutive year, this time 5-2. ... Portland handled Seattle 4-1. ... Everett is trying to get tougher.
• Seahawks: Is Russell Wilson still seen as a running quarterback who can pass pretty well? That's a wrong assumption and probably always has been. ... He's also a pretty good swimmer. Wait, what? ... Kam Chancellor was back at practice.
•••
• That's it. Sorry it's late. I was up until, well, midnight last night. Had to see the ball drop. And had to finish a terrible movie I got sucked in watching. Don't you hate that? Until later ...
---
---