Sat., Jan. 2, 2016
Both Gonzaga basketball teams dealing with key injuries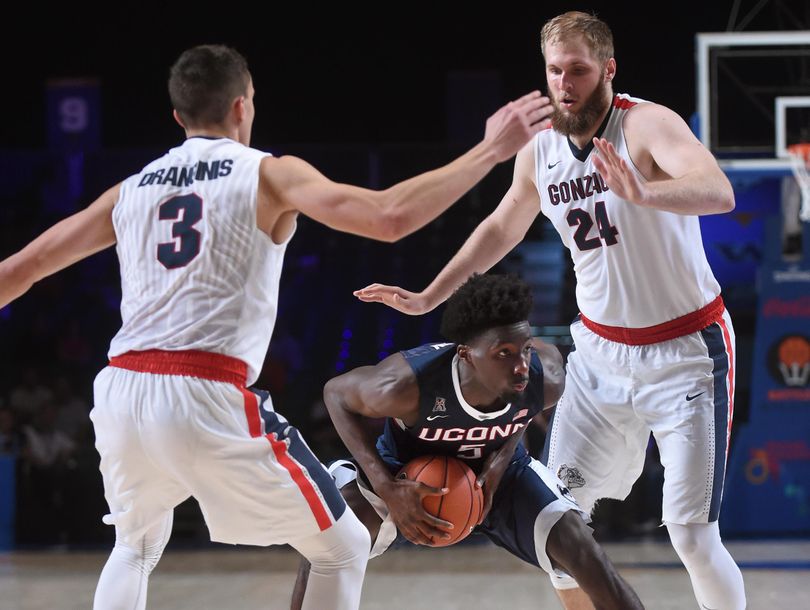 A GRIP ON SPORTS • What is going on over at Gonzaga? Why are there so many injured basketball players? I'm sure Mark Few and Lisa Fortier would like to know the answer to those questions. Read on.
••••••••••
• The Zag men are in the Bay Area this weekend, one of two trips they make each year to the land of Mark Twain, earthquakes and beautiful bridges. Przemek Karnowski is not with them. He's in Spokane, recuperating from recent back surgery that will cost him the season. The big man started the season by dominating the middle for GU, as usual for the past three years, then missed the WSU game with soreness in his back. It got worse from there. Now he won't be healthy for six to nine months. It's sad for him, it's sad for Gonzaga. A season that began with debates about how the Bulldogs were going to get their three bigs on the court at the same time, and how to get each of them enough playing time, is now in the do-we-have-enough-bigs-to-survive category. Kyle Wiltjer tweaked his foot at the end of Thursday's tight win at Santa Clara and his status is unknown. Domantas Sabonis was also shaken up during that game, though he finished it, something Wiltjer did not do. Remember, this is a Zag team that is using scholarships on redshirting players, transfers who will not be eligible until next season. That means this year's group is down to eight healthy scholarship players. A lot was expected of this team after last year's Elite Eight appearance, especially with three professional-grade bigs returning. Now there is some nail-biting going on among the Gonzaga faithful. Which must mean it's January.
• The women have had it even worse when it comes to injuries. They started the season with two key parts on the bench, 6-foot-5 sophomore center Emma Wolfram, dues to shoulder surgery in the offseason, and senior wing Shaniqua Nilles, out with a knee injury suffered in the offseason. They both made it back, but in Wolfram's case only for a while. She suffered a season-ending knee injury in practice that required surgery. But that's not the only injury the Zags are dealing with, though the way Wolfram finished last season – she was GU's best big in the NCAA tournament – it may be the most important. Elle Tinkle, who averaged 11.7 points a game last season, has played off and on recently as she deals with a balky knee. The senior wing's absence is felt on both ends of the floor, especially since Nilles is still rounding into form. Today, the Zags host Santa Clara, coached by former GU assistant J.R. Payne. The Broncos are the surprise of the WCC. They won just 10 games a season ago but surpassed that number before conference play began. They are 12-2 (that after losing their first two games, to Washington and USC), defeated Stanford on the road and are playing defense about as well as anyone in the WCC. But that's the way college basketball works. There is no sympathy from your opponents. No one cares who you don't have playing. All that matter is the ones that do. No matter who you are.
•••
• WSU: The Cougars opened Pac-12 play last night in Pullman, before a sparse New Year's Day crowd. There wasn't a lot of energy in Beasley, not in the stands and not on the court early on. Except from the Trojans, who raced out to a huge lead and coasted to a 90-77 victory. There was a stretch in which USC finished possessions with dunks three consecutive times, one of which happened in Josh Hawkinson's face – literally. Jacob Thorpe has the story of the tough-to-take defeat. ... Jacob also has video of interviews with the players and coach Ernie Kent as well as the box score. ... Stanford showed the country its best face, especially in the first half, while Christian McCaffrey showed why he should be in the Heisman discussion again next season. The Cardinal dominated Iowa, led 35-0 at halftime and won the Rose Bowl 45-16. ... Oregon faces TCU in the Alamo Bowl today and the Ducks' Mark Helfrich has decided Matt Lubick is his offensive coordinator going forward. ... Why aren't the college football semifinals today? Good question. After the ratings they received on New Year's Eve, I'm sure ESPN wishes they had been. ... It was a good day all around for Stanford, as the basketball team took down Utah in overtime. ... California pulled away from Colorado and Washington outlasted UCLA in double-overtime in Seattle. ... Deone Bucannon has become an integral part of the Arizona Cardinals' defense.
• Gonzaga: The Zags' beat-up nature is the subject of Jim Meehan's advance in today's paper. Gonzaga faces USF tonight in what's been a tough place for them, War Memorial Gym. They have won three consecutive times there but that comes on three straight losses.
• Chiefs: The Chiefs made a trade yesterday that seems a bit surprising. They sent leading scorer Adam Helewka to Red Deer, getting two players and two draft picks in return. ... Everett topped Kelowna last night and moved into first place in the U.S. Division.
• Preps: There were high school basketball games on the holiday. We have a roundup.
• Seahawks: Let's see. Arizona has a tough defense. The Hawks have a pretty decent offense. But Seattle will be without Marshawn Lynch again – he's expected back at practice next week – and now without 40 percent of their usual offensive line. Recipe for disaster? ... No one is resting for either team on Sunday, despite both teams being headed to the playoffs. That's because neither know their ultimate fate. ... Red Bryant is now playing for the Cardinals. ... The Hawks' newest obsession? Table tennis.
• Mariners: What do you remember most about Ken Griffey Jr.? For Larry Stone, it is the swing. For me too. Or the smile. ... The Associated Press' Tim Booth has his memories as well. He's of just the right age to reminisce about Griffey.
•••
• It's Saturday, right? I sometimes lose track. Holiday weeks make it even tougher. At least I don't have to worry about that for a while. Until later ...
---
---