Sun., Jan. 3, 2016
It seemed as if Saturday's sports action started at dawn and ran until midnight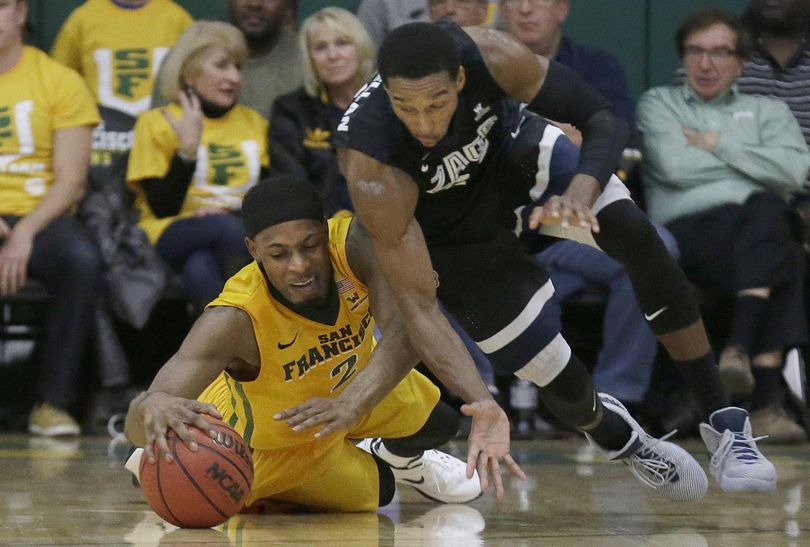 A GRIP ON SPORTS • It's Sunday morning. Do you have a hangover? I do. A sports-induced hangover. Talk about too much to watch yesterday. Which is, I guess, a really good thing. Read on.
••••••••••
• Where to start? Well, I guess it's smart to start where we began yesterday, at Gonzaga watching the women outplay Santa Clara. The Broncos came into Spokane riding a 12-game winning streak, a stretch that included a win over Stanford, always one of the country's best. But Gonzaga seemed more determined, despite the physical nature of SC's 1-2-2 matchup zone. This isn't the same team GU coach Lisa Fortier expected to battle West Coast Conference foes with, thanks to injuries, but she is finding the right combinations at the right time. And the Zags just keep on winning.
• Has there been a player who has meant more to one team during one college football season than Vernon Adams Jr., has meant to Oregon this year? With him, the Ducks might be one of the best five or six teams in the country. Without him, eh. The final stark piece of evidence was displayed last night in the Alamo Bowl. With a healthy Adams leading the way, Oregon raced out to a 31-0 lead. They flew all over the field on both sides of the ball, dominated TCU and seemed well on the way to giving the Pac-12 its seventh bowl win of the season. Then Adams went down with a (un-penalized) helmet-to-helmet hit. And everything changed. Look, I know it's tough not to have your best quarterback play. The Cougars' performance in the Apple Cup illustrated that. But TCU didn't have their star either and the Horned Frogs found a way. Mainly by knocking the Ducks' main guy out and then taking advantage of Oregon's ensuing woe-is-me attitude. It seemed as if the Ducks decided they were done without Adams. Maybe that's because they've seen Jeff Lockie's act before. Or maybe it was because they also lost the heart of their offensive line, center Matt Hegarty. Or maybe it's because the defense ran out of gas. Who knows. But blowing a 31-point halftime lead is embarrassing no matter how you cut it. The 47-41 triple-overtime loss will resonate in Eugene for a while.
• How about coming back from a 16-point deficit? On the road? In a place where your team has struggled before? With a bunch of dudes limping around? Mark Few has to be feeling a sense of pride today. Anytime a team shows the fight GU did last night at USF, a coach has to be proud. Especially when that fight results in a real win, not a moral victory. USF made shots you don't see every day – a couple around the rim belied belief – and led by 16 with less than nine minutes left. But Domantas Sabonis – 36 points and 14 rebounds – and Kyle Wiltjer 30 and 11 – led them back, taking a three-point lead into the final seconds of regulation. And, when the Dons hit what could have been a deflating 3-pointer to tie the game, GU shook that off as well and rolled over USF in overtime, winning 102-94. Wiltjer hurt his foot Thursday and seemed to be limping a bit early, but he played through the problem and made a bunch of big plays late. Sabonis, who rolled an ankle against Santa Clara, was just unstoppable all night long. Still, it took an impressive comeback and some mental fortitude for the Zags to avoid a loss. And, the way the WCC is shaping up, GU will need at least one of those things often the rest of the season.
• The night ended in a see-saw battle in the desert, as the Pac-12 ended the bowl season on a down note. West Virginia and ASU played Arena League defense most of the night with the Mountaineers getting the last laugh in the Cactus Bowl, 43-42. I blame Oregon.
•••
• WSU: The Cougars host UCLA today but before they get there, Jacob Thorpe took the time to look back at the USC loss. He also has a morning post with some links. ... The WSU compliance office switched gears yesterday and the school said it is OK for fans to contribute to the Sorenson family's medical account on GoFundMe. ... The Ducks were awesome in the first half, shocked in the second. And afterward, despondent. ... Arizona State just couldn't stop West Virginia when it needed to. ... Utah held off WSU in women's basketball action.
• Gonzaga: I love the way WCC gyms are morgues when Gonzaga isn't in town and circuses when the Zags are. (To be fair, these days BYU draws pretty good crowds around the league and Saint Mary's is a decent road draw as well, though neither attract the attention of GU.) It was Ringling Brothers last night at War Memorial. Jim Meehan was there and has this game story on the comeback win over USF. He'll also be back sometime today with a day-after post. ... It was a quiet night around the West Coast Conference with BYU dominating Pacific, Pepperdine getting past Loyola Marymount and Santa Clara bouncing back with a win over Portland. ... The Gonzaga women's win keeps them atop the WCC standings. Jim Allen has the game story and Jesse Tinsley the photo report.
• EWU: Big Sky Conference play has not opened well for the defending champion Eagles, who dropped their second consecutive road game, this one 79-71 at North Dakota. ... Montana pounded Southern Utah in Cedar City and Montana State handed Northern Arizona a home defeat. ... Weber State opened conference with a win over Idaho State.
• Idaho: The Vandals are 2-0 in Big Sky play and have already doubled the number of road wins they had last year, thanks to Saturday's 75-70 win over Northern Colorado. Sean Kramer has more in this blog post.
• Chiefs: Spokane traveled to Portland, made comeback after comeback but finally fell 6-5 in a shootout. ... Everett stayed hot with another victory and Tri-City defeated host Seattle.
• Empire: Is the AFL doomed? Portland has yet to agree to play next season.
• Preps: School doesn't begin again until tomorrow, but there were a few high school basketball games last night. We have roundups of the girls and boys action. ... Some local soccer players earned awards recently.
• Seahawks: The Hawks know if they lose at Arizona today they will be the NFC's sixth seed in the playoffs. But other than that, nothing is certain. But they must win to hold any hope of the fifth seed. ... Who should you watch today? And what are the keys to a Seattle win? ... Both teams will be in the playoffs but neither is coasting into them. ... The Marshawn Lynch saga this season is different than in the past. ... Russell Wilson's last pass on the Cardinals' home field wasn't a productive one. ... Is football as we now know it, doomed?
• Mariners: The offseason has been transformative, not only in Seattle but all over the American League West.
•••
• It's supposed to warm up soon. I'll believe it when I see it. I'll also believe the Hawks can make a third consecutive trip to the Super Bowl when I see a road win against a tough opponent. They have a chance for that today. We'll see. Until later ...
---
---