Tue., Jan. 5, 2016
There is not a lot of local basketball this week to interfere with our worrying about the Seahawks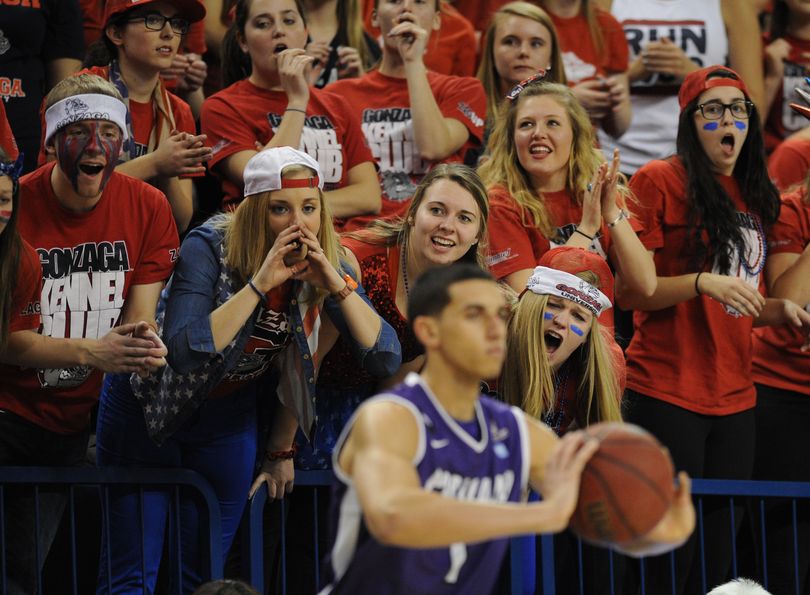 A GRIP ON SPORTS • Looking ahead to the next few days, it is going to be a strange week. And we're not referring to the weather. College basketball is basically dormant around here until the weekend, which is a good thing, I guess. It gives us more time to dissect the Seahawks playoff game. Read on.
••••••••••
• Washington State vs. Washington. Idaho vs. Eastern Washington. Gonzaga vs. Portland. Those three pair of travel partners all face-off this week, meaning there is no other Division I games. It's an odd confluence of scheduling that leaves us feeling empty until the weekend. And divides our attention once the three games occur. It will be a jam-packed Saturday, that's for sure. It starts at noon in Cheney where the Eagles, last season's Big Sky champions, will try to fend off the challenge of this season's top challenger – the Vandals are the only team in the conference with 10 wins. But that's not the only noon tip. Washington State hosts its rivals at the same time in Pullman, which makes watching both games a challenge, not just in person but via the magic of cable or dish. But no matter your choice, you can be back in time to catch Gonzaga's home contest with Portland. It begins at 5, leaving you plenty of time to rest and recuperate Saturday night. You'll need to. The Hawks kickoff in icy Minnesota at 10 our time the next morning.
•••
• WSU: The Cougar women began the week on a positive note, going into Boulder and finding a way to get past Colorado, 74-66. ... It was a day of change in Oregon, as the Ducks revamped their defensive coaching staff. Mark Helfrich didn't fire longtime assistant Don Pellum, however. He just demoted him from coordinator to linebackers coach. Seems like a nice thing to do. However, how would you like to be the next coordinator, who is expected to come in from the outside. Your predecessor is still on staff, looking over your shoulder and eliminating a time-honored college football tradition: Blaming the previous guy for all your current troubles. ... There were changes at Arizona State as well, with former WSU assistant Chris Ball following Mike Norvell to Memphis. ... ESPN.com's Pac-12 blog has its last power rankings as well as some questions WSU will face this offseason. ... Jon Wilner looks back at a disappointing bowl season for the conference. ... California is off to a nice start to the conference basketball season. ... Washington's Andrew Andrews earned the Pac-12 player of the week award.
• Gonzaga: Senior point guard Georgia Stirton was named the WCC's player of the week.
• EWU: Former Colfax standout Brandon Gfeller earned the Big Sky's player of the week award for Montana.
• Chiefs: The revamping of the roster continued yesterday with the Chiefs trading a 20-year-old forward and a draft pick for another 20-year-old forward. ... Everett's strength is its goalie. ... Tri-City's coach has been around the WHL a long time.
• Seahawks: Pete Carroll made the rounds yesterday, appearing on the radio and then holding a press conference. The biggest news, as it always seems to be, concerned Marshawn Lynch, who is back at the Hawks' headquarters and is expected to practice this week. Whether the running back will play Sunday is still unclear, but, as always, Carroll sounded hopeful. ... The last time these two teams met, the Hawks won by 31 points. That has one carryover: the Vikings are ticked. They also have a great running back, though Adrian Peterson is dealing with some back issues. ... Russell Wilson signed a big contract before the season. He's showing he's worth it. ... One thing Carroll admitted to yesterday: The Hawks suffered a Super Bowl hangover. ... If my dad were still with us, this news would tick him off. Three teams applied to the NFL yesterday to move to Los Angeles: Oakland, San Diego and St. Louis. Dad always liked not having a home team. Then there was no blackouts, something that happened a lot when the Raiders were in Los Angeles.
• Sounders: Portland is debating whether to make changes to its home facility.
•••
• There is college basketball in town tonight. Whitworth is hosting its rival, Whitman. The women play at 6, the men at 8. It may not be Division I, but the Pirate men are the second-ranked team in Division III. Until later ...
---
---