Wed., Jan. 6, 2016
The day M's fans have been waiting for since 1995 or so has finally arrived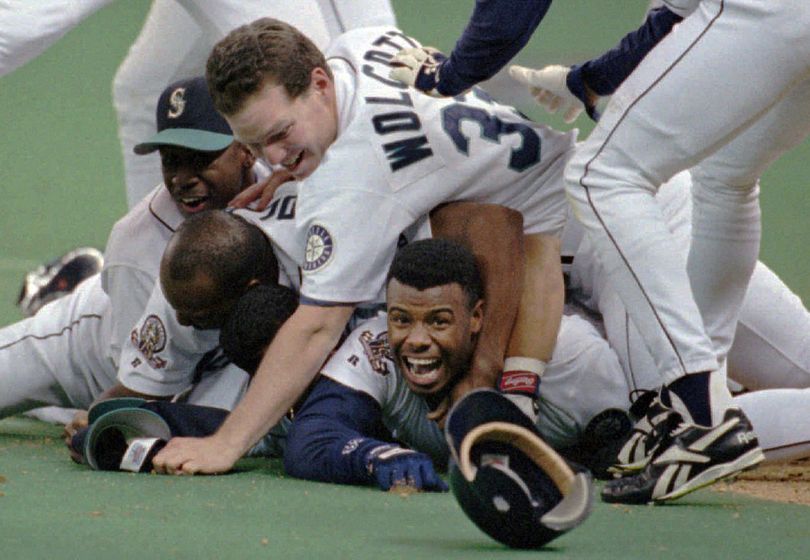 A GRIP ON SPORTS • Today's the day. The day a Mariner finally makes it to the Hall of Fame. The day Ken Griffey Jr., the greatest player in Mariners' history, is voted in. It's been a long time coming. Forever, actually. Read on.
••••••••••
• We all know that guy or gal. The one who has been an M's fan since the beginning. Who has lived through all the heartbreak and hell, all the tears and terror, all of the usual downs and the occasional ups. We all probably know a lot of them, actually. And to a person, they'll tell you their fondest memories as a fan revolve around Ken Griffey Jr. And why wouldn't they? The greatest player in franchise history was a joy to watch play. Sure, he had some baggage and twice he loaded said baggage and left town. But on the field, wow. His smile was bright enough to light up the Kingdome. His swing was easy to copy – a generation of Northwest kids did – but impossible to duplicate. His leaps were almost Superman-like, though the Kingdome wall proved to be his Kryptonite one fateful season. Even then, when Griffey missed most of 1995 after colliding with the wall and breaking his wrist, Griffey turned a negative – being out almost three months – into a positive – helping the M's run down California and win their first title. He did that for most of his stint in Seattle, making the Emerald City a baseball town and helping to save the major league version of the game in the Northwest. He was the greatest player of his generation, a complete player who hit like Babe Ruth and defended like Willie Mays. And, most importantly to a generation of Northwest children, he was theirs. The warts? The petulant attitude, the forced trade, the sad final season? Time has washed them away and all that remains is that smile, that swing and the numbers. And today, he – and in a way, us – gets his just reward. He'll be voted into the Hall of Fame, where for the first time a bust in Cooperstown will feature an M's cap. The only question is, really, will he break Tom Seaver's record for highest percentage of votes? Why shouldn't he? Though he played in an era of steroid-inflated numbers, Griffey seemed clean in that regard. He was a throwback to ancient times, when natural talent was the only thing necessary. Weights? Drugs? Trainers? Griffey seemed to eschew them all, preferring to settle into the box and just let his swing do all the work. Writers who will vote for anyone despite proof of steroid use should vote for him. Writers who won't vote for steroid-tainted folks should vote for him. Even writers who believe the first unanimous choice should be the best-of-the-best may vote for him. Will he get every vote? No one has gone out on a limb and said yes. I don't believe he will either, but he should. If Randy Johnson, a former teammate, was good enough to receive 97.3 percent last year – third-best all time behind Seaver's 98.84 and Nolan Ryan's 98.79 – then Griffey seems a lock for at least 99 percent. But it doesn't really matter whether it is unanimous or just nearly so. All that matters is he's going in. One of the M's is going in. And that fan you know, the one who has suffered not-so-quietly over the years rooting for one of baseball's most dysfunctional teams? They will get to smile this afternoon. A Ken Griffey-wide smile.
• All that being said, it's too bad so many writers with a Hall of Fame vote don't really seem to understand baseball. If they did, Edgar Martinez would be in all ready. It seems the greatest designated hitter of his generation is getting closer – pre-release tallies show Martinez making a big jump this year, though not to a point where he'll be elected – which just isn't good enough. Martinez didn't have Griffey's swing (no one did, actually), but he was about as productive for most of his career. The idea in baseball is to score more runs than your opponent. Simple, really. But that basic foundation of the game seems to elude those who leave Martinez off ballots. He produced as many runs as any player of his time, though he never had the flair of his teammate or the New York publicity machine behind him. He just created runs with his bat, year after year, without any fanfare or panache. He was a consummate professional hitter with numbers worthy of the Hall no matter which position he played. Maybe, after Griffey campaigns for him this summer in his induction speech, Martinez will make the final leap. Let's hope.
•••
• WSU: It was a quiet day in the Palouse and around the Pac-12, though a few big names in football are either going pro or changing schools. ... ESPN.com's Pac-12 blog looked back at the best performances in conference bowl games.
• Gonzaga: One thing you can say about the West Coast Conference. Up and down the coast, the schools are populated with shooters. Jim Meehan examines this truism today in his Gonzaga notebook.
• EWU: When Eastern and Idaho meet this week in Big Sky play, the two women's teams will enter with perfect conference marks. Jim Allen has more in his weekly women's basketball notebook.
• Idaho: Former Idaho star Mike Iupati was named the Polynesian professional football player of the year yesterday.
• Whitworth: It was rivalry Tuesday at Whitworth with the Pirates hosting their nemesis from Walla Walla. In the men's game, Tom Clouse has the story of the second-ranked Pirates' win. He also has this story on Whitman's victory in the women's game.
• Chiefs: For the first time in franchise history, Spokane will retire a number. And it is fitting it is Ray Whitney's number.
• Preps: It was a typical basketball night in the area and we have the typical report. There are boys and girls roundups from the GSL as well as roundups of girls and boys games around the area. ... State champions dominate the SWABs award nominees for 2015.
• Seahawks: Remember that line in "Groundhog Day?" You know, "it's cold out there every day?" Well, they could have been talking about Minnesota. It's going to be cold out there Sunday. And the Viking faithful are banking on it in their matchup with the Hawks. ... They also hope Teddy Bridgewater can play better. ... Pete Carroll admitted yesterday his team dealt with a Super Bowl hangover. And it took a lot of hard work to get over it. ... Doug Baldwin is putting in the work to be Steve Largent-like.
• Mariners: The Hall of Fame announcement today dominates the baseball world, as it should. Baseball's hall is different than other sports, with a longer tradition and a unique link to a sport that celebrates its past routinely. The records set on the field in the 1920s resonate almost a hundred years later. As does the voting numbers that were announced some 80 years ago. So today is a big day and not just for Griffey.
• Sounders: Jordan Morris announced yesterday he's turning pro. Now the question is will the homegrown player sign with the Sounders or head overseas? The decision could shape the franchise for the next few years.
•••
• We will know about the Hall of Fame this afternoon at 3 p.m. I'm waiting on the edge of my seat. Sort of. If Mike Piazza makes it in, then Martinez should get in. Some say Martinez isn't a Hall of Famer because he was a designated hitter, so he wasn't a complete player. Hogwash. I counter Piazza was such a bad defensive catcher he actually cost his team runs, something Martinez never did. So if he gets in, then Martinez should get in as well. Until later ...
---
---