Sun., Jan. 10, 2016
Day after Portland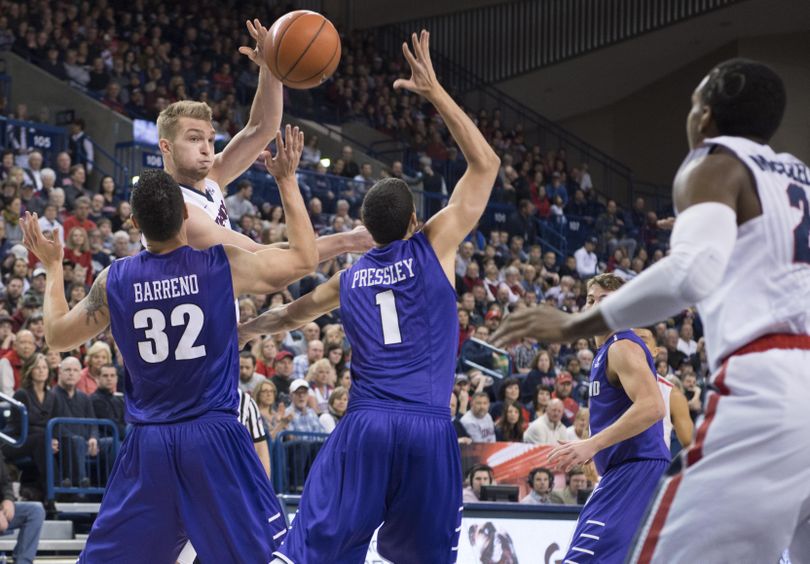 A tad sleepy in the first half at the McCarthey Athletic Center last night with the students still not in session (school starts Tuesday) and the Zags' uneven play not giving a docile crowd much to cheer about. Late in the half, Kyle Wiltjer provided a spark during a 13-2 run by hitting a pair of 3s, one in the closing seconds, and GU had a 37-25 lead.
From there, Gonzaga wasn't seriously threatened, even when Portland was within 9 in the final minute. GU led by as many as 20 in the second half and was up 79-62 with 3:48 left.
My game story and Tyler Tjomsland's photos.
More below in my day-after post.
--How impressive, and consistent, have Domantas Sabonis and Kyle Wiltjer been? One or both have led or shared scoring honors in every game except Santa Clara (Josh Perkins' 26). Silas Melson's 15 points shared game-high honors with Sabonis against Mt. St. Mary's.
Sabonis is really good, and getting better. The 6-foot-11 sophomore seems to show off another new offensive wrinkle with every outing. Last night he made a dandy right-handed jump hook. He's becoming a more accomplished passer out of double teams. He had four assists and lost out on a couple more when teammates missed close-range shots (GU missed a bunch of layups, 3-footers, etc.).
"I feel like I'm being more confident on the court, more comfortable," Sabonis said. "My teammates are doing a good job of cutting when I'm double-teamed. I try to work on my right hand and shooting every day. If I have a chance in the game I'm going to shoot it."
Sabonis played 38 minutes (career high for a regulation game). His stat line: 28 points, 17 boards, 4 assists, 3 blocks, 3 steals, 2 fouls (one iffy).
"Obviously his moves (offensively), he's very comfortable now, much more than at the start of the year," coach Mark Few noted. "And being able to play without fouling has been big. He's sustaining his effort, he's playing good minutes. Earlier in the year, he'd get tired and it would lead to bad decisions or dumb fouls. He's doing a much better job of managing all that."
--Wiltjer has hardly practiced since he went down with a foot injury in the final minute of the Santa Clara game. There was bruising and swelling in his foot but apparently nothing structurally wrong. GU is trying to rest him as much as possible to assist his recovery. His foot loosens up after he gets involved in games.
That makes his last two performances – 30 points, 11 rebounds against San Francisco and 32 points, 4 boards versus Portland – even more impressive.
"It's tough, we really wanted to get that swelling out of there," Few said. "We'll probably have to do it again (limit practice time next week) but I think it's better than it was."
STATS OF NOTE
--Gonzaga had 16 turnovers. Sabonis (5) and Wiltjer (3) were responsible for half of those miscues.
--Gonzaga's 16 turnovers was its most since committing 16 vs. Washington State.
--Josh Perkins, who entered shooting 51.4% at the FT line, made 6 of 6, boosting his percentage to 58.1.
--Ryan Edwards played just four minutes, all in the first half.
--Perkins (7 assists) surpassed Kyle Dranginis (2) as the team leader in that category (56-54).
--Wiltjer (23.4) and Sabonis (22.4) are averaging nearly 46 points per WCC game.
--Sabonis is averaging 3.2 assists in WCC play, second highest on the team.
--Portland's 16 turnovers was the most by a Zag opponent this season.
QUOTEBOOK
Few: "It was a good win. Anytime we can dig out a win in league, especially with this group that we have, we're going to celebrate it and feel great about it."
Portland coach Eric Reveno: "We don't turn it over much. Our posts turned it over a little bit. Give Gonzaga credit for their size. We have to continue to find a way to stay close and not let it get away from us when our shots aren't falling. We can score the ball at times, but we get too far behind sometimes."
---
---