Sun., Jan. 10, 2016
The Hawks road to a third consecutive Super Bowl begins in ice-cold Minnesota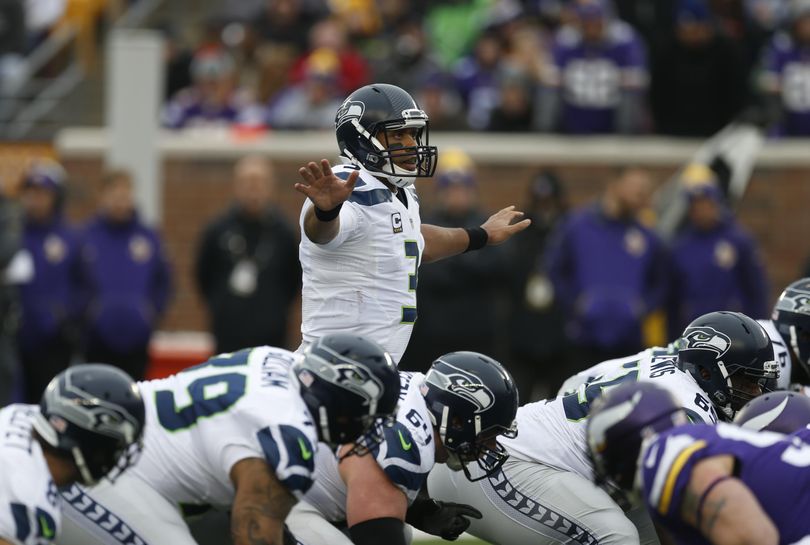 A GRIP ON SPORTS • No Marshawn Lynch. And it will be colder than, pardon the language, heck in Minneapolis today. So the Seahawks are doomed. Right? Not necessarily. Read on.
••••••••••
• Adversity comes in many forms. Unusual conditions. Missing teammates. Poor calls. Yet adversity can make the heart grow stronger. Tougher. At least that's what the Seahawks are hoping for today in Minnesota. See, despite being a wild-card team on the road, the Hawks are the favorites. Mainly because they defeated the Vikings by 31 on the same field just a few weeks ago. But the favorite role doesn't sit well in the NFL. Not for a team like Seattle, which thrives on an us-against-everyone-and-their-cousin mentality. So enter adversity. Lynch stays home, so the running game is in disarray. It's so cold the defense won't hit like it usually does. The rabid Viking fanbase will intimidate the officials. At least those are the narratives. In the Hawks' locker room – my guess is Pete Carroll snuck around, turned down the heat and blamed it on the Viking folks – they are taking those narratives and using them as fuel. And Minnesota is on the pyre. All it will take is a spark early – my guess is on Russell Wilson playing the role of the pyromaniac – and the Hawks will be burning. Let's just hope Christine Michael's cold fingers don't play the fire marshal role, fumbling away the chance at a win.
• If you didn't have anything else to do yesterday, you had a chance to watch some really good college basketball. Sadly, I was busy until midafternoon so I didn't see Washington's overtime win over the Cougars live. However, the play late in the evening made up for it. Gonzaga won the way it's been winning, riding its two better-than-anyone-you-have players to a win over visiting Portland, but I abandoned that in the second half. I had to turn on USC and Arizona. Four overtimes. Plenty of excellent offensive plays. Sean Miller laments how poorly his soon-not-to-be top 10 team plays defense and it showed much of the second half and through the four overtimes. When the Wildcats lock in, they are pretty good and they did just that down the stretch in regulation. But when they needed just one big stop any time in the four extra periods, they couldn't get one. So USC did and won, 103-101. It was worth the price of admission.
•••
• WSU: The Cougars had just enough second-half lapses to almost lose contact with the Huskies. But a rally from a late 10-point deficit sent Saturday's Pac-12 rivalry game to overtime, where UW found a way to win, 99-95. Jacob Thorpe was in Beasley and has this game story in this morning's paper. He also has the box score – check the free throw totals – and video of WSU players and Ernie Kent afterward. ... There were some key games in the Pac-12 yesterday and Jacob has links to them all in his morning post.
• Gonzaga: The Pilots fought to the end, but they had no answer for Domantas Sabonis (28 points, 17 rebounds) and Kyle Wiltjer (32 points) just overpowered Portland all game long. Jim Meehan has the game story and Tyler Tjomsland adds a photo report. ... The Zags' win moved them alone atop the WCC standings after Saint Mary's lost at Pepperdine. ... BYU made 15 3-pointers and defeated San Francisco. ... USD lost again despite U-Hi alum Brett Bailey's 22 points. ... Pacific won its first conference road game, 60-58 at Loyola Marymount. ... Portland received a commitment from a local player. ... The Gonzaga women fell behind by a lot early but rallied for a road win over Portland.
• EWU: The Eagles returned home for the first time in, seemingly, forever yesterday. They made it worthwhile, handing Idaho its first Big Sky Conference defeat, 74-60. Jim Allen was at Reese Court and has this game story. ... Elsewhere in the conference, host Montana handled Sacramento State with ease, winning 77-58, while Weber State kept pace with an 85-68 home win over Northern Colorado. ... Northern Arizona defeated Southern Utah 73-63 and Portland State went into Bozeman and defeated the Bobcats, 77-70.
• Chiefs: It wasn't a good night for the new Chiefs. For any Chief for that matter as they were hammered 7-2 by Regina. Tom Clouse has the story. ... Kelowna defeated visiting Tri-City 7-5 and Seattle held off visiting Everett 3-2 in overtime.
• Preps: It was your typical Saturday around the Inland Northwest. We can pass along a wrestling roundup and girls and boys basketball roundups.
• Seahawks: Do you know what's up with Lynch? If you do, you are either really well connected or quite possibly know Wednesday's Powerball numbers. Either way, I want to get to know you. Everybody else is just speculating. ... Most of the advances to today's game include some mention of the weather, Lynch and or the Hawks new-found offensive explosiveness. ... The Vikings have some regrets about Pete Carroll.
• Mariners: Sports editor Joe Palmquist has his thoughts on Ken Griffey Jr. And a picture of him.
•••
• Forget the NFL today. Forget the idiocy of the ending in Cincinnati and the rout in Kansas City. Forget the cold in Minnesota and forget Kirk Cousins yelling at the media. Just concentrate on one thing. Focus on sending powerful mental images of me winning the next Powerball drawing. Do that and I promise to buy the Mariners and build a World Series-winning franchise. With $1.3 billion – I figure I will be able to keep the whole thing if I declare my intent at such a charitable endeavor – and my baseball acumen – I once finished out of the cellar in my Rotisserie league – I can do it. So spend some time before Wednesday focusing your mental energy on helping me pick the correct numbers. You won't regret it. I'll even do my final column from my little island in the Caribbean, er, I mean from my office in Safeco. Until later ...
---
---