Mon., Jan. 11, 2016
You can't help but hurt a little bit for Viking fans
A GRIP ON SPORTS • You know the ecstasy you felt yesterday afternoon when Blair Walsh's 27-yard field goal sailed wide left? Mine was quickly followed by another "e" word. Empathy. And, yes, I know we're not supposed to have any. Read on.
••••••••••
• Later Sunday evening I found a video on-line. It was of Viking fans in the upper reaches of the University of Minnesota's stadium – the Vikings' temporary home while their new facility is being built. You can hardly see the field on the video, a common occurrence from the top rows of NFL palaces. No matter. You cold feel the cold, the excitement, the drama as Walsh lined up the kick that would send the Minnesota faithful back to the warmth of their cars with a smile on their faces. The kick goes up and these fans begin to celebrate. Their team was moving on. Then the news begins to filter through the crowd. Realization begins to settle in. The kick was no good. The Vikings were going to lose. The seven steps of dealing with disappointment flew past in seconds, though there was a longer stop at anger. As the cell phone was turned around toward the videographer, I immediately felt sad. My mind raced back to last year, to the end of the Super Bowl. To my families' despair (to use a way-too-emotional word). Yes, as Hawks fans, we could be on a high yesterday. Our team had survived somehow. A for-sure kick to win a game had missed. And that brought back memories of how my Cougar friends had reacted some 15 months ago when the same thing happened to them against California. Being a fan means you have to deal with agony as well as ecstasy. Both can tear at your insides, testing your fortitude. Do you try to find someone to blame for ruining dreams? Do you taunt and berate fans of the losing side? Or do you accept the make or miss with the same equanimity? Well, we know the last one isn't true – and it shouldn't be. It's OK to celebrate victories and despair over defeats. That's part of what being a fan is. But it's also OK to be of two minds, especially on a day like yesterday, to put yourself in that upper level seat for a few minutes. To have braved the sub-zero cold, to have dealt with the long lines and expensive prices, only to see your team play well enough to lose. In heartbreaking fashion. It's enough to crush your soul. And, if you are a fan long enough, you will probably experience it some time. So have some compassion.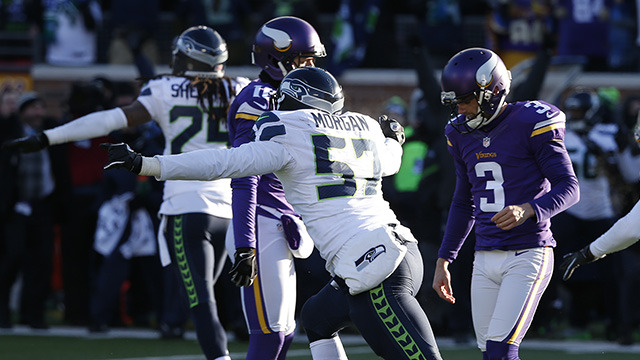 • Want a playbook for how to handle failure? Study Walsh's response to the miss. No blaming the holder for the laces being incorrect. No blaming anyone, actually, except himself. He spent time crying, knowing he let everyone down. But he didn't hide. Walsh owned the miss. He said things like "I'm the only one who didn't do my job." And "I'll take the blame because I deserve every second of it." He answered questions, acted like, as my dad would say, a man – in the best sense of the word. Yes, he missed a short attempt that would have won a playoff game. And, yes, by missing his team didn't get to move on. But he what if Adrian Peterson hadn't fumbled? Or the defense hadn't let Russell Wilson get away and find Tyler Lockett for a game-changing play? Yet Walsh accepted his role as the sacrificial lamb. And accepted the blame.
• Before we move on, we have to marvel at Wilson one more time. The play he made after the fourth-quarter botched snap, the one that led to Lockett's catch-and-run to Minnesota's 4-yard line, was a play not many quarterbacks in the NFL could make. In fact, I would posit Wilson is the only one. He recovered the flailing football in such a manner he could rise quickly and make a move, similar to the way a second baseman dives after a ball up the middle, so that he can make a throw to first base. Oddly (not really), Wilson played second base in the minor leagues, which isn't the usual training ground for an NFL QB. But his past served him in good stead on this play. As did his feet. When Wilson got back up, there were five Vikings coming toward him. Somehow he eluded them all, moving to his right and always looking downfield. Doug Baldwin was to his right, on the sidelines, waving his hands, but Wilson ignored him, looking for a bigger play. Looking to turn adversity into opportunity. He did. Lockett was alone. Open. Free. The ball was perfect. Thirty-five yards later the Hawks' chances to win had increased fivefold. All because of Wilson. On what was up to then an awful day of quarterbacking, he had turned the page. Turned disaster into success. And turned the game around.
•••
• WSU: The Cougar women had their chance against No. 14-ranked Arizona State but a poor second half cost them Sunday in Pullman. ... Oregon's men picked up a much-needed home win against Stanford.
• Gonzaga: Jim Meehan was back on the blog yesterday with his day-after post concerning Saturday's win over Portland.
• EWU: Southern Utah has a new football coach. The Thunderbirds stayed in-house with their hire.
• Chiefs: For the second consecutive day, the Chiefs came up short in a home game. But their 3-1 loss to Everett was still better, according to coach Don Nachbaur. Tom Clouse has the story. ... Portland lost at home to Kamloops.
• Seahawks: As can be expected there are about three storylines to pass along. The most important is how the game finished and what that means to those poor folks in Minnesota. And what it meant to the Hawks, who were hoping the field goal would miss but weren't expecting it to. ... The other main one would be the fourth-quarter comeback, led by Wilson, that erased a 9-0 deficit. ... Finally, there is the weather. The cold, specifically. It was the third coldest playoff game in NFL history. ... So what happens now? Does Marshawn Lynch get well enough to play next week? (Pete Carroll admitted he just didn't know.) And what challenges does Carolina present? ... One odd occurrence from the weekend: All four road teams won. ... Christine Michael stepped up. Peterson didn't. So did Doug Baldwin with one great catch.
•••
• Do you remember the coldest sporting event you ever played in? And how much the cold actually hurt? Then just think how hard it must have been to play yesterday in that weather. Until later ...
---
---