Wed., Jan. 13, 2016
It's not fun when a season comes to an end prematurely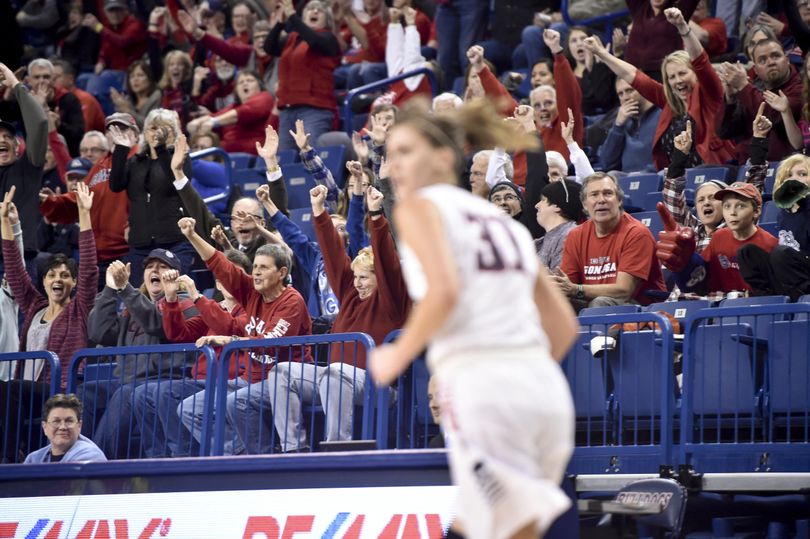 A GRIP ON SPORTS • Injuries are never fun in any context. But an injury to a college senior, one that seemingly ends a career, may be the worst of the lot. Read on.
••••••••••
• As you probably know, my wife Kim holds season tickets to Gonzaga women's games. I accompany her as often as I can. And, as anyone who has eve been in that position realizes, over the course of four or five years, you get to know the players well, if only in their on-court (or on-field) persona. Still, you feel a bit of connection with them. And when something untoward like an injury happens, it hurts you a bit as well. Such is the case with Gonzaga's senior wing Elle Tinkle. We've watched her mature from being best known as Wayne Tinkle's daughter into the persona she took into this season: team leader. Last year she took huge steps for Gonzaga, one of the main reasons the Bulldogs put together another Sweet 16 season. And this year? She was going to take another as the focal point of an offense that seemed perfectly balanced inside and out. But that was before shoulder and knee injuries ended 6-foot-5 sophomore post Emma Wolfram's season. And before Tinkle herself injured her knee, putting a cramp in midweek preparation and limiting her minutes early in the season. Tinkle tried to play through the injury, wearing a sleeve to keep her knee supported, and shouldered through most of the non-conference games. But the injury was too bad. She underwent knee surgery this week. Her senior year is done. Having played in 10 games, even if she was less-than-healthy in more than half of them, she's right on the edge of the NCAA's 30 percent rule for allowing a medical hardship waiver. Having not redshirted before, Tinkle would seem to be the perfect candidate for another year of competition. If she wants to. It's a fact of life that most college athletes aren't preparing for pro careers. They are preparing for life. A nursing major, Tinkle will be a success no matter what she decides to do. Work to get another year at GU or begin the rest of her life. It's a decision she and her family will have to make. Because one thing is clear. A year that was supposed to be the culmination of a Gonzaga career has come to a crashing halt. It isn't easy to deal with. And it happens way too often in every sport.
•••
• WSU: It was a quiet day in Cougar-land, the calm before the weekend storm I guess. WSU heads to the desert to face Arizona State and Arizona but before we get there, let's check back on football. WSU has a mention in ESPN.com's storylines to watch in the Pac-12 this offseason and did receive votes in the final Associated Press poll (enough to be 27th). Stanford finished third, its highest finish in 75 years. ... USC and UCLA prep for their rivalry game this week.... The Pac-12 possibly has too much parity.
• Gonzaga: Jim Allen has all the Tinkle information in this story and his weekly women's basketball notebook. ... Is GU a two-man team? No, but that doesn't mean the Bulldogs don't have two main men. Jim Meehan examines the Zags' pair of aces in this week's notebook. ... BYU does come to town tomorrow night, which is always interesting, but there are only three Cougars who had anything to do with last year's win in the Kennel. And BYU is playing a bit different style.
• Chiefs: Don Nachbaur is about to move atop the franchise list for most coaching victories, as the veteran coach trails Mike Babcock by just three heading into the week. John Blanchette (fixed from earlier) has the story.
• Preps: The top of the Greater Spokane League boys basketball standings features four teams with a chance to win the league. But, after last night's 51-44 G-Prep win over Lewis and Clark, it is the Bullpups atop the quartet with a 9-1 league mark, a game better than LC, Central Valley and Shadle Park. Greg Lee has the game story. ... We can pass along a roundup of girls GSL action as well as boys and girls roundups from around the area.
• Seahawks: After the odd, cold game in Minnesota, the Hawks are preparing for more normal conditions in Carolina. For the Seahawks to get past the Panthers, Russell Wilson will probably have to outplay Cam Newton, especially with Marshawn Lynch's status still unclear. ... Yes, hustle and hard work impresses even the most jaded of long-time professional players. ... The NFL gave the Rams approval to move back to Los Angeles yesterday and then made it clear either the Chargers or Raiders could join them, if it works out.
• Mariners: The M's made a minor trade yesterday for another pitcher.
•••
• Hey, guess what. I am filling in for Rick Lukens on the radio today, joining Dennis Patchin and Keith Osso for a couple hours starting at 3 p.m. on 700 ESPN. You can listen here if you like. Until then ...
---
---