Thu., Jan. 14, 2016
When watching the Zags tonight, keep your eye off the ball
A GRIP ON SPORTS • Didn't win the Powerball. Another year without an Academy Award nomination. What good is today? Wait, every Division I college basketball team in the area is playing. I'm good. Read on.
••••••••••
• No secret. I love college hoop. With that in mind, we celebrate Thursday like this one. The Cougars are in the desert (as a personal aside, this was always one of my favorite road trips; the basketball was good – especially in Tucson – as was the food), Eastern and Idaho have tough but winnable home games, and Gonzaga matches up with WCC Rival 1B (1A depending on the year). Yes, BYU is in town. Ever since the Cougars joined the conference they have been a thorn in everyone's side, including GU's. Last year BYU came into the Kennel in a must-win situation and won, snapping the Zags' 41-game home winning streak. The Cougars play a pugnacious style of basketball. Just ask Utah, which isn't playing them next year after this year's game included a sucker punch. I say this about basketball constantly, but it is even more appropriate in this game: Try not to watch the ball. Keep you eyes on the other players. In every game you'll see so much more but tonight you may just catch a shove or two, an elbow here and there, a player who is doing something "interesting." You may miss a dunk or a steal, but it's worth it.
•••
• WSU: The Cougars face ASU this evening and Jacob Thorpe will be there – another mark in Tempe's column: There is an In-N-Out just north of campus. He has his short weekend preview as well as video of Ernie Kent after practice and a scouting report on ASU. There is also this morning post with links. ... The Pac-12 had two games last night, with USC dominating UCLA at Pauley and Oregon State discovering how tough it is to win in Boulder. ... The NCAA did a good thing for college basketball players yesterday, in an attempt that more players will return after exploring an NBA option. ... Luke Falk had a heck of a year, didn't he? He won't win the Heisman next season unless the Cougars win 10 or more games and he passes for eye-popping numbers. "So you're saying he has a chance?"
• Gonzaga: The BYU game always attracts national attention and this one is no different. But no one has more on it than Jim Meehan, who has his weekend preview and checked in with the Deseret News for a discussion on the matchup. ... Jim also has this feature on Eric McClellan, who has strong motivation to be a success. ... There is a lot more about tonight's game in the Salt Lake City-area newspapers. ... The Gonzaga women are in Provo for a key matchup with the Cougars, who need a statement win.
• EWU: Jim Allen not only has his weekend preview in basketball, he also has a football story. This piece recaps Vernon Adams' season, from Cheney to Eugene and everywhere in-between.
• Idaho: Sean Kramer checks in with his weekend preview and also has a blog post on a key injury for the Vandals. ... This NCAA decision is not good news for UI and its membership in the Sun Belt. One of the main reasons the conference wanted Idaho in football is to meet the 12-team requirement. That's not important anymore.
• Chiefs: It's been a while since Spokane won, so the Chiefs decided to win and win big. Tom Clouse has the game story from their 9-2 romp over Saskatoon. ... Portland defeated visiting Regina, 4-1.
• Preps: Greg Lee's column today looks back at the career of retiring Lake City coach Van Troxel. For my money, Troxel is among the top trio of local high school football coaches. ... Greg also has a notebook today. ... The state football semifinals will not be in the Tacoma Dome next year. And the finals may move as well.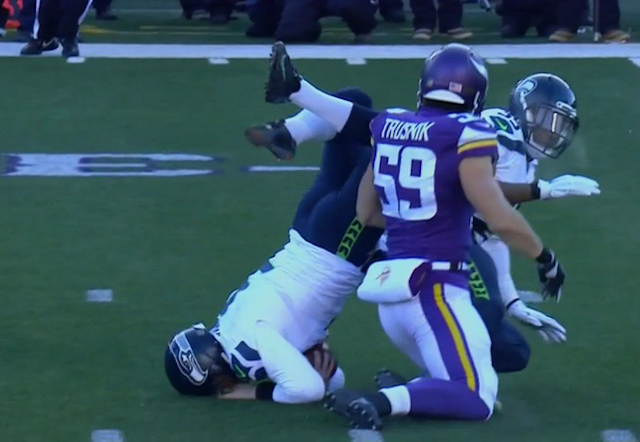 • Seahawks: Pete Carroll is the engine that keeps the Hawks going, isn't he? He seems to be having fun again. And he's positive. You ever notice that? And he will do a lot of crazy stuff in playoff games. ... Jon Ryan sees the humor in everything. Including his broken nose. ... The biggest question for this week's game at Carolina is, of course, whether Marshawn Lynch will play or not. I'm also interested in Luke Willson's status. And how the offensive line is doing.
• Sounders: The MLS holds its SuperDraft today. The Sounders will participate. Will it be super? Who knows.
•••
• Enjoy the games tonight. Tough to watch – or listen to – them all. But it's worth the try. Until later ...
---
---