Fri., Jan. 15, 2016
BYU earns a second consecutive win in the Kennel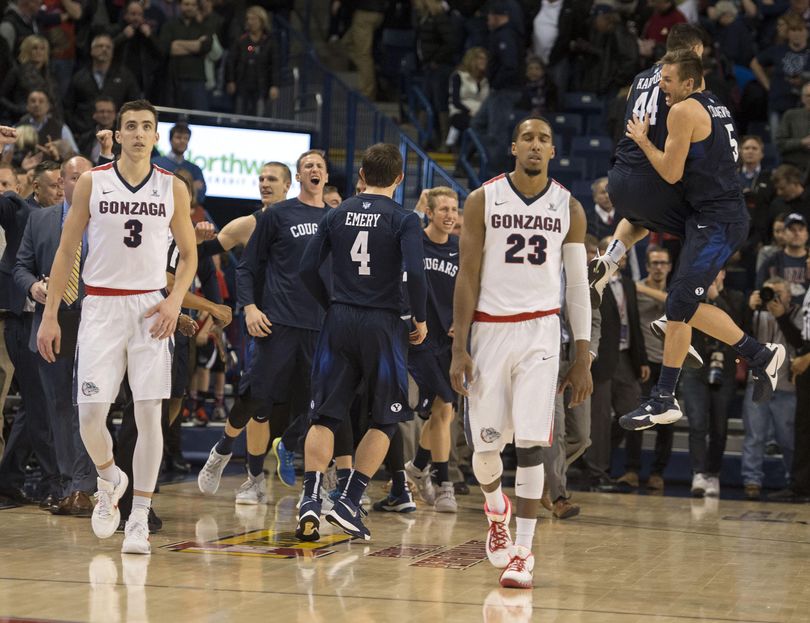 A GRIP ON SPORTS • No one has had a winning streak in McCarthey before. No one except the Zags, of course. But now there is another school on a streak. Sure, it's just two games but it's a streak. Read on.
••••••••••
• Last year BYU came into the McCarthey Athletic Center and ended Gonzaga's 41- game home winning streak. Last night the Cougars made it two in a row, rallying to defeat 25th-ranked GU 69-68. Is this the drama HBO had in mind when it agreed to do a documentary on Gonzaga's season? As always, when a team scores crucial points late to win, as BYU did, those moments become magnified and dissected. But the Bulldogs' defeat was planted earlier, a lot earlier. Back in the first half, actually. That's when Domantas Sabonis was taken out of the game – literally, with two fouls, and figuratively, as he seemed to lose his usual aggressiveness for the rest of the night. This Gonzaga team needs Kyle Wiltjer and Sabonis to dominate if it wants to compete with good teams. It shouldn't be that way, or, more appropriately, I'm sure Mark Few wishes it wasn't that way, but it is. Every once in a while a Josh Perkins or an Eric McClellan steps ups and helps, but the two constants are Wiltjer and Sabonis. Except last night Sabonis was on the floor for just over half the game. Without him, Gonzaga is a one-man show. At least it was Thursday. Wiltjer did his thing. Thirty-five points (though it took 23 shots to get there) and 10 rebounds. But Sabonis, handcuffed by Michael Irving, Verne Harris and John Higgins' whistles, was a non-factor. It's not just he scored only five points. It was the lack of his presence on the glass that really hurt. He grabbed six rebounds in his 21 minutes – he is usually good for at least four more – and BYU won the rebounding battle 41-39. Seven of the Cougars' boards came on the offensive end, and any one of those extra possessions could have been the difference in such a tight game. Look, it isn't as if BYU didn't have adversity too. Do-everything guard Kyle Collinsworth was saddled with two quick fouls as well, sitting much of the first half. But he was nearly unstoppable after halftime. And center Nate Austin took a blow to the head and had to leave the game before intermission. But he must have passed the concussion protocol easily because he was a beast in the second half and blocked two shots in the final minute. It was the last one – on Wiltjer's last-second drive which culminated in Gonzaga's big man on the floor after an inordinate amount of ignored body contact (pictured) – that sealed the win. It also illustrated the two-faced nature of having such a great scorer. On the inbounds play with just seconds left, the Zags were so locked in on getting Wiltjer the ball – he is the No. 1 option after all – they missed McClellan coming wide open on the other side of the rim. One quick pass and a game-tying layup seemed assured. When the pass didn't come his way, McClellan seemed frustrated, but not as much as Wiltjer did just seconds later after Austin's block and the ensuing grab foul on Perkins. Then again, if the ball had been inbounded to McClellan, maybe Austin would have flown over and blocked that attempt. Or maybe McClellan, who was just 3 of 12 from the field, misfiring on all five of his long-range attempts, would have hesitated and missed. We don't know. We do know Wiltjer was isolated on Collinsworth, who had been called for having two hands on him the possession before. Despite the same tactic this time, Wiltjer got free and had a somewhat open look from 5 feet. Austin stepped up and closed it. And the Zags had their third home loss of the season. No one guaranteed HBO a happy ending, did they?
•••
• WSU: The Cougars went more than 8 minutes in the first half without scoring and that stretch doomed them in a 84-73 loss at Arizona State. Jacob Thorpe was in Tempe and he has the game story, box score and videos of Ernie Kent and a couple WSU players after the game. ... He also has a morning post with links to basketball action around the Pac-12. ... Jacob has a story that introduces the newest member of Washington State's football coaching staff.
• Gonzaga: The loss is documented by Jim Meehan in this game story (he'll be back today with a day-after post as well) and by John Blanchette in this column. And then there are Colin Mulvany's photographs. ... From Utah, we can pass along game stories from both of the Salt Lake City-area papers. ... The Gonzaga women were outscored 17-4 down the stretch and lost at BYU, 58-54. ... Back to the men, San Diego went into Portland and defeated the Pilots while Saint Mary's routed Pacific and Santa Clara upset Pepperdine.
• EWU: Home court has been good for the Eagles as they shot Southern Utah off Reese Court last night, winning 106-80. Jim Allen has the game story. ... Jim also has a story on the newest member of the Eagle football coaching staff. ... The EWU women also won and are undefeated in Big Sky play. ... Weber State traveled to Portland and defeated the Vikings, 73-58. ... North Dakota defeated Montana State. and Montana got past host Northern Colorado.
• Idaho: Victor Sanders scored a career-high 33 points and the Vandals handled Northern Arizona 83-76. Sean Kramer has the story from Moscow. ... Sean also spoke with athletic director Rob Spear about the upcoming Sun Belt vote.
• Chiefs: Spokane's Ty Smith was selected for Canadian national team duty. Tom Clouse has the story. ... Everett has a key weekend ahead.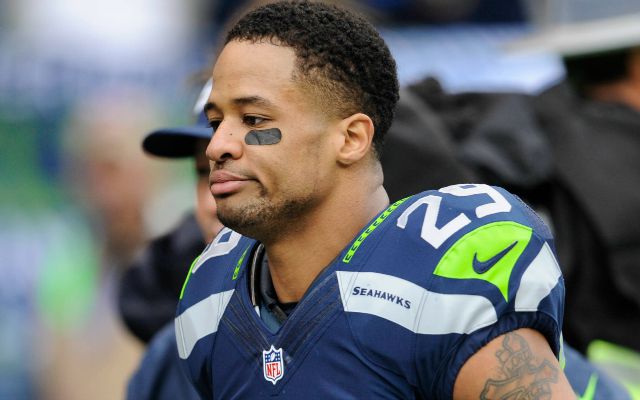 • Seahawks: So Marshawn Lynch really doesn't like to talk to the media. However, his texting skills seem to be OK. He texted the words "I'm Ready" to Kenny Mayne yesterday. The question is, how ready? He was a full participant in practice again. ... Tight ends have given the Hawks fits this season and it will be up to their safeties to control Greg Olsen. One of those safeties, Earl Thomas, has a chip on his shoulder. ... The Hawks seem loose as they prep for Carolina and the test supplied by Cam Newton. ... Jonathan Stewart has another shot at his hometown team. ... The 49ers hired Chip Kelly to be their next coach. This could be an extremely successful move or it could be a spectacular failure. There seems to be little in-between. ... Finally, Russell Wilson's little sister has emerged from his giant shadow.
• Mariners: Leonys Martins and the M's reached agreement on a one-year deal this week, and avoided arbitration.
• Sounders: The Sounders traded their first-round SuperDraft pick for a veteran left back.
•••
• It's Friday already? Are you ready for the weekend? That's a stupid question. We are always ready for the weekend. Until later ...
---
---