Sat., Jan. 16, 2016
Hard to go wrong with whatever you choose to do today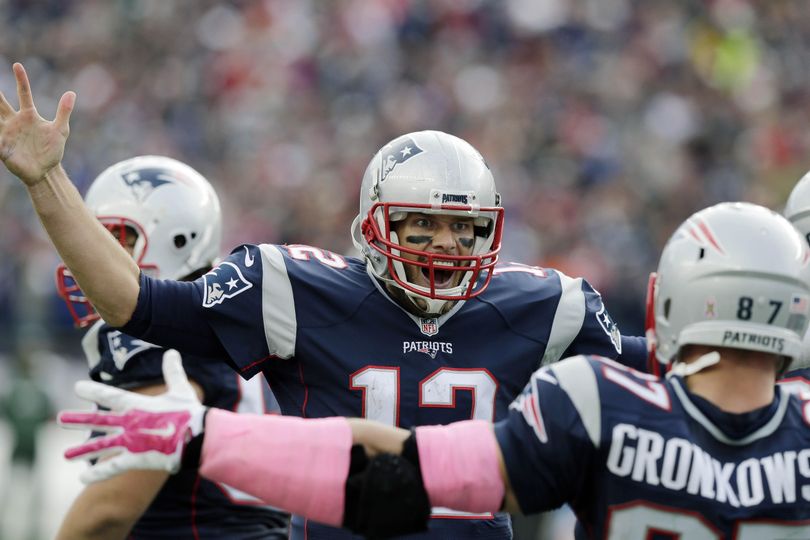 A GRIP ON SPORTS • So what is on your agenda for today? Some NFL playoff games? How about college basketball? Or are you going to get out and about? It's tough to make a wrong choice. Read on.
••••••••••
• There is a pair of NFL playoff games this afternoon, though both could be blowouts. New England hosts Kansas City and who is going to go against Tom Brady – even with a gimpy ankle – and the Pats at home? Then Green Bay visits Arizona where, not all that long ago, the Cardinals blew the Packers away by 30 points. So there is the possibility of a lack of excitement. Or maybe not. NFL playoff games have a tendency to stay close despite previous results – see last week's Seattle game against the Vikings for proof – so today's games should serve as a decent appetizer for tomorrow's main course in Carolina. We're speaking of our tastes, of course. But if the NFL isn't your thing, there is plenty of college basketball to watch. All of the local teams play – three of them at home – and most of the top 25 is in action. The televised portion of the schedule begins early – three top 25 matchups begin at 9 this morning – and continues all day. And if you don't like sitting on your rear end all day, there is fresh powder in the mountains (around here too). The slopes have a tendency to beckon this time of year, especially if you are young enough to enjoy it. If not, there is always the remote. Or a sled in the backyard with the grandkids.
•••
• WSU: The Cougars are out of the frying pan of Tempe. But today they jump into the fire that is Tucson. Jacob Thorpe took a look back at Thursday's ASU loss and ahead to tonight's matchup with the Wildcats. ... The Cougar women took down No. 25 USC 73-61 last night in Pullman. ... Washington State's football season earned top marks from ESPN.com's Pac-12 blog. ... Finally, the ESPN blog has its weekly mailbag.
• Gonzaga: Jim Meehan writes about the Gonzaga men putting their loss to BYU in the rear-view mirror, then takes a look in that mirror himself. ... The Cougars are pretty happy with their win and how they achieved it.
• Idaho: The Sun Belt Conference has given the Vandals a nice gift, an easier-than-it-could-be football schedule for the next two seasons. Sean Kramer has the particulars in this blog post. Now we wait to see if it is a parting gift.
• Whitworth: Life on the road in any conference is not easy. Last night, the top-ranked Whit men had to work overtime to get past Willamette in Salem, Ore.
• Chiefs: The Winterhawks came to town and earned a 3-2 win over the Chiefs, leapfrogging Spokane in the standings in the process. Tom Clouse has the game story. ... Everett earned a win in Vancouver and Tri-City held off Saskatoon to snap a three-game losing streak.
• Preps: The rivalry games are beginning, with Coeur d'Alene and Lake City fighting for the fish last night. Greg Lee was there and has the game coverage. ... We also have a roundup of GSL girls and boys action, with Kevin Dudley's story and Colin Mulvany's photographs from Lewis and Clark's home win over Shadle Park. ... There are also roundups from boys and girls games around the area.
• Seahawks: As the Hawks left for Carolina yesterday, the Seattle-area media gathered around a door to see if Marshawn Lynch would emerge and climb on the Hawks' team bus for the trip. He did. A nation exhales. ... It isn't easy being a Seahawk fan in the South. ... The Hawks can't afford any turnovers tomorrow. ... Richard Sherman is maturing. ... The Hawks' trio of receivers from UW has stuck together. ... The Panthers are 15-1. And they are cocky. ... Only the best quarterbacks and their teams are still playing. That includes Cam Newton. ... Michael Bennett wants to win. And he wants a pay raise.
• Mariners: The M's took care of a couple of contracts yesterday, avoiding arbitration hearings. ... Here's a look at the club's 40-man roster.
•••
• We received a fresh dusting of snow overnight but it's expected to turn into rain before too long at the elevation at which I live. And the rain is expected to stick around all weekend. Oh joy. Until later ...
---
---