Sun., Jan. 17, 2016
Day after San Diego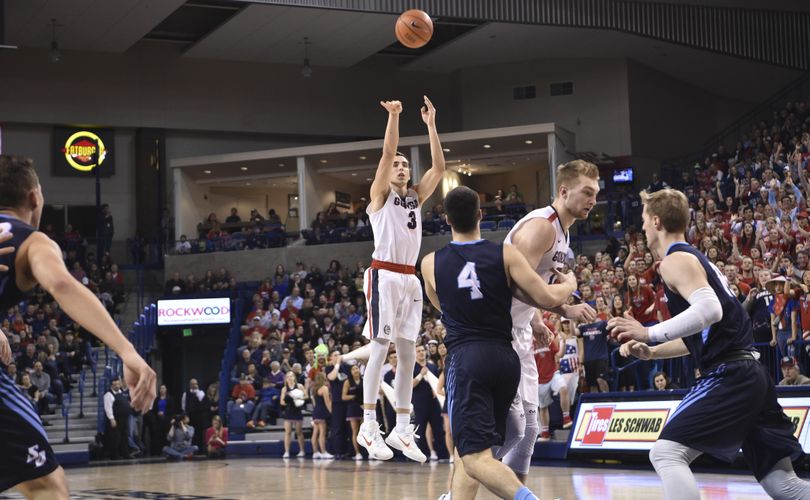 You know the drill: My game story, Tyler Tjomsland photos from Gonzaga's 88-52 win over San Diego on Saturday.
More below in my day-after San Diego post.
--We touched on Ryan Edwards' solid performance in my game story. The 7-foot redshirt sophomore had perhaps the best showing of his young career: 14 minutes, 10 points, 3 boards, 1 assist, 1 block. He put up good numbers vs. BYU on Thursday (6 points, 3 rebounds, 18 minutes) but there were some noticeable slip-ups, too.
"Ryan kind of finally seemed like he got comfortable," coach Mark Few said, "almost like the way he was playing his freshman year, getting to his go-to moves, did a nice job protecting the rim. If he can come in and give us that then we can rest those two (Domantas Sabonis and Kyle Wiltjer). In the past he hasn't really been giving us that. That was big step for him."
"It felt good," Edwards said. "Coaches gave me more time then I usually get which was good so you get a little more comfortable in the post."
How can he earn more minutes? "Rebound, be a big presence down low, whether scoring or doing a good job of rim protection. Everything, really, to help this team out," Edwards said.
Next to Eric McClellan's lob dunk and Kyle Wiltjer's 15-foot jump hook, Edwards' slick post move and left-handed hook was one of Saturday's highlight reel plays.
"I had to bring out the hooks again," Edwards said. "I haven't had a good hook shot in a while. It felt good to get out there to finally get back out there and play my game."
--The closest thing to a universal truth in basketball is how much easier the game becomes when shots are falling. GU shots fell at an impressive rate last night (56.7%, 61.1% on 3s, 9 of 10 FTs).
The bigs did what they do (Wiltjer 25 points, Sabonis 14 points and 15 rebounds). The guards did more of what they need to do (the five in the rotation had 36 points, made 8 of 12 3-pointers, 12 assists, 1 turnover).
"I love how the guards stepped up," Few said. "They had maybe one turnover for long, long stretches, which is a huge barometer for our success."
(The game story contained additional spot-on comments from Few and players on the guard play.)
"Obviously teams can't focus on our bigs if we're making shots," wing Kyle Dranginis said. "That kind of frees them up and the whole flow of our offense. We did a much better job of getting to multiple sides and swinging it and moving it around before we made up our minds."
Few pointed out Silas Melson's efforts. Melson made his first 3 in five games (0 of 6 between LMU-BYU games) and played well defensively.
"Silas did a lot of good things," Few said. "He got our energy going on the defensive end and made some really smart plays on the offensive end. He was a big key to getting us going in both halves when we subbed him."
STATS OF NOTE
--Josh Perkins has 41 assists and 10 turnovers in the last nine games.
--San Diego made 31.3% of its shots. It was the lowest percentage since Washington's chilly 25.7 in late November. GU's last seven opponents made at least 40%.
--Gonzaga's 11 3-pointers was the fifth time with double-digit triples.
--USD outscored GU in point paints (30-26).
--Gonzaga guards didn't attempt a single free throw. All 10 free throws were attempted by Wiljter (3-4), Sabonis (4-4) and Edwards (2-2).
--Sabonis had five of GU's seven turnovers.
--Sabonis has seven games with at least 14 rebounds.
--University High grad Brett Bailey had four points and two boards for the Toreros.
QUOTEBOOK
Few, on help from supporting cast: "Hopefully they were involved when it wasn't a blowout (against USD). We need them to make plays down the stretch in some of these other games that are tighter. I think the confidence of seeing ball go in can only help us as we move forward."
Wiltjer on the defense: "We made them shoot tough twos. We just did a good job of staying true to the scouting report."
Dranginis on team's seven turnovers: "That's bigtime. We talked about that at the end of the game having single-digit turnovers."
Dranginis on taking Saturday's performance on the road: "We definitely can. We're a pretty close team, we know how to win, we know how to win the Gonzaga way. It's up to us to execute and stay consistent."
---
---