Sun., Jan. 17, 2016
The Hawks face Carolina and we all hope nothing odd decides this one, right?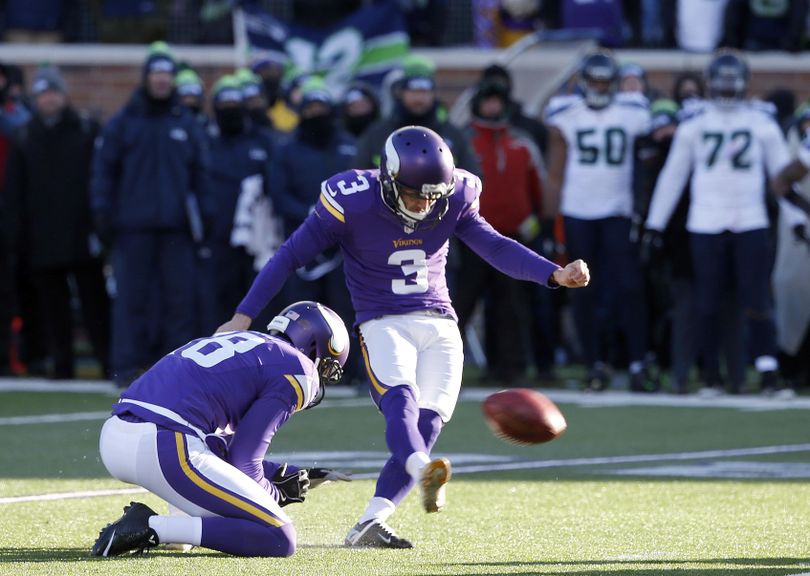 A GRIP ON SPORTS • You ready for some Seahawk football? Got your snacks? Your drinks? Your foam brick to throw at the TV? Because if past results are any indication of today's adventures, you're going to need something to throw. Read on.
••••••••••
• It might be because of the Hawks' play. Or something Cam Newton does. Or, more than likely, a call that seems impossible to believe. No, I'm not talking about a pass from the 2-yard line. I'm talking about a missed fumble or a pass interference or any other lack of precision by the fellows adjudicating the game. Heck, if they can't get the coin flip right, what else can go wrong? OK, I know not being able to flip a coin correctly isn't a mortal sin. But it is, as they say in the environmental science world, an indicator species. Look, I had some inspirational sayings in my office when I was graphics editor of the S-R years ago. One of them was actually of my own invention. "If you get the little things right, people will trust that you get the big things right." It's true. If all the streets are labeled correctly on a map, if all the numbers add up on a chart, if the grammar is solid, it makes it easier to believe the main thrust of the item is correct. Mistakes, especially little mistakes, chip away at credibility. Journalists have understood that since Ben Franklin's time. He knew if Poor Richard had reported it was a bronze key tied to the kite when it was really iron, people would suspect his reporting on electricity. So when the little things go wrong, it's easier to accept the idea the big things are being missed as well. A key, uncalled PI in the Cardinals' win over the Packers last night? Why give the benefit of the doubt? Arizona has to throw a challenge flag to overturn an obvious missed call? The next time the ball is on the ground, you expect the worse. Which is why I don't understand one thing about the NFL. The richest professional sports league in America, and one of the richest in the world, entrusts its game to part-time employees. It's as if the Supreme Court was made up of guys and gals who spend their off hours delivering mail or teaching third grade. The U.S. is rich enough to afford full-time adjudicators, so why can't the league that "owns a day of the week," to quote a recent movie? It can. It chooses not to. Would it make the officials better? It certainly seems like it would. Heck, if it were a full-time job, they could spend 20 minutes a day making sure they get the coin to flip over. That would save 12 ounces of embarrassment right there. You know there are folks out there who play a drinking game during NFL games, right? They pound one every time there is an obvious screw up. If for no other reason than to save those folks' livers, the league needs to invest in their officials. And get the little things right.
• Will the Hawks get the big thing right today? Will they win? I'm not sure but I do believe one thing. Barring major injury today, the winner will be the NFC representative in the Super Bowl. Nothing the Cardinals and Carson Palmer showed me last night leads me to believe they can win next week. Heck, if Green Bay had entrusted Aaron Rodgers with the game from 2-yards away last night, next week's NFC championship may have been headed to Wisconsin. But instead of doing the courageous thing and betting on Rodgers (along with the momentum and emotion earned by the successful Hail Mary), the Packers kicked the extra point and lost in overtime. Miss the two-point try, of course, and you are roasted by everyone from Joe SixPack to Jimmy Kimmel. Make it, though, and you save America that overtime coin toss.
•••
• WSU: I watched the first few minutes of the Cougars game ay Arizona yesterday and was met with Bill Walton waxing poetic about, well, I think it was about how well WSU was playing but with Big Bill you never can be sure. Anyhow, I moved on before the Wildcats exerted their dominance too much. As you might expect, they rolled, 90-66. Jacob Thorpe, aka the lucky guy who had In-N-Out this weekend, has the game story, videos of postgame interviews with Ernie Kent and a couple players and a morning post with Pac-12 links. ... There was news from football yesterday, as an offensive lineman with a checkered past announced he is transferring to WSU. Jacob Thorpe has more in this blog post. I recommend reading the Detroit Free Press story Jacob linked, if only to understand Logan Tuley-Tillman's history. ... Oregon hired a veteran coach to take over its defense. I know Bill Doba believed Brady Hoke was one of the better defensive minds in college football. ... The Cougar women had a field day at UW's indoor track meet.
• Gonzaga: The Zags needed to get back on track after losing to BYU on Thursday. Enter USD. The Toreros were the perfect medicine. Jim Meehan has the game story on GU's 88-52 home romp over San Diego. He'll also be back later today with a day-after post. ... Tyler Tjomsland has a photo report from the game. ... And the Cougars? After winning in the Kennel , they lost Saturday at Portland in a game the Pilots really wanted in the best way. ... In other WCC action, Pepperdine routed USF yesterday. I watched a bit of this game and was struck by one thing: It was as if the game was being played in a library or a morgue. Quite a bit different than the recent GU game. ... The Gonzaga women lost their second consecutive WCC road game.
• EWU: In the entire history of Eastern basketball, there has never been a triple-double recorded. Until now. Bogdan Bliznyuk did it yesterday in the Eagles' 96-73 win over Northern Arizona. Jim Allen has the story on that accomplishment and more. ... Elsewhere in the Big Sky, Montana scored the final 10 points in a 65-61 win at North Dakota, Weber State won at Sacramento State, Northern Colorado got past Montana State and Idaho State picked up a road win against Portland State.
• Idaho: The Vandals had their chances at home against Southern Utah but lost in overtime. Sean Kramer has the game story from the 85-83 loss.
• Whitworth: After struggling Friday night on the road, the top-ranked Pirates rolled over George Fox, 91-57, last night.
• Chiefs: Everett had little trouble with Seattle, winning 5-1, while Tri-City took a 5-4 shootout decision over Regina.
• Preps: Greg Lee spent his Saturday at Post Fall's wrestling tournament and has this story. ... We can also pass along basketball roundups from girls and boys.
• Seahawks: So what is the key to a Hawk victory today? Is it Marshawn Lynch and his ability to go Beast Mode on the Panthers? Or is it Russell Wilson's ability to get the ball deep against a depleted secondary? Maybe it's not even on that side of the ball. Maybe it's the defense's skill at tackling Cam Newton and the explosive Panthers. ... Or maybe it's as simple as not getting a lead until the fourth quarter.
• Mariners: There is a report out there the M's have signed another veteran outfielder, but it has yet to be confirmed.
•••
• Not too long now. In about half a day we will know whether the Hawks' road to a third consecutive Super Bowl will continue in the desert or whether it was derailed by a huge pothole in Charlotte. Let's hope nothing untoward decides this one, even another odd late-game missed field goal or something. Until later ...
---
---