Tue., Jan. 19, 2016
Sorry, but we're straying a little far afield today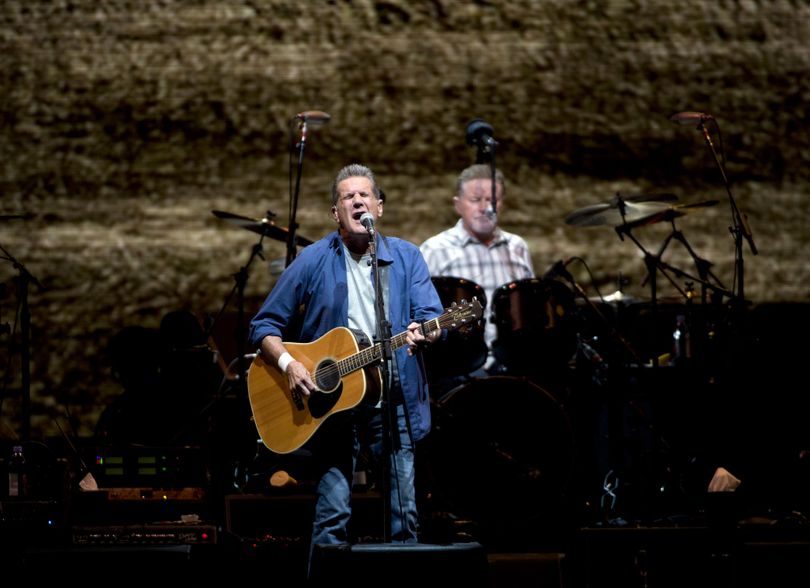 A GRIP ON SPORTS • If the name of this column was A Grip on Anything, today's subject would be the death of Eagles' co-founder and guiding voice Glenn Frey. But it's A Grip on Sports, so we are supposed to stay within the realm of athletic competition. I do remember Frey playing in the Dodgers' celebrity game once, but that's not enough, is it? Read on.
••••••••••
• It will have to be. There are certain touchstone musicians who transcend the mundane in your life. For my father, that was Frank Sinatra. An Italian-American, like my dad, Sinatra was America's biggest star when my dad still felt a bit like an outsider. He made it and, as my dad once told me, he made him feel as if he could too. My dad did. And when Sinatra died, a little part of my father died with him. Maybe it was his dream center, I don't know. But he hurt that day. I was different. I never really needed any role models in entertainment. Mine all came from the sports world. But every life needs a soundtrack, especially in the formative years of high school and college. And that's where Frey comes in. The Eagles hit the California music scene just when I was beginning to discover the opposite sex – and the California music scene. They sort of went hand in hand. I dated a girl who looked a bit like Linda Ronstadt. That was no coincidence. Her dad played pedal-steel guitar. That was. So when I looked for inspiration – and solace - I turned to Ronstadt, Jackson Browne, J.D. Souther and the Eagles. I loved "Take it Easy," but a majority of the time my car's 8-track deck repeated "Most Of Us Are Sad" off their debut album. When "Desperado" came out and everyone was mooning over 'Tequila Sunrise," I discovered my life's theme song in the title track, long before it became Ronstadt's tune or a joke on Seinfeld. Heck, I went out looking for the queen of hearts. Really. I found her in college and she had to listen to "My Man" and "Ol' 55" over and over again – though I never told her the latter reminded me of the Ronstadt look-alike. "One of These Nights," "Hotel California" and "The Long Run" became part of our background music as we began our life together. My friend Kent and I saw Frey and the Eagles in concert so often, one evening an Orange County Register photographer brought me a photo of the band playing in San Diego, saying he needed help with the cutline. He hadn't written down which song they were playing. He asked if I knew. By the way the band was standing, the instruments they were playing, I told him. He laughed. He knew what song it was, he was just checking to see if my boasting was really true. Two years ago Kent entered a lottery and won second-row seats to the Eagles' opening of the remodeled Forum. He asked me if would join him. I flew down and did. So yesterday, when I heard the news about Frey, I opened the photographs on my phone. There he was, waving from the stage. It's a bit blurry, just like Frey's vocals, but I will have it forever. And the memories of his music. The soundtrack of my life.
• OK, back to the sports.
•••
• WSU: A busy day in Pullman yesterday, with the hiring of an assistant football coach and the news of a weekend arrest of Jamal Morrow, the Cougars' game captain down the stretch last season. Jacob Thorpe has a blog post and story on JaMarcus Shepard's hiring and the same two items on the running back's arrest. ... ESPN.com's Pac-12 blog is counting down the top 25 players from last season and left tackle Joe Dahl checks in at No. 18. Another guy who will be higher on the list, receiver Gabe Marks, also had one of the blog's top performances. ... Cougar freshman Borislava Hristova earned another weekly honor. ... Former WSU star Klay Thompson is a finalist for the Olympic team. ... Former WSU assistant football coach Travis Neikamp was hired at Montana. ... The Oregon State basketball player who tripped a referee will miss a few weeks of games.
• EWU: Portland State is in shock right now after freshman linebacker A.J. Schlatter died following minor surgery.
• Whitworth: The Pirates remained No. 1 in the main Division III basketball poll.
• Chiefs: Everett played a holiday afternoon contest yesterday and defeated Saskatoon 2-1 in overtime.
• Seahawks: It's now on to the offseason. The Hawks will look different next season, that's for sure, though Pete Carroll is, surprisingly, optimistic about the changes. A hurricane could hit the VMAC and Carroll would be optimistic no tree would be harmed. And, afterward, he would be upbeat about the new views. ... A couple of free agents to be say they would take less money to be a Seahawk next year. We'll see. ... More than likely Marshawn Lynch will not be on the team, so it seems like a good time to begin figuring out his legacy in Seattle. ... Thomas Rawls could be his replacement if he's healthy. ... Speaking of health, Jimmy Graham is on his way back.
• Sounders: Brad Evans received a late call to the U.S. National Team's training camp.
•••
• There is one line in "Desperado" that really hits home today. "Oh, you ain't gettin' no younger ..." No, we're not. And we feel a lot older right now. Until later ...
---
---