Thu., Jan. 21, 2016
The West's best hoop rivalry continues tonight in Moraga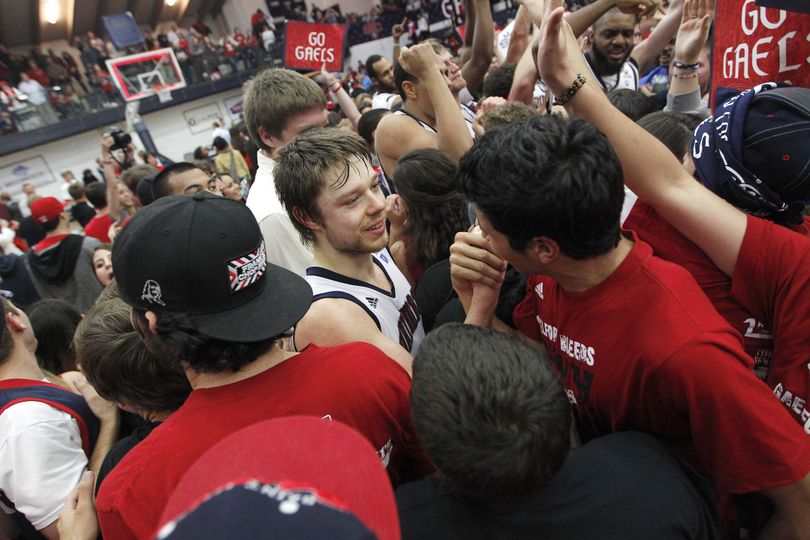 A GRIP ON SPORTS • The best basketball rivalry on the West Coast makes an appearance tonight and no, it's not in Tucson or Los Angeles or even Las Vegas. The best rivalry game on this side of the country comes every year when Gonzaga travels to Saint Mary's. Read on.
••••••••••
• A basketball rivalry consists of many things. There must be some history. Bad blood helps too. Heroes and villains. Proximity, either geographically or due to conference affiliation. The fans on both sides wholly bought in. And there must be something to play for, meaning basketball rivalries lose a bit of luster when one team or the other is constantly rebuilding. It's different than a football rivalry, as that game is so emotionally wound up, a rivalry game between two cruddy teams can mean something to both. Basketball rivalries are enhanced exponentially depending on the stakes. Which is why the Gonzaga rivalry with Saint Mary's, especially the one game a year played in Moraga, is the best one west of the Rockies. In the tiny little gym – I'm sorry, but that is what it is, not a fieldhouse or an arena but a gym in the high school sense of the word – two top-line college basketball teams that dislike each other battle it out. The emphasis is intentional. Ever since Randy Bennett took up residence in the Bay Area, he's preached a physical strain of basketball. (If you want, you can replace physical with thuggish and not get an argument here, but I won't go that far.) It's worked for the Gaels. And it's worked against Gonzaga. Oh, the Bulldogs are still the class of the WCC and among the top programs on the West Coast. But they have had their troubles dispatching the Gaels over the years. Mainly because of players like Patty Mills, Omar Samhan and Matthew Dellavedova. The Saint Mary's stars were not only excellent players, but they were tough as well, a skill Bennett recruits and intensifies through practices that are talked about among college coaches. That's not the only reason the Gaels are good, however. The school is about halfway through four years of probation from the NCAA due to recruiting violations committed by Bennett and a former assistant. In other words, the small Catholic college cheated. That's not a good look. No matter, though. The bottom line always seems to be winning and the Gaels, expected to be a little bereft of talent this season due to scholarship limits imposed by the NCAA, are doing that. They are 15-2 overall and 6-1 in WCC play, the same conference mark as GU. And McKeon is a tough place to win. The Gaels are excellent shooting team and, like most college teams, like shooting at home better than on the road. "They see really big rims there," Gonzaga coach Mark Few told our Jim Meehan. But that's not the only challenge of playing in Moraga. Saint Mary's not only tops the nation in field goal percentage and assist-to-turnover ratio, it also leads the WCC in scoring defense. Besides the on-court items, the students are as rabid in big games as the Zag students are every game in Spokane. And the rivalry with GU is always a big game. The place is loud, the conditions cramped – most college facilities have some room on each baseline these days but not McKeon – and the temperature is usually a eight on the Dante scale. In other words, it isn't a fun place to play if you are wearing a dark-colored uniform. It is the perfect setting for a rivalry game. And, for the past decade or so, the West Coast's best rivalry game.
•••
• WSU: A busy day in Pullman, with Utah coming to town tonight for a basketball game. Jacob Thorpe previews the weekend and he has a feature on the emergence of Ike Iroegbu (pictured) as a force for the Cougars. ... Jacob also has a morning post with links. ... We found a preview of tonight's game from Salt Lake City. ... Ted Miller shouts in the wilderness about the future of Pac-12 football. ... The most surprising team in Pac-12 basketball? It has to be USC.
• Gonzaga: Jim has an advance of tonight's game as well as the usual weekend preview. ... The Bay Area papers also take a look at the rivalry game. ... BYU has had some success on inbounds plays, including against Gonzaga.
• EWU: Tyler Harvey could always score. Now, in his first year of professional basketball, Jim Allen writes he is learning to be better on the other end of the court. ... Jim also has his weekend preview. ... Weber State has a player who will become the Big Sky's best rebounder soon.
• Idaho: Sean Kramer has the Vandals' weekend preview.
• Chiefs: Tri-City needed a win over Vancouver last night badly. The Americans got it. ... Everett picked up a road win in Kamloops.
• Preps: Greg Lee anchors the Prep Page with a column on girls' wrestling and a couple of its stars as well as a notebook of newsy items. ... We also can pass along a roundup of prep action last night.
• Seahawks: Though we are ready to look ahead to next season already, there is still some work to be done this year. That includes the Pro Bowl. ... The NFC West is going to look different next season. That's OK. So will the Hawks.
• Sounders: Seattle has a press conference scheduled for this morning when the Sounders are expected to announce the signing of Jordan Morris (pictured). ... The team signed a veteran midfielder yesterday.
•••
• Dogs don't like rain. At least mine don't. So this morning's drizzle didn't make them happy when they went out. Though it did make them wet. Really wet. And one of them decided to not wait for me to dry him off. He did it himself. I had a mess to clean up before I could finish this column up. Such are the woes of working at home. Until later ...
---
---