Sun., Jan. 24, 2016
Grabbing some memories from the corners of my mind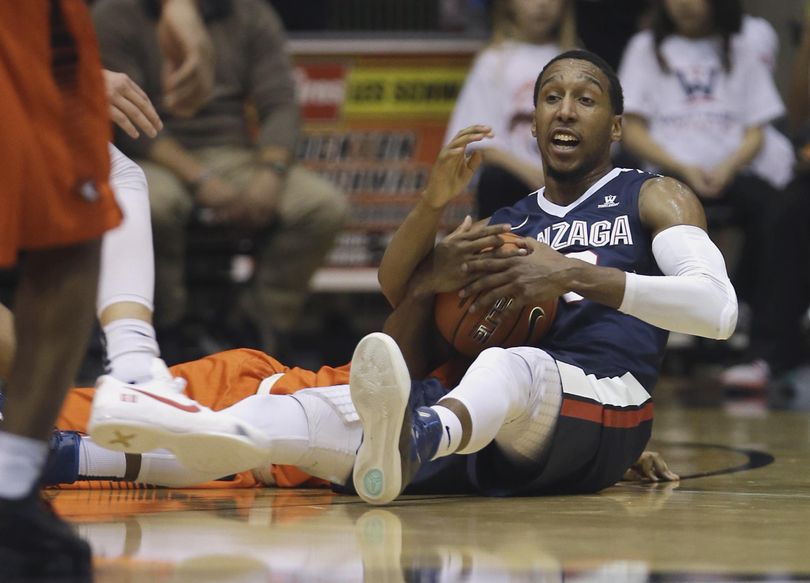 A GRIP ON SPORTS • Sometimes the past seems to control the present. Or at least influence it a lot. Such was the case yesterday in Stockton – up until a point. Read on.
••••••••••
• When I turned on the television yesterday to watch Gonzaga play Pacific, my first thought was how much nicer Pacific's arena is these days. A long time ago, when I covered UC Irvine for The Orange County Register, the Tigers played in the Stockton Memorial Civic Auditorium, with a stage on one end, a floor that was anything but level and future USC coach Stan Morrison prowling the sidelines. The locals told a story about a juggler who performed at halftime of the Tiger game once, but failed in his attempt to juggle three bowling balls. Why? Because every time he tried to begin with the third ball on the floor, it would roll away, headed toward the low point in the corner. Good times. The Tigers play in a more modern place now, albeit the 35-year-old Spanos Arena, but there was a memory pacing in front of their bench yesterday afternoon. Probably no one this side of Jerry Krause has more connections with Inland Northwest college basketball than Mike Burns. His clean-shaven head has been on benches from Cheney to Spokane to Pullman and probably some places in between. He was Rodney Stuckey's coach at Eastern, sat near Dick Bennett in Pullman and led the Sasquatch of CCS to one of the best years in community college basketball history. Just seeing him exhort his team yesterday brought back memories of that 2007-08 Sasquatch team, led by guard Eric Beal and Jon Clift, which won 24 consecutive games before losing in the NWAAC finals. If you are wondering how Burns, who lost his assistant job at USD when Bill Grier was fired at the end of last season, came to be coaching the Tigers, it is a sad story. For Ron Verlin. Pacific's head coach, and brother of Idaho's Don, was suspended indefinitely in December as the school and the NCAA investigate allegations of academic malfeasance. Burns, hired on as an assistant before the season, was given the reins of the team and has done admirably, considering Pacific was 1-6 when he took over and a Pigpen-like cloud of dirt has been stuck to the program. And halfway through the second half yesterday, it looked as if the Tigers would – OK, make that "could" – pull a season-defining upset. The Zags' recent history of wilting down the stretch seemed about ready to repeat itself. But Gonzaga has Domantas Sabonis and Kyle Wiltjer while Pacific has, well, a bunch of guys. With GU leading 52-48, Wiltjer pulled down Sabonis' missed free throw, but was unable to get up a shot through three Tigers, so he dribbled outside. Amazingly two Pacific players peeled off to guard other perimeter players and the Tiger big decided to remain near the rim. Wiltjer was alone at the 3-point line. Boom. The Zags led by seven and Pacific's upset bid was over. A few minutes later the game was as well and, with it, so was my trip down memory lane.
•••
• WSU: Make just a few more free throws at home and the Cougars easily could be 3-4 in Pac-12 play right now. Instead, they are 1-6 and in last place. Misses from the free-throw line hurt them again last night in their 75-70 loss to Colorado. Jacob Thorpe has the game story and John Blanchette has a column from Beasley. ... Jacob also has video of interviews with Ernie Kent and a couple of players, the box score and a morning post with links. ... The road win was Colorado's second of the Pac-12 season.
• Gonzaga: At least when I covered games at the Civic in Stockton I sat at midcourt. If you watched the game yesterday you may have seen Jim Meehan tucked away on the floor in the corner, along with other writers. A tough angle to watch, I'm sure. He has his game story on GU's 71-61 win over Pacific in today's paper and will be back with a day-after post. ... Around the WCC, Pepperdine defeated BYU for the third consecutive time, in a contest the Pepperdine student newspaper this week called the school's rivalry game. ... Saint Mary's stayed hot and rolled Portland. ... The Gonzaga women snapped a rare three-game conference losing streak with a 68-61 win over Pacific. Jim Allen has the game story.
• EWU: The Eagles lost for the second time in their two-city tour of Montana, falling to the Griz, 74-69. ... Elsewhere in the Big Sky, Idaho State pulled the biggest upset of the season thus far by defeating conference front-runner Weber State, 69-68. ... The Eagle women remained undefeated in conference play with a last-second win over Montana.
• Idaho: Marcus Colbert scored 21 of his 23 points in the second half as Montana State rallied to defeat Idaho, 70-68, in Bozeman. Sean Kramer has more on the backstory to the game in this blog post.
• Whitworth: The Pirates are still No. 1, still undefeated and still atop the Northwest Conference standings after last night's 87-68 win over Puget Sound. Tom Clouse was in the Fieldhouse and has this game story. Tyler Tjomsland was also there and has this photo story.
• Chiefs: Spokane returned home and defeated Kootenay for the second consecutive night, this time 3-1. Kevin Dudley has the story. ... Red Deer handed Everett a 4-1 defeat.
• Preps: Kind of a quiet Saturday but we do have roundups from boys and girls basketball games. ... North Central's Justin Janke was named the state's top cross country runner.
• Seahawks: If you wanted to pick two players who personified what the Hawks have tried to do the past four years, you could do worse than pick Marshawn Lynch and Kam Chancellor. But the status of that pair is up in the air right now, which makes the offseason that much more interesting. ... Michael Bennett wants some changes to his contract and he may just get them. ... The offensive line has questions but the receiving corps answered some. Though one of those answers could be on the way out.
• Sounders: The Sounders are back at it, opening training camp yesterday in the rain of a Puget Sound winter.
•••
• One of the odd aspects of having lots of memories is you are constantly comparing the past to the present. For example, how does Wiltjer compare to Adam Morrison? Discus among yourselves. Until later ...
---
---