Thu., Jan. 28, 2016
Don't look now, but February is almost upon us
A GRIP ON SPORTS • If you haven't been paying attention, it will be February soon. The shortest month of the year, made a day longer this one due to the previously scheduled leap day, hits next Monday. And, for short month, it sure packs a wallop. Read on.
••••••••••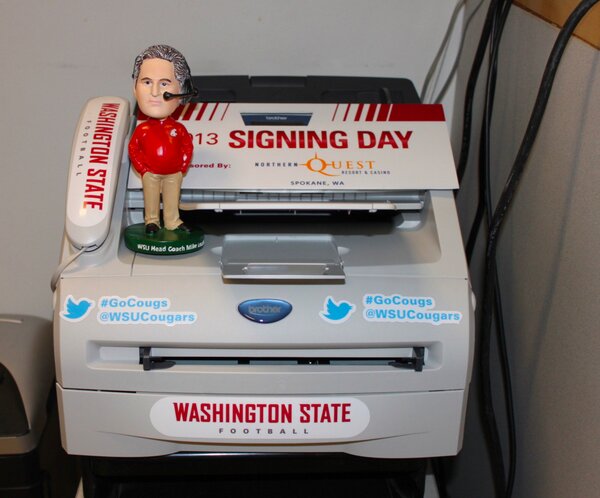 • February always begins with a bang. The first Wednesday is the day the ancient technology of the fax machine, considered breathtaking in, oh, 1985, takes centerstage. Yep, next Wednesday is college football's letter of intent day, the 24-hour period when we all discover just how good Alabama will be in 2018. And every coach in America tells us his school has signed the best group of kids ever. Just once I would love to hear some coach say his staff worked really hard but, thanks to the lack of commitment by a bunch of 18-year-olds, his school's recruiting class isn't all that good. But that won't happen. Everyone is going to have a record haul of stars, whether they have two, three or four stars attached to them. But that's just the appetizer. Basketball at all levels begins to get really serious, as the high school seasons wind down toward state playoffs, the college conferences shake down their pecking order heading into the postseason and the NBA continues to trudge toward their June championship (or is July this year?). Midway through the month highly paid baseball players, who have been training on their own since the end of last season, pack their bags and head to Arizona and Florida to begin a rite of spring older than time itself – if you believe most baseball writers. But before that happens, America gorges itself one last time on Buffalo wings and adult beverages. Well, one last NFL Sunday doing those things. The Super Bowl comes along on the 7th, allowing us a final glimpse at our friends true loyalties before we descend into that cold, grey stretch before baseball's Opening Day. Don't despair, however. This here is a presidential election year, so the year's shortest month will be filled with overly long speeches and debates. Oh joy.
•••
• WSU: The Pac-12 basketball weekend is already upon us – Colorado and Utah hosted and defeated the Bay Area schools last night – but the Cougars began theirs tonight in Los Angeles. Jacob Thorpe has his usual weekend preview. ... USC knows Washington State wants revenge. ... Klay Thompson scored a career-best 45 points last night. ... Joe Dahl has been impressing NFL folks during the Senior Bowl practices.
• Gonzaga: The Zags are home for the weekend and Jim Meehan has his preview. ... The Flathead Beacon has a piece on reserve post Ryan Edwards. ... Jim Allen has a blog post on the women's goal remaining the same despite a midseason losing streak. ... We rarely find stories from San Diego, so when we do, we pass them along.
• EWU: The Eagles return home for a couple games this weekend and Jim Allen has his preview. ... Eastern seems poised to make a run now Julian Harrell (pictured) is healthy. Jim has a feature on the 6-foot-5 wing. ... Jim also passes along the news former Eagle quarterback Vernon Adams has been invited to the NFL Combine in this story and blog post. ... Finally, Jim updates how the Eagles' recruiting is going a week before high school seniors can sign letters of intent. ... Portland State has another tough September stretch next season.
• Idaho: The injury bug has bitten the Vandals. Sean Kramer has more in his weekend preview.
• NIC: John Blanchette checks in with this column on the undefeated North Idaho College basketball team, playing its final year in the national organization.
• Chiefs: Everett has an NHL prospect in goal.
• Indians: Manager Tim Hulett will manage the Philippines team next month during World Baseball Classic qualifying.
• Preps: It's Thursday, which is always a big prep day. Greg Lee starts it off with a column on wrestling coaches pushing once again for the WIAA to hold a duals state championship. ... He also has a feature on twin brothers wrestling for Mt. Spokane. ... Central Valley won the Battle for the Bone last night and with it the GSL title. Greg was there and has this story. ... Greg also has a notebook on other high school happenings.
• Seahawks: Will the Hawks keep left tackle Russell Okung? Maybe the chances are a bit better today after the free agent, representing himself, revealed to all the NFL teams he will have shoulder surgery soon. ... Russell Wilson was the first draft pick at the Pro Bowl. ... Hey, the new extra point rules actually did have an impact. ... The special teams were much improved this season mainly due to one guy.
• Sounders: The part of training camp held in the Seattle area ended yesterday – the Sounders now head to Arizona for two weeks in the sun – and it seemed all too short. Clint Dempsey and Ozzie Alonso talked afterward about the new-look Sounders. ... Portland has extended the contract of coach Caleb Porter.
•••
• Every once in a while this morning the sound of pouring rain has drowned out my typing. Yes, at times it has been coming down that hard. I expect a Seattle-like January day in Spokane. Until later ...
---
---