Fri., Jan. 29, 2016
Shoot, there is probably nothing more important these days than long-range buckets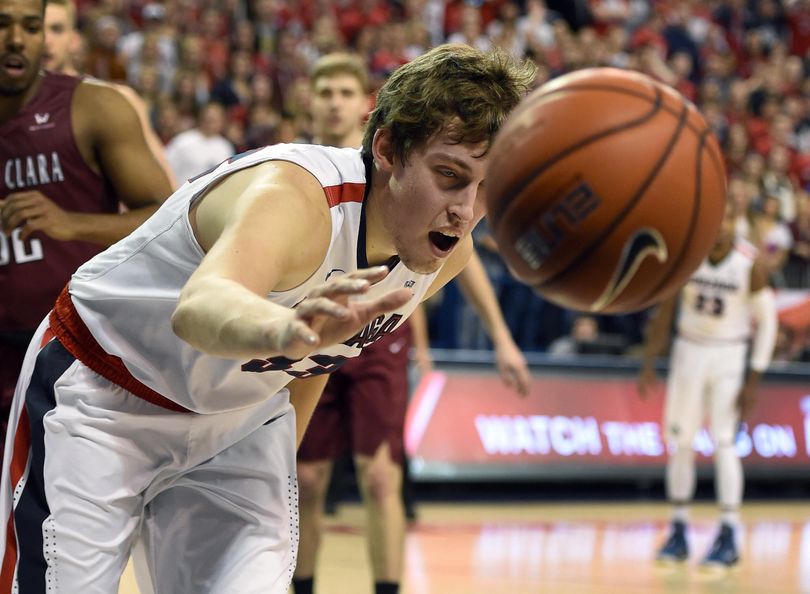 A GRIP ON SPORTS • If you've lived long enough, you remember a time when the most points you could score when you shot a basketball was two. That's changed. Boy, has it changed. Read on.
••••••••••
• You don't think the 3-point shot is important in college hoops these days? You wouldn't have had to leave the Spokane area to dissuade yourself of that notion yesterday. Over at Gonzaga, the Zags took 26 3-pointers. They made half of them. That's 36 of their 84 points. Kyle Wiltjer took 10 3-point shots himself. He made seven, accounting for 60 percent of his 35 points. In contrast, visiting Santa Clara attempted 21 3-pointers and made just five. (As an aside, do you remember when Mark Few's teams used to come under voracious criticism for not being able to guard the 3-pointer? That's changed. Now GU is one of the nation's best, as opponents have made just 28.9 percent of their attempts, tied for ninth best nationally. And that was before last night's game.) The disparity in scoring from beyond the arc easily accounts for the margin in Gonzaga's 84-67 West Coast Conference victory. (OK, I admit that's way too simple but run with me here. I'm trying to make a point.) And yet, those statistics aren't the most egregious example yesterday of the 3-point's shot importance. Or from Spokane County. Down the road in Cheney, the Eastern Eagles attempted 31 3-pointers against Portland State. They made a school-record 20 of them. Let's see, 20 times 3 equals, yep, 60 points. Just from beyond the arc. Heck, I once covered a Washington State team that won 26 games. In 22 of those, they gave up 60 or fewer points. In total. Eastern had that many in just long range shots Thursday. (Apples and oranges, sure, but in less than a decade the 3-point shot has taken on even more significance.) Heck, the Eagles outscored PSU by 51 points from beyond the arc last night. Let me write that again. Fifty-one. Four Eagles only took shots from beyond the arc. Granted, three of them were a combined 3-for-4 out there, but Felix Van Hofe took seven shots, all from long range, and made five. Austin McBroom took 10, and made six. There is little doubt the 3-pointer was the decisive factor in Cheney last night. As it was, to a lesser degree, in Moscow, where the Vandals were outscored by 12 from beyond the arc in a two-point loss, or in Los Angeles, where the Cougars lost by 10 as USC scored nine more points from distance. (Again, simplistic. But as Mark Twain used to say, there are lies, damn lies and statistics. Or something like that. I don't like to lie but I don't mind using statistics – when they serve my purpose.) Coaches used to decry the extinction of the mid-range jumper. Now they have learned to go with the flow. Watch little kids shoot when they rush the floor and get a chance after high school games. They all, no matter how big or small, float back to the line. They know. You want to play college hoops these days? Learn how to knock down 50 percent of your 3-pointers. A whole passel of college coaches will be knocking down your door.
•••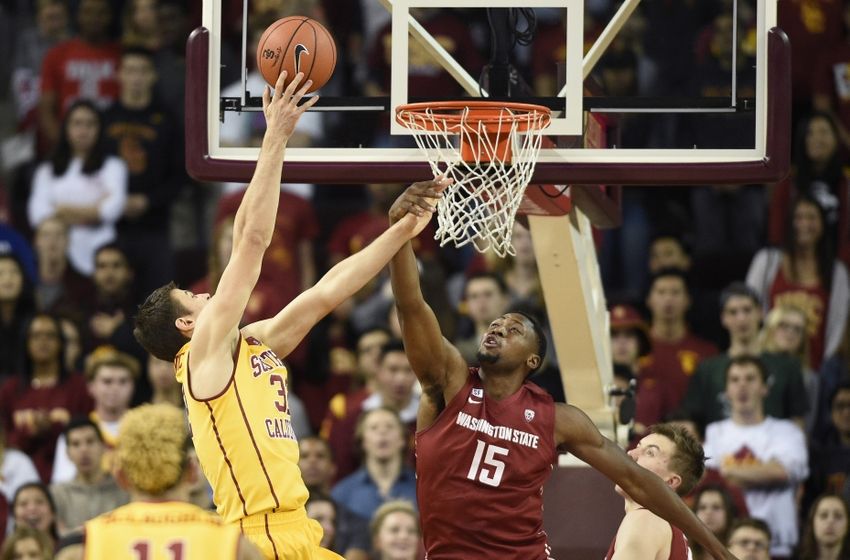 • WSU: Jacob Thorpe was tucked in a corner of the Galen Center last night as the Cougars went through another of their patented dry spells. It didn't last long but it was enough for the Trojans to race to an 81-71 win. He has the game story, the box score and video of a postgame interview with Ernie Kent. ... Before the game, Jacob had a blog post previewing the matchup. ... This morning, Jacob posted links to other Pac-12 games. ... Will someone other than Oregon or Stanford win the Pac-12 title next football season? ... The non-conference schedules for most of the league's schools aren't all that tough.
• Gonzaga: The first half last night was spectacular. The second half? Not so much. That's the thrust of Jim Meehan's game story and last night's blog post. ... Colin Mulvany has a picture story from the game. ... Elsewhere in the WCC, Pepperdine continued its winning ways, BYU got back on the winning track and San Francisco won in Portland.
• EWU: The Eagles scored 112 points in the win last night. Jim Allen documents how they did it in this game story. ... Portland State's Cameron Forte had a pretty good night himself, scoring almost 45 percent of the Vikings' 83 points. ... Elsewhere in the Big Sky, Weber State defeated Northern Arizona and Idaho State won again, defeating Southern Utah. ... The Big Sky women's race is getting tighter.
• Idaho: The Vandals were without two of their leading scorers but were able to hang tough until the end. Still, they lost 65-63 to Sacramento State in Moscow. Sean Kramer has the game story.
• Chiefs: The Chiefs are retiring a number for the first time. No. 14. It was once worn by Ray Whitney. And they are retiring it in his honor. That's appropriate, according to John Blanchette in this column.
• Seahawks: Defensive tackle Jesse Williams, who has battled injuries and cancer since being drafted by the Hawks in 2013, has been cleared to play again.
• Mariners: The M's held a pre-spring training media luncheon yesterday and though I have no idea how the food was, I do know there were stories that came out of it. Stories like these on the club remaking its farm system under a new director. And the new general manger saying the M's can compete. And injury news. And a signing.
•••
• It's Friday. Enough said. Until later ...
---
---