Sun., Jan. 31, 2016
It's time to prepare for Sundays without the NFL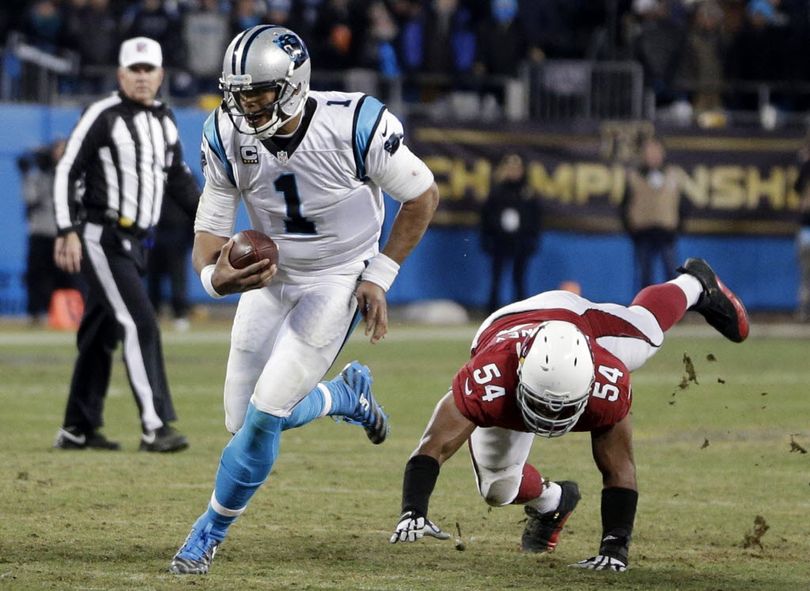 A GRIP ON SPORTS • Remember the first weekend of September? Me neither. It seems so long ago. But that was the last time there wasn't a televised competitive NFL game on a Sunday. Until today, I mean. Read on.
••••••••••
• What's a boy to do? For more than a quarter of the year, the NFL dominates Sundays. The league owns that day of the week, according to a recent movie trailer I saw at least a half-a-hundred times. But today, nothing. Nada. Zilch. To make matters worse, it snowed around here a bit overnight, killing any chance I had to go outside and clean up a winter's worth of dog bombs. Darn it. I was counting on that to entertain me. It seemed like a winner in the debate against watching the Pro Bowl. Coming in third was paying attention to the run-up to the Iowa caucuses. I'm sure there is some good college basketball on, but how will today's games match yesterday evening's performance by Gonzaga, which finally put together a full game and blew out USF? Being busy yesterday, I missed a vintage performance by a Tony Bennett team, as Virginia held Louisville's starting five to 20 total points in a rout on the Cardinals' home floor. Those were the two of the games this weekend that piqued my interest the most and they both were on Saturday, when I was busy. Today, like most Sundays, I have some time to relax and soak in sports entertainment. Since the weather was warm, the NFL has filled that void. So what's an over-the-hill boy to do?
• Speaking of basketball, last night I began to watch the replay of the Cougars de-pantsing at Pauley yesterday and had to quit. The combination of Bill Walton's commentary and WSU's poor play was making me physically ill. I've known Walton since he spoke at my wife's college basketball awards banquet in 1979, back when he struggled with a speech impediment. But these days he's seemed to illustrating the axiom nature abhors a vacuum, and by vacuum I mean an empty second of airtime. For a guy that was probably the most subtle big man – always maximizing his efficiency with a minimum of movement – to play the college game, he's lost the understanding of less is more. In small doses, Walton is still fun to listen too. After a few minutes, however, he grates. In other words, he would be the perfect Twitter color commentator. Limit him to 140 characters at a time and he would be golden.
•••
• WSU: Jacob Thorpe observed the game, if not the Walton comments, yesterday evening in Los Angeles. That led to this game story and morning post with links. Sadly, there is no video of Ernie Kent trying to explain the 83-50 defeat.
• Gonzaga: As we said, Mark Few was looking for a complete effort out of the Zags. He was also looking for Silas Melson to have a few shots fall. He got both last night. Gonzaga routed USF 86-48 at McCarthey and Melson, who has been a presence on the defensive end, hit 5-of-9 3-pointers and scored 15 points. Jim Meehan, John Blanchette and Tyler Tjomsland were there and they have the game story, a column and a photo story, respectively. ... Think about this. Gonzaga has five losses by a total of 15 points. In other words, if one 3-pointer and a free throw missed each game, on average, had fallen in those losses, the Bulldogs would be undefeated and ranked in the top five. And yet it seems, to some Gonzaga fans, as if the Kennel roof has fallen to the court this season. ... Around the WCC, league-leading Saint Mary's survived in Stockton, defeating Pacific 68-65 while BYU solved the puzzle of Pepperdine, 88-77, and moved into third. ... USD rallied past Loyola Marymount and Santa Clara defeated host Portland. ... A couple of GU track athletes had a record-setting day. ... Gonzaga and Eastern dominated the senior SWABs awards.
• EWU: A game after making a school-record 20 3-pointers, the Eagles missed their first 10 attempts from beyond the arc on Saturday. And yet, thanks to the play of Venky Jois, they figured out a way to defeat Sacramento State, 74-67. Jim Allen has the game story. ... Around the Big Sky, Montana traveled to Bozeman and won against MSU, 80-72. ... Weber State pounded Southern Utah, 77-50. ... Northern Colorado edged North Dakota, 71-70. ... The Eastern women bounced back in a big way after their first conference defeat.
• Idaho: The Vandals' well-traveled Chris Sarbaugh calmly made two free throws with the game on the line and UI got past Portland State, 56-55. Sean Kramer has the game story.
• Whitworth: The Pirates survived another NWC road trip undefeated.
• Chiefs: Back-to-back nights of playing in the Arena didn't mean back-to-back wins. Spokane seemed a bit spent in its 7-3 loss to Tri-City. Tom Clouse has the story. ... Everett scored a late goal and picked up a 2-1 home win.
• Preps: Greg Lee covered Central Valley's 51-40 win at Ferris last night. The Bears trailed by one going into the fourth quarter. ... The News Tribune has its annual list of the 100 top high school football players in the West. And Christian Caple relates how UW goes about recruiting those players. It's a bit old-fashioned.
• Seahawks: Dave Boling thinks you should watch the Pro Bowl just because of Tyler Lockett. I agree Lockett is exciting, but not enough to get me to do that.
• Mariners: The M's held their FanFest yesterday and proved one point. Being an M's fan isn't easy. ... James Paxton has shed weight. Now he wants to shed the injury bug. ... Even Jerry Dipoto doesn't know how the revamped M's bullpen will do. He does know, however, how important Charlie Furbush's health will be.
•••
• Off to do, well, nothing. Help with the laundry, maybe. And read the paper. You should do that too. Read the paper, I mean. The paper version. Buy it and read it. Keep your local journalist employed. Keep the links available. Keep my pension strong. Do it for the really old, old kids. Until later ...
---
---