Mon., July 4, 2016, 7:25 a.m.
Baseball and the Fourth just seem to go together
A GRIP ON SPORTS • It's the Fourth of July. Our nation's birthday. Is there a better way to celebrate than with a baseball game? Read on.
••••••••••
• I've said it before. Baseball and the Fourth go together like golf and swearing, football and fantasy, soccer and flopping. It almost seems you can't have one without the other. Most of my childhood Fourth of July memories have at least one baseball element, even those I spent in the woods of the Sierra Nevada mountains. Part of that is I grew up in a city that shared one thing with Spokane: a fireworks ban. Sierra Madre is hard against the San Gabriel mountains – the city was the first in the U.S. with its own wilderness area, a brainchild of my father, then chairman of Sierra Madre's parks and recreation committee – and only had a volunteer fire department, so fireworks were verboten as long as I can remember. There was always some sort of baseball, however. There were five baseball fields at that time in a city with only about a square mile of homes, so it's obvious the game was important. I played on them all at one time or another, including the Pony/Colt Field my dad pushed through. (Somewhere downstairs I still have a copy of Sierra Madre's weekly newspaper from my youth, the Clarion. In it, a very young Vince Grippi appears in a photograph, wearing an oversized hat – it was my dad's – under the caption saying something like "all I want for Christmas is a baseball field." My dad enlisted the weekly's help in raising money for the field next to the water district's settling basins.) By the Fourth, much of the Little League schedule was done, but even if there were no games scheduled, we usually got together and played a game of over-the-line or some such game. There was rarely a day during the summer our baseball gloves weren't hooked to our bicycle handlebars "Sandlot"-style, though carrying a bat was always a bit more problematic. We got it done, however, and spent long hours playing some truncated version of baseball. The Fourth was no different, no matter the year. As I grew older and games became more organized – and not nearly as much fun, I might add – the memories become clearer. In 1976 and 1977, there were doubleheaders to play and, being the only catcher on our college summer league team, about 18 innings to squat in the dirt, blocking pitches from guys who always seemed to have trouble getting their curveball to travel more than 59 feet. But there was always a reward. Maybe it wasn't winning. It may not even have been a cold beer afterward, even when I came of age, because usually there was a long ride home looming. There was, however, the view. Many a Fourth in my teenage years was spent on the roof of my parent's house, though if you happen talk with my dad someday, don't let him know. (We had a cedar shake roof and he made it clear he never wanted me on the roof. Even though he's been dead for more than half a decade, I'm sure he would come back to haunt me if he found out.) Anyhow, when he wasn't around, the roof it was. Sierra Madre's proximity to the mountains gave it a great view of the San Gabriel Valley and the Los Angeles Basin. If the night was clear – though, thanks to the L.A. smog, it usually had some sort of haze – on the Fourth, you could watch about a dozen fireworks' celebrations from Arcadia to Covina, from Anaheim to Pomona. It was spectacular. We would sit on the crown of the roof, our eyes able to just clear the palm trees south of us, and watch the fireworks bloom in the sky from east to west. Thanks to baseball, I was usually exhausted. Happy, but exhausted.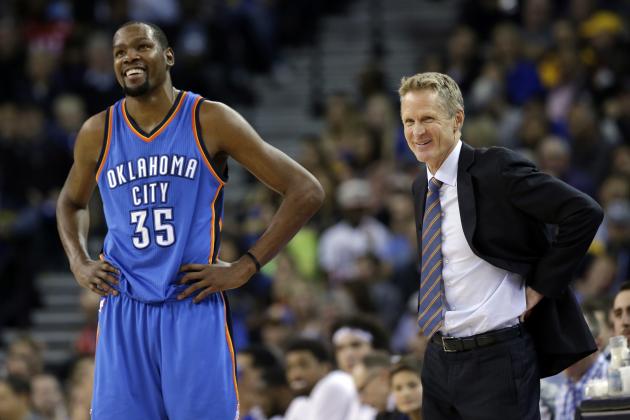 • You know who isn't smiling too much right now? Kevin Durant. Or sure, it may seem like fun to have a half-dozen teams offering you untold millions to play a kids' game, but no matter what decision Durant makes today will make someone unhappy. Don't forget Durant's first professional season was spent in Seattle, playing for the Sonics in their final Northwest year. It's too bad he couldn't just partner up with a couple other free agents and put together their own team and play in Key Arena. After all, it is an NBA-ready facility, right? There are probably some old Sonics jerseys floating around in the back rooms there as well.
•••
• Indians: Speaking of baseball, the Indians won the final game on their trip to Canada and will return to Avista tonight to face Boise. Fireworks follow. Have a hot dog while you're there and touch all the traditional patriotic bases. ... An Everett player had a chance to talk with Alvin Davis. Lucky him. ... The AquaSox and Salem-Keizer each picked up Sunday wins.
• Preps: If you are looking for a game during the day, the local Legion wood bat tournament is down to the semifinals and finals.
• Mariners: Is there more of an up-and-down team in major league baseball these days than the M's? If there is, I pity its poor fans. Seattle capped a 7-2 homestand – which came hard on the heels of an eight-loss road trip – with a 9-4 win over Baltimore. The M's swept the Orioles in a four-game series for only the second time this century. ... The Mariners have hit a lot of home runs this season. ... Dae-Ho Lee is an original. ... Geoff Baker believes baseball needs to pay its minor leaguers more. Sure. Just like corporate America needs to pay interns and apprentices more. It is a training ground, not a career.
• Seahawks: The NFL announced the three games from each team it would post on YouTube. The Hawks' games? The Super Bowl win over Denver and the NFC championship wins over San Francisco and Green Bay in back-to-back years.
• Sounders: Chad Marshall suffered a migraine headache and had to leave the Toronto match this week.
•••
• What's your favorite baseball and the Fourth memory? Maybe it was playing catch with dad in the backyard. Maybe it was playing a game that involved rocks, a big stick and the lake, something I used to do when I was bored. Or maybe it was sitting in the stands in Chicago or Des Moines or Nashville, watching a game with mom and pops and getting a brain freeze from eating your frozen malt too quickly. If you are of a certain age, I'm sure you have a memory that stands out above all others. Until later ...
---
---