Tue., July 5, 2016
Durant's decision doesn't decide who wins the NBA title next year. Or does it?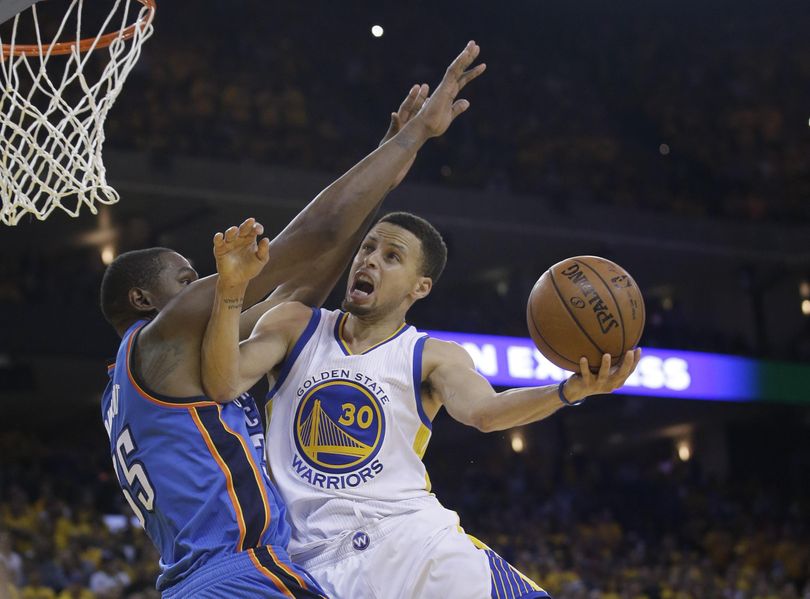 A GRIP ON SPORTS • Kevin Durant answered the biggest question of the NBA offseason yesterday when he announced he will join the Golden State Warriors. But his decision also led to even more questions. Read on.
••••••••••
• The first question that comes to mind is will the Warriors, who set an NBA record with 73 regular-season wins last season, win all 82 games? We're joking, of course. Actually, the first question that came to my mind yesterday morning was simple: Does this make the Warriors better? Sounds stupid, doesn't it? One of the top four players in the league joins the best team – OK, the second-best team after the playoff results – and we wonder if it improves them? Well, yes. There is no question Durant is an offensive force. An unstoppable offensive force at times. At 6-foot-9 with arms of a 7-5 guy and an outside only overshadowed by his two new teammates, Steph Curry and Klay Thompson, Durant can score from any place on the floor. At anytime. Except maybe the fourth quarter of a close game. OK, that's a cheap shot. But seemingly true. When the Warriors rallied from a 3-1 deficit against Durant's Thunder in the Western Conference finals, Durant (and Russell Westbrook) had a chance to put Golden State away in game six in Oklahoma City. Except they didn't. Mainly because they couldn't score. Turnovers and missed shots down the stretch, including many by Durant, allowed the Warriors to rally and win. Then win the series. It's been Durant's curse throughout his mostly successful NBA career. And it's probably of little importance now. See, the fourth quarter of close games for Golden State belongs to Curry. The ball will be in his hands in every possession after he comes off the bench – coach Steve Kerr always rests Curry to start the fourth before letting him finish games. It's Curry who orchestrates who shoots. Often that's him. He calls his own number as much as any point guard in the league and why not? When he's on, he's unstoppable in a completely different way than Durant. So is Thompson, but, again, in a different way than his two teammates. Which means all Curry has to do is make the right choice and the Warriors should be able to outscore just about anyone. And they may need to. In a sense the Warriors are trading out Durant for Andrew Bogut, gaining a lot of offense for a defensive question mark. Bogut is not the most mobile of big men, but the Utah graduate clogged the lane when he was healthy. He even earned second-team defensive honors from the league just a season ago. Durant has never been so honored, mainly because his approach to that end of the floor focuses on getting rebounds, not helping teammates. The Warriors have been at their best the past two years when their defense is clicking. Draymond Green is still there. He's a two-time first-team all-defensive selection. Andre Iguodala and Anderson Varejao, both defensive honorees in the past, are still on the roster. But defense, especially the way the Warriors try to play it, takes everyone, even the superstars. Thompson and Green work at it. So does Curry, though his lithe build and offensive responsibilities handicap him. Will Durant? That's the $26 million-a-year question, isn't it? There are others, of course. One NBA player tweeted out what lots of folks were thinking, saying there is only one ball. You don't have to be Alan Turing to break that code. Will the Warriors share the ball as they have in the past? Or will the presence of so many scorers cause friction? Kerr, who missed the first half of last season with a back problem, may want to put on a heavy-duty brace. He may need it with the lifting he'll be required to do to integrate Durant into the Warriors' system. But I'm guessing it won't be as big a problem as some think. Teams take their cue from their best players and the Warriors' leader is Curry. He's the two-time MVP. He's the best scorer in the world. And his understanding of the offensive game is unmatched. Besides, Thompson and Durant have exhibited their unselfishness before. Yes, there is just one ball. But the more hands it touches, the easier the baskets. Durant knows that. The Warriors know that. And the rest of the NBA knows that.
•••
• WSU: The ageless wonder, Bernard Lagat, advanced to Saturday's 5,000-meters final at the Olympic trials.
• Indians: Spokane returned home and, thanks to Xavier Turner (pictured), defeated Boise 6-3. Josh Horton has the story. ... Eugene homered its way past Everett.
• Preps: Greg Lee catches up with a couple of local football players who committed to Oregon recently. It's all part of Lee's youth notebook.
• Mariners: The M's had their chances to tack a loss on Houston's record and pull closer to second place. But they wasted them, as well as wasting Wade Miley's start, in a 2-1 loss opening a road trip. ... Edwin Diaz has added a slider and it's helping. ... Shawn O'Malley is ready to play whenever and wherever needed. ... The newest addition to the M's postseason chances is the new ownership.
• Seahawks: Pete Carroll likes to spread his coaching philosophy to all sports.
• Sounders: It's a busy month for the Sounders. Probably too busy. ... Los Angeles got past Vancouver. ... Portland and Colorado played to a scoreless draw.
•••
• If the Sonics had never moved to Oklahoma City and became the Thunder, how would you feel about Durant today? Until later ...
---
---