Sun., July 10, 2016
WSU alum Lagat just keeps on running and will compete in his fifth Olympics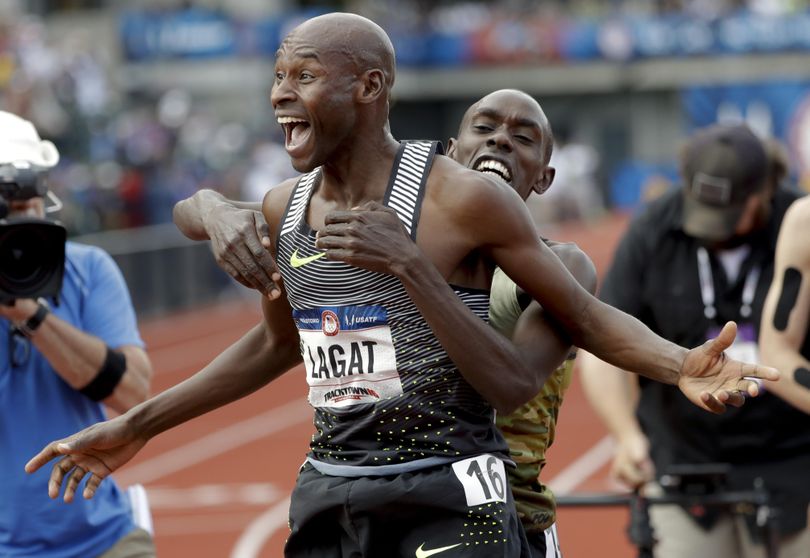 A GRIP ON SPORTS • Has there ever been a Washington State athletic alum who has stayed in the international competitive spotlight longer than Bernard Lagat? Read on.
••••••••••
• There was a time, the John Chaplin Era, when WSU was one of the track and field powers on the West Coast. USC and UCLA had the sprinters, but it was Oregon and WSU that had the distance guys, though they got them from different areas of the world. Back then, in the 1970s through the early 90s, the Cougars built success through international recruiting, mainly Kenya. Chaplin was way ahead of his time, bringing the likes of Henry Rono and Julius Korir to Pullman to run. Chaplin quit in 1994 while the Cougars were dealing with NCAA problems, but his path to success continued with his successor, Rick Sloan. Sloan's biggest get was Lagat. At least it has been. Lagat has been running seemingly forever. He's 41 for goodness sakes and will be representing the U.S. at the Rio Olympics. No Zika worries for Lagat. He's already got his family and they were in his wake yesterday after he won the 5,000-meter trial in Eugene. So was everyone else, even the runners half his age. Lagat, who came to Pullman in the mid-1990s, stayed in the U.S. afterward. After running for Kenya a decade, he became an American citizen in 2004 and began representing this country internationally. He still is. And while it may say U.S.A. on his shirt, Lagat also is still representing the Palouse, WSU and an era that has passed. There is no longer a pipeline from Kenya to Pullman. There is no longer the success that before-its-time thinking created. But Lagat just keeps running. And winning.
•••
• Idaho: UI soccer coach Laura Jackson was honored by her peers.
• Indians: Spokane is on the road this weekend and the trip began poorly in Everett with a 10-3 loss. ... Eugene defeated Hillsboro, 5-2.
• Golf: Derek Barron has built a three-shot lead at the Lilac Invitational.
• Empire: Spokane will meet Nebraska in the Intense Conference championship in a week.
• Mariners: The M's base running was great Friday. Saturday, not so much. It cost them in a 5-3 loss to Kansas City. ... With one more game left before the All-Star break, Hisashi Iwakuma has more wins than he ever has. ... The M's aren't among the best teams.
• Sounders: Here's the thing. Seattle can't score. It's more than halfway through the MLS season and the Sounders still haven't figured out how to put the ball in the net. They lost 1-0 at home to their nemesis, the L.A. Galaxy, and fell into the cellar. Will Sigi Schmid fall next or will management make a huge move in the transfer period?
•••
• Today would have been my dad's 91st birthday. Miss you pop. Until later ...
---
---