Mon., July 11, 2016
Part of the home field advantage is sleeping in your own bed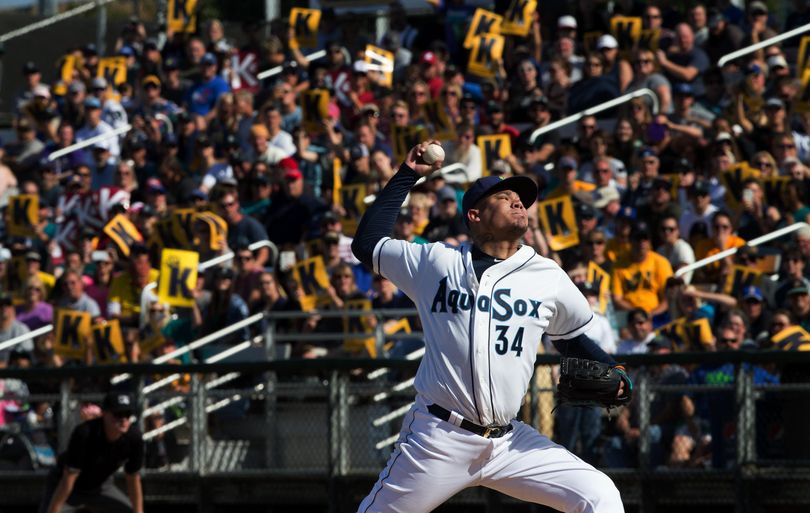 A GRIP ON SPORTS • It's always better to sleep in your own bed. That's a big part of why home field or court or whatever is so important. Include "column writing" under the "whatever" category. Read on.
••••••••••
• There is something comforting with being in familiar surroundings, no matter what the assignment or task. It makes it easier to concentrate on the matter at hand and forget all the extra-curricular stuff. But there is also something to be said for the experience of the new. Everything is shiny and bright and unaffected by the past. Felix Hernandez and the Spokane Indians got to experience both yesterday. For Hernandez, it was a homecoming of sorts in his rehab start with the Everett AquaSox. His first professional season was spent in Everett, acclimating to the U.S. and the demands of the minor leagues. So there was that as he began preparing for his big-league return, scheduled for July 20. The Indians, on the other hand, are pretty much all shiny and new to the professional game. This is their beginning. And now you are facing, arguably, one of the top-10 pitchers on the planet. Sure, he's coming off an injured calf and isn't focused on dominating as much as making sure everything is working right. But that doesn't mean he still can't put a 90-mile-per-hour fastball with movement on the black and then follow that up with an 82-mile-per-hour changeup that disappears into the dirt at the last minute. No matter what their professional future holds, the guys in the Spokane lineup yesterday will be able to tell their friends, their kids and their grandkids they faced Hernandez at least once. And that is special.
• So should a professional golf major be decided by a two-stroke penalty that was discovered well after it happened and only when a major network slows down and blows up the video to depths never seen in history? No. I'm a proponent of replay in all sports but only because replay has become nearly instantaneous. It has become quick enough not to interfere much with the flow of the game. But what happened yesterday in the women's U.S. Open was anything but quick. To summarize reports, Anna Nordqvist hit a shot out of a fairway bunker in the second hole of a three-hole playoff. It looked as if she may have grounded her club in the bunker, which is a two-stroke penalty. She didn't think so. A USGA official on site didn't think so. Another official watched the replay three times and didn't think so. But Fox, broadcasting the event, used super high definition or something, blew it up, slowed it down and showed it to another USGA official. By this time the two golfers in the playoff, Nordqvist and Brittany Lang, were finished with the hole and and on the next one. They were still tied. The last USGA official to view the video decided, yes, it was a penalty and had Nordqvist told on the final fairway. Game, set, match. If the USGA is going to continue to make such late calls – in a perverse form of gender equity, the organization had a rules debacle concerning a replay with Dustin Johnson in the men's U.S. Open – it has to come up with some form of limit to the process. What if the decision on the Fox replay had come up just a few minutes later. Say Nordqvist had birdied the last hole to win the title by a stroke. Thrown her putter in the air. Celebrated. Only to be told, sorry, we are docking you two strokes for something that occurred two holes ago. Lang, you won. It could happen. And will eventually if there isn't a change made. My thought: If the penalty can't be determined before the player tees off on the next hole, too bad. The official on site can hold up the group for, say, 5 minutes if need be, but that's it. After that, the score is set in stone.
•••
• WSU: I don't know if this is depressing or uplifting if you are a Cougar fan: There will be three former Washington State basketball players representing their countries at the Rio Olympics. Klay Thompson will be there for the U.S., of course, with Aron Baynes again representing Australia. Baynes will be joined by Brock Motum (pictured), making his first Olympic appearance. The trio all have ties to the now-long-gone Bennett era in Pullman, though Motum arrived after Tony left for Virginia. ... Yes, WSU has a great offense returning this football season.
• Indians: Everett held off Spokane 7-6 as Hernandez wasn't dominating. ... Eugene lost to Hillsboro while Tri-City got past Vancouver.
• Golf: Derek Barron didn't finish exceptionally well, but he did finish in first place at the Lilac City Invitational. Jim Meehan was at the Fairways and has this story.
• Mariners: The M's head into the all-star break with a winning record. Stop the presses. OK, they are just one game over .500, but still it's better than the alternative. They reached that point thanks to Mike Montgomery's stellar start and an 8-5 win over Kansas City. ... Ketel Marte is learning and learning quickly. ... The M's received some good news on the Taijuan Walker front. ... There is also good news on the minor league front.
• Seahawks: Thomas Rawls says he'll be ready by training camp.
• Sounders: Sunday was a day for drawing, as Portland and Real Salt Lake each finishing with ties.
•••
• Yes, sleeping in your own bed is great. So great, in fact, I overslept by more than an hour. Sorry. ... One quick note. We won't be here Wednesday. Traveling again with an early, early flight. We'll be here tomorrow and back on Thursday though. Until then ...
---
---