Thu., July 14, 2016
Where will the Cougars be picked in the Pac-12 North?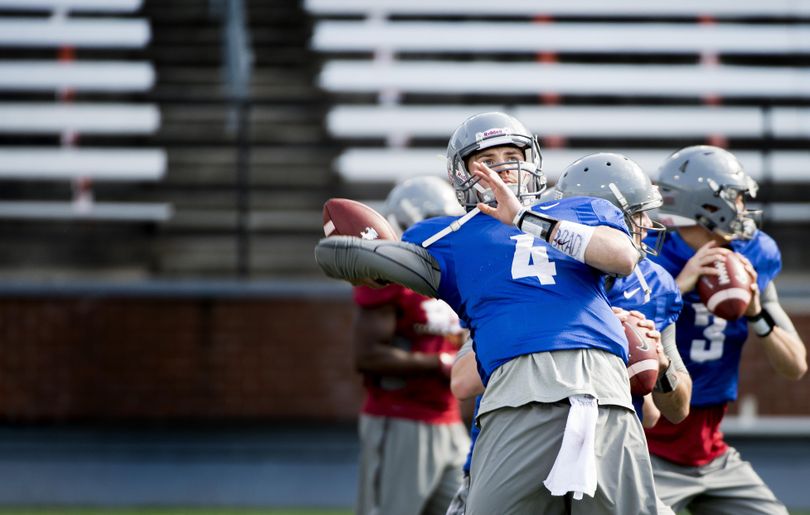 A GRIP ON SPORTS • Where were we? Heck if I know. Read on.
••••••••••
• The number of things I don't know is mind-boggling. The hotel I'm at doesn't carry the Golf Channel, so I don't even know who is winning the British Open. OK, that's a stretch. I know Patrick Reed is leading, though I have no idea how he's done it. But just add that to the things I don't know. Like who will win the Pac-12 this football season? I know the Pac-12 media days begin today up the road from where I am right now – why so early in July? Better add that to my list – and there are four suspects – just in the North. Stanford, Oregon, Washington and Washington State are all given a chance to take the North, though I've seen predictions with one of the first three winning it but not the last one. Is it because picking the Cougars is just too "out there" for everyone? I don't know. Maybe it's because the depth at quarterback has been diminished some this offseason. Or maybe it's habit. The past decade or so has made it hard for anyone to believe in WSU. But the Cougars cracked the mold a bit last season and seem poised to shatter it come September. But what do I know?
• Mike Leach and the two WSU players accompanying him – Biletnikoff Award nominee Gabe Marks and linebacker Parker Henry – will take the stage at 11:30 this morning. Jacob Thorpe will be all over this blog today I'm sure. The media predictions will be released – one prediction: the predictions will not be right.
• My picks to win the Pac-12: I don't know. I will predict California will be better than people think, Utah will struggle and WSU will lose one game everyone thought it should win and win two no one thought it would.
•••
• WSU: Jacob Thorpe broke some news on the blog yesterday and also the day before. ... Everyone will ask a bunch of questions today at the football media day, but there are even more that should be asked.
• Gonzaga: Pepperdine became a bit better yesterday when a 6-foot-7 Utah grad transfer said he was headed to Malibu.
• EWU: The Eagles will host two games in a preseason basketball tournament this season.
• Indians: Walks are a great way to supplement an offense. At least they were for the Indians last night in their 10-7 win over Salem-Keiser. Josh Horton has the story. ... The toughest part of Short Season A baseball? Success usually leads to call-ups. That's happened to Eugene, which lost to Tri-City last night, its third consecutive defeat. ... Everett won on the road last night.
• Empire: Spokane needed help at running back. Coach Adam Shackleford reached into his past to get it. Jim Meehan has the news in his notebook.
• Mariners: No baseball yesterday but that just means more time to examine how the M's have done this season. And to make pronouncements on the changes wrought by general manager Jerry Dipoto.
• Seahawks: It's 2016, to there are at least 16 things to cover with the Hawks, right?
• Sounders: Even in a 5-0 win this season, the Sounders can't get everything right. They defeated conference-leading FC Dallas by that margin last night but lost Clint Dempsey to a red card. ... Host Portland settled for a 1-1 draw with Montreal. ... Real Salt Lake lost 2-0 at Vancouver.
•••
• It was a long day yesterday. But, as my mom used to say, every day in July is long day. Until later ...
---
---