Sun., July 17, 2016
A big man makes a big impression
A GRIP ON SPORTS • When you are getting up in years, it is easy to forget what sports' stars mean to the young. It was nice to get a reminder yesterday. A really, really, really big reminder. Read on.
••••••••••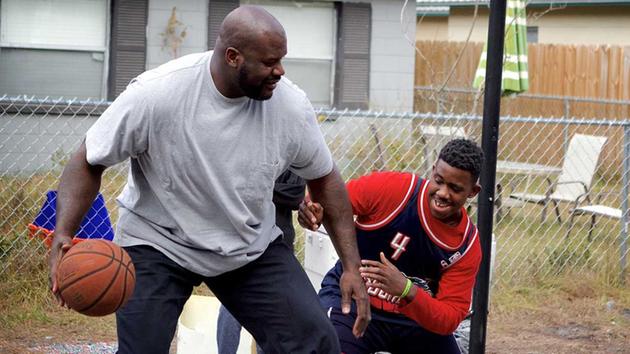 • Shepherding eight 14-year-old boys through a basketball tournament and around a big city can be taxing. It also is incredibly rewarding. After a game yesterday, I introduce the group to El Pollo Loco, Mexican fast food Southern California style. Watching a 14-year-old trying to get a pretty plain quesadilla is pretty funny, but not as funny as their reaction when a mountain walked through the same door they had just passed through. Shaquille O'Neal, NBA champion, All-Star, MVP and also just a dad, wanted lunch too. He found his way to the same restaurant we had. He filled the doorway. He filled the counter. And when he sat down, he filled his booth. Big deal. One thing working in sports journalism has taken away from me is hero worship. Our sports heroes are nothing but people, some good, some bad, some indifferent. Putting them on a pedestal is only setting them up to fall. But kids have yet to learn that tough lesson. They don't know many outsized sports stars aren't worth the adoration they develop. This day, though, Shaq was. As he walked through the door, the boys started to talk. Quietly at first, than louder. Some of them seemed on the edge of hyperventilation. I wondered which ones would muster up the courage to talk to the 7-foot-1, 300-plus-pound legend. Surprisingly, they all did. Maybe not surprisingly at all. Shaq, whose son is playing in the same tournament, talked with all of them. Sat calmly as a bunch of them had pictures taken with him. Towered over our point guard and growled, making everyone laugh. Treated each kid as if he was the most important person in the world at that moment. And made a memory they will never forget. How do I know? Growing up in Southern California, I met more than my quota of big-time stars. Played catch with Frank Howard when I was really young. Stood in line at a movie with Dave Meyers (and, in a non-sports moment, Henry Winkler). Met Stan Musial at a Dodger game. And dealt with Carl Yastrzemski. I believe I've passed along this story before, but Yaz treated my baseball teammates and I with utter disdain in 1967 at an Angels game, ignoring us as we waited patiently for an autograph. I've never forgotten his act of cruelty. Shaq was the polar opposite yesterday. Sure, he's a pitchman for more than one product and he knows how important it is to keep the public happy. But he went out of his way to make the boys' day. It will be remembered.
•••
• Whitworth: The Pirates' K.C. McConnell was honored once more by the Northwest Conference.
• Indians: Kyle Cody pitched Spokane to a 7-1 win over Salem-Keizer. Josh Horton has the story, and Cody's backstory. ... Everett is in a bit of a tailspin. ... Eugene won at Tri-City.
• Empire: It's a much healthier Spokane team today that will host Nebraska in the Intense Conference final. Jim Meehan has an advance on the game.
• Shadow: The Spokane Shadow women's team shut out Seattle 4-0 and won the Northwest Premier League title.
• Golf: Washington State's Derek Bayley shot a MeadowWood course record 59 yesterday and leads the Rosauers Open Invitational by two strokes. Jim has the story.
• Mariners: Where would the M's be this year if the Dodgers had honored their deal with Hisashi Iwakuma? We shudder to contemplate it, right? His ninth win – a 1-0 decision over Houston – helped the M's jump above the .500 mark again. ... The trade deadline is getting closer. And there are players available.
• Seahawks: The defensive line is going to need some help from a few newer guys.
• Sounders: There is no bigger rival for the Sounders than the Portland Timbers. We all know that. But the Sounders' best player hardly ever plays against Portland. ... The MLS needs all the publicity it can get. That's just another reason why this brouhaha in Salt Lake City is so hard to understand. ... San Jose scored despite being two men down and defeated Toronto.
•••
• Will Phil Mickelson win another major? Will Henrik Stenson win his first? We will find out soon. Until later ...
---
---