Mon., July 25, 2016
A dust storm swept through the Northwest yesterday and made a lot folks' eyes water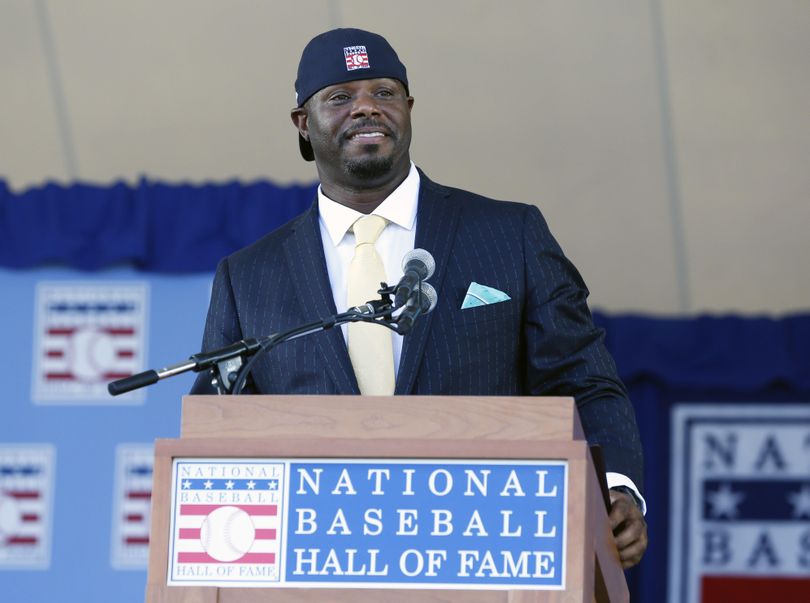 A GRIP ON SPORTS • Where were we? Oh ya. Choking up along with the rest of the Northwest's baseball fans. Yesterday was truly special. Read on.
••••••••••
• I have to admit I didn't see Ken Griffey Jr.'s Hall of Fame induction speech live. Even if I hadn't been busy, being away from home I had no access to the MLB Channel, so I would have been out of luck. Still, I caught bits and pieces through the magic of the Google machine and social media. And it was enough to make me complain about the dust in the air causing my eyes to water. Mainly Griffey's speech, like almost every Hall of Fame speech, took me back to a time when everything was different. My kids were young. They loved baseball. They loved Griffey. He was their Johnny Bench or Al Kaline or Sandy Koufax, the heroes of my youth. He was special. It didn't matter to them what he was like off the field or in the clubhouse. What mattered was how he played between the lines. He was Spiderman, the Flash and the Hulk all rolled into one package, with a little Quail Man thrown in. He was a grown man playing a kid's game like a kid. Actually, he was the second coming of The Kid, following the original, Ted Williams. He also was the second coming of Roy Hobbs. He was their baseball hero. Now he's a man with kids of his own. And those kids are grown too. As he spoke yesterday, it touched a whole generation of Northwest boys and girls, reminding them of their past and prompting them to examine their present. And when Griffey reached down and put on his cap backward, it brought the house down. The ability to thrill has never left Junior and it probably never will.
•••
• WSU: We weren't here yesterday but we didn't want to let another day go by without linking Jacob Thorpe's story on Gabe Marks, the voice of the Palouse these days. Jacob also posted the entire interview that served as the basis of the story. ... The news from Pullman about a weekend fight isn't exactly uplifting for anyone. Football players have been accused of assaulting a student. ... Luke Falk is from Utah. The state is glad to claim him.
• Indians: It all comes down to today. If the Indians win and Tri-City loses, Spokane wins the NWL's North Division first-half title. Any other result and Tri-City is the champion. The Indians lost at Boise yesterday and the Dust Devils won, giving Tri-City a game lead, though Spokane owns the tiebreaker. ... Eugene and Everett won.
• Empire: In case you missed it, the Empire lost Saturday night in the Indoor Football league championship game.
• Preps: The State Legion playoffs are going on and the Spokane teams have done well so far.
• Mariners: We linked some of the Griffey coverage above but there is so much in the Seattle papers (as well there should be), we have let it spill over to here. Enjoy your reminiscing. ... As for this year's M's, they lost 2-0 Sunday in Toronto as a member of last year's starting staff, J.A. Happ, won his 13th game. He wasn't, cough, good enough for the M's to re-sign in the offseason. ... Ketel Marte is going to be out a while.
• Seahawks: General manager John Schneider is staying in Seattle after coming to an agreement with the Hawks on an extension. All that is left now is to get Pete Carroll under contract. ... Richard Sherman was asked to do more last season and he obliged. So did Doug Baldwin.
• Sounders: If you are a Sounders' fan, sorry. The way they played yesterday in a 3-0 loss at Sporting Kansas City was, well, disgraceful. This is a team that has seemed to have given up. ... Portland hasn't, but the Timbers still fell 2-1 to a resurgent L.A. Galaxy.
•••
• It's a travel day for me. This afternoon I will be back in my favorite place in the world. At least this time of year. Until later ...
---
---