Sun., June 5, 2016
Starting pitching woes for the M's just doesn't add up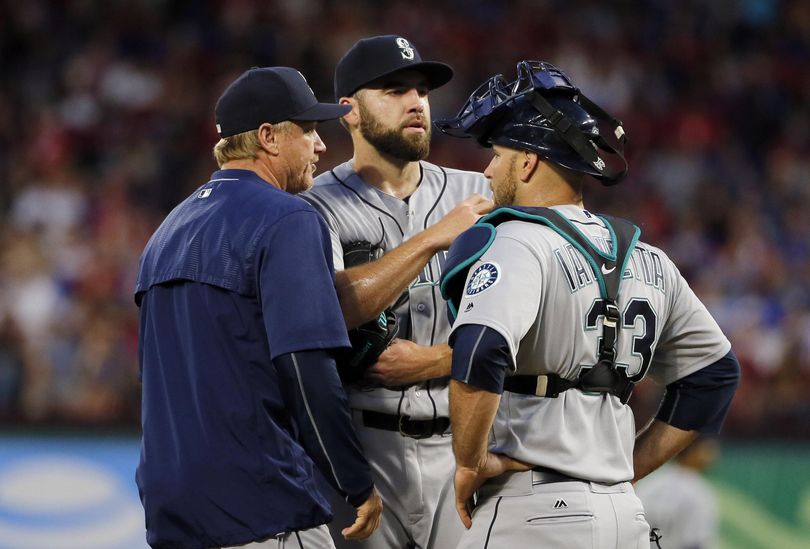 A GRIP ON SPORTS • If pitching is 80 percent of baseball and starting pitching is two-thirds of that, than the M's are 110 percent behind the eight-ball right now. At least by my math. Read on.
••••••••••
• You know, it's sort of tough to win games when you spot your opponent a three-run lead. I'm for sportsmanship and all, but c'mon man, what are we doing out here? Let's put it this way. The M's starters have sucked recently. And by recently, I mean since Felix Hernandez went down with a leg injury. Without the King of the rotation, the M's pitchers have been decidedly peasant-like at the beginning of games. In four consecutive contests, the M's were trailing by three runs after an inning. It didn't matter one of those times. The Padres' pitching was even worse and the M's rallied for a historic win. But the momentum built by that late-inning magic was lost somewhere between San Diego and Ft. Worth, leaving the Mariners in a deep hole as they battled for the American League West lead. Now they are assured of: a) their first losing road series of the season; and b) being at least a game behind as they leave Texas. And they could be three back, if Hisashi Iwakuma continues the trend of first-inning meltdowns. Without Felix, the starting staff consists of Iwakuma, who is past his prime, Wade Miley, James Paxton, Taijuan Walker and Nathan Karns (pictured), none of whom is pitching like they are in their prime just yet. It was Karns turn to struggle yesterday, though Shawn O'Malley could have helped him out by making a play in centerfield in the first inning. The utilityman, filling in because Leonys Martin is still out with a bad hamstring, dove for a line drive to lead off the bottom of the first, inexplicably missed it – it hit his glove – and the Rangers began with a gift double. It got worse for Karns after that. The M's offense, in an about-face from recent years, is doing fine. But the pitching isn't holding up its end right now. It better change – and change quickly. If it doesn't? This seems like one of those weeks you may be looking back on in September and saying that's when it all went south.
• The M's made a roster move yesterday, sending Gonzaga's Cody Martin back to the minor leagues. Called up in his place is this season's savior, right-hander Edwin Diaz. The M's turned Diaz, their most heralded pitching prospect – and possibly the most heralded prospect overall – into a reliever earlier this year in an attempt to accelerate his path to the bigs. It may have been a self-fulfilling prophecy. Diaz overpowered people at Jackson, the Double A farm club, and the M's decided he's ready to do it at the big league level. We'll see, maybe even today.
•••
• WSU: Klay Thompson and Kevin Love's paths crossed a long time ago in a state not too far away.
• Gonzaga: The Bulldogs trailed 2-0 early, but Jeff Bohling's three-run home run gave them a 3-2 lead over host TCU in the NCAA baseball regionals yesterday. However, the Horned Frogs rallied and won 4-3. Now GU has to win three consecutive games to move on to the Super Regionals. ... Kyle Wiltjer worked out for the Utah Jazz yesterday.
• Empire: The carrot at the end of the game was easy for the Empire to see: Defeat Billings last night at the Arena and earn a couple weeks off. As well as an automatic berth into the Intense Conference finals. The Empire did both, rallying for a 51-41 win before 4,154. Jim Meehan has the game story.
• Boxing: The tributes to Muhammad Ali continue to pour in, including this one from our John Blanchette.
• Preps: John also has coverage of the unique throwing meet in Rathdrum yesterday that including pros and high school athletes.
• Mariners: The 10-4 loss Saturday night dropped the M's two games behind the Rangers in the A.L. West. ... The Cubs are still atop this power ranking.
• Sounders: Seattle may be a soccer town, but even the die-hards didn't turn out in droves last night for the Copa America match between Peru and Haiti.
•••
• The Stanley Cup finals are getting interesting, since San Jose found a way to slow Pittsburgh last night. The Sharks won 3-2 in overtime and cut the Penguins' series lead to 2-1. Until later ...
---
---