Thu., June 9, 2016
Blowout, blowout and blowout – though the winner was different the last time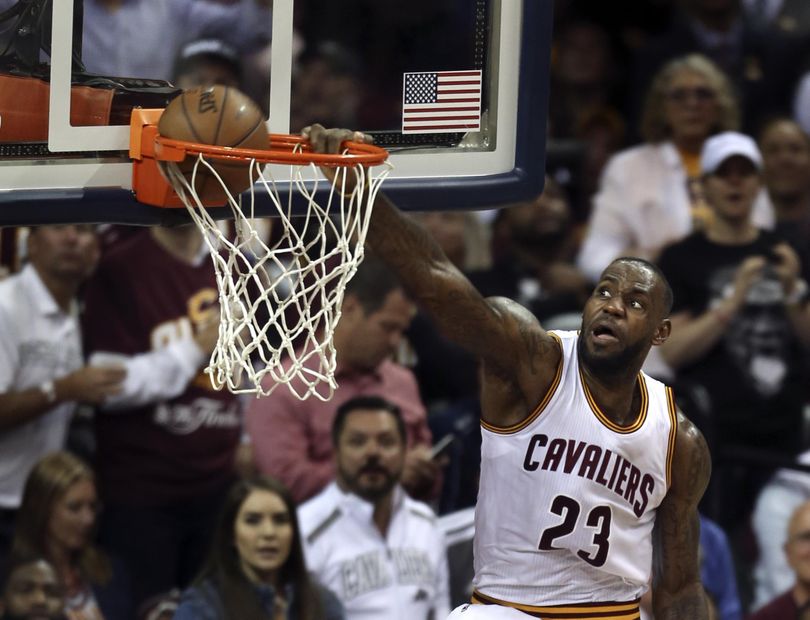 A GRIP ON SPORTS • So if this Cleveland team had shown up just once in Oakland, maybe this series would have some excitement in it. Read on.
••••••••••
• Some of you have sought me out recently, wanting to know if I really thought Cleveland could win the NBA finals. (As you may recall, I predicted the Cavs would win in six games.) Usually, that question was accompanied by a quizzical look. Then last night happened. The Cavaliers returned home, the Warriors seemed to miss their flight and Cleveland won 120-90. That score marked a 63-point turnaround from game two in California. How the heck does that happen? Honestly, I can't explain it. Yes, Steph Curry was not very good. Neither was Klay Thompson. And Kevin Love did not play for Cleveland, which, for some reason, seems to be a positive. (Maybe it's because, when people are out, LeBron James feels less of a need to get everyone involved and he just takes over. Maybe it's because someone else – Tristan Thompson – just has more of an opportunity to shine. Whatever it is, the Cavs have to decide if Love is worth playing.) But a 63-point swing in two games is tough to explain. The teams meet again tomorrow night in Cleveland – in the glacial pace of the NBA playoffs, that's an awfully quick turnaround – and we'll see if the Warriors have figured anything out. If they don't, my prediction is still in play.
• The Mariners were awful there for a while. But if there is anything we've learned this year, this team is anything but consistent. A good stretch is seemingly always followed by a poor one – and vice-versa. That even applies to different aspects of the game. They score 45 runs in four games – and 10 in the next four. The pitching staff yields 36 runs in a four-game stretch – and follow that with four games in which the opponent score just seven runs, only three of which were earned. So what can we expect from here on out? One thing seems sure. If it's not more consistency, it's hard to see the M's as a contender – or our emotions surviving through July, let alone the season.
•••
• WSU: Which team in the Pac-12 has the toughest football schedule? (A hint: it isn't WSU.) ... Teams know they need solid backup quarterbacks. ... So what is this about Asia and the Pac-12?
• Whitworth: The Pirates lost one of their former assistant basketball coaches. Tom Clouse has the obituary for Bill Knuckles, who also was the head coach at Northwest Christian.
• CCS: The Sasquatch won the Northwest Athletic Conference award for the most well-rounded athletic program.
• Mariners: Scott Servais said it best after last night's 5-0 win, basically saying that's what good starting pitching will do for a team. In last night's case the pitching came from Taijuan Walker (weren't we talking about consistency earlier?) and the hitting for catcher Chris Iannetta. ... Leonys Martin is almost ready to return from the disabled list. ... The baseball draft begins today. It will be the first under Jerry Dipoto's leadership.
• Seahawks: The Hawks have hit it big recently with receivers who were either drafted late or not at all. Kenny Lawler hopes to join that list of standouts. ... We always seem to be able to find more on Marshawn Lynch. ... And then again, there always seems to be questions that need answers.
•••
• We are making a special guest appearance on the radio today, joining Dennis Patchin and Rick Lukens for a couple hours starting at 3 p.m. While we are talking sports, Keith Osso will be grilling something. It's sort of like any Sunday in the backyard, right? You can listen here if you like. Until later ...
---
---