Sun., June 12, 2016
If the yard work is done (or just put off), Saturdays can be great days for watching sports on TV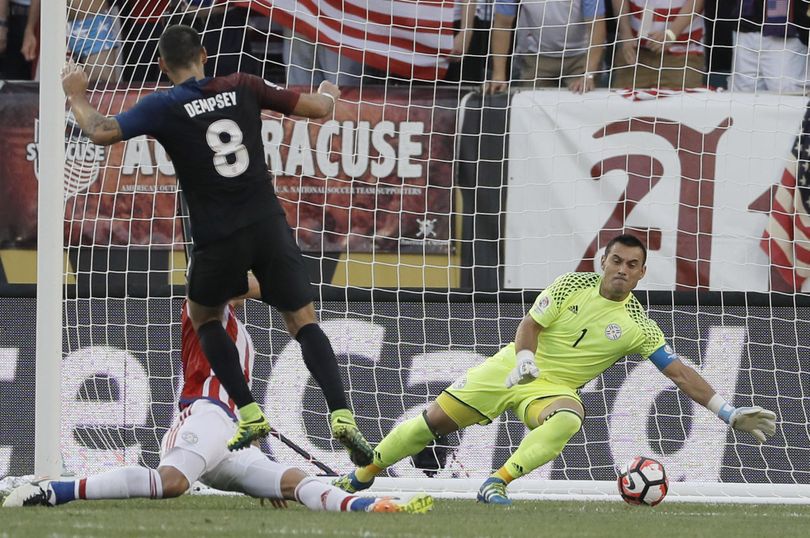 A GRIP ON SPORTS • Yesterday was a good day. In the sports-viewing world, at least. Read on.
••••••••••
• There is little better than having a full plate of sports to watch on a Saturday. Especially when college football season is still a couple months away. But there we were yesterday, glued to our television set. At least for a while.
• We spent the morning in the West Valley High gym, watching the best local prep basketball players fine-tune their skills. Why not? It's fun and the TV day was yet to really get going.
• After a nice lunch, in which we ran into an old friend from the Pullman days, it was time to sit in front of the box and doze. First up were quick snippets of the Women's PGA Championship from Sahalee Country Club, the big-time layout on the other side of the mountains. Now I've never played the course – when my game was good enough I never had the money or the connections; now that I have a little of both my game isn't up to that type of layout – but I've driven around it. No, I wasn't lost. I was killing time after a basketball game one time at Eastside Catholic School – if you have a chance, check it out sometime; it reminds me of a modern-day Hogwarts – and decided to have a gander at Sahalee, so I drove around it. Have done the same thing in the past with Augusta and Southern Hills. It's just another aspect of my quirky personality.
• The great thing about watching a Triple Crown horse race is it doesn't take much time – if you skip all the pre-race hype. I returned to the TV at about 3:30 to pick up the Belmont, the toughest test in all of horse racing. Kim stayed away. She's not a horse racing fan, feeling it's cruel to the animals and she continually worries one will break down. If she's in the same room, I can't enjoy the race as I'm afraid her worries will actually happen and, well, you know the old saying about happy wife, happy life? The converse is true as well. Anyway, I watched the Belmont alone and the horse I picked out of the blue, Destin, almost came through. If it had Steve Carell's "Foxcatcher" nose, it would have.
• Next up was the U.S. match with Paraguay, a crucial Copa America showdown with a quarterfinal berth on the line. If there is one sport I am thankfully my sons introduced me to late in life, it is soccer. It's never going to rise to the level of basketball or football or baseball or even major golf, but it's become something I enjoy watching, especially at the level it was played yesterday. Two teams competing all out for the same goal with only a single referee standing in the way. He was overmatched. No matter. The U.S. found a way to win, mainly because John Brooks played defense like Kyle Weaver used to at WSU. Nothing got by him. And Clint Dempsey found the net, a result that hasn't happened all that often this season in Seattle. He'll get a chance this week, though, to score a goal or two in his adopted hometown. With Costa Rica's upset of Colombia, the U.S. won its group and will play in Seattle on Thursday. One of my sons will be there. I'm a bit jealous. So, more than likely, is hometown guy DeAndre Yedlin.
• The last thing I watched yesterday? The Mariners' game. Thank goodness I was too worn out to stay up for the late innings. I might have been a bit, how should I put this, "frustrated." Or just plain ticked off.
• The weekend still holds some intriguing viewing prospects, what with the Stanley Cup game six this evening and tomorrow's game five in the NBA finals. The Penguins and the Warriors can clinch, but Golden State may have to try to do it without one of their star players.
•••
• WSU: Utah went far and wide to improve its recruiting class for the upcoming basketball season.
• Gonzaga: Kyle Wiltjer was named the 2016 WCC male scholar athlete of the year.
• Shadow: Both the men's and women's teams won home matches over Seattle yesterday.
• Mariners: The M's led 1-0 going into the top of the ninth. Closer Steve Cishek (pictured) got two outs. Then two strikes on Prince Fielder. Boom. Tie game. Two innings later the Rangers won 2-1. Ouch. No, double ouch. ... Top draft pick Kyle Lewis signed yesterday and will start the season in Everett. That means there is a good chance he'll play this summer in Spokane. ... Speaking of the draft, the M's, in a typical M's move, chose Trey Griffey in the 24th round yesterday. It seems a really cool thing to do, even though the youngest Griffey is a football player in college, not a baseball guy. But knowing the M's luck, some guy taken a couple spots later, a guy the M's passed on, will probably turn out to be the second coming of Babe Ruth.
• Seahawks: There are questions all over the offensive line. We will probably have to wait until the season is going to get answers.
•••
• Also squeezed in about an hour walk yesterday. Today I have to get the golf clubs out of storage, dust them off and hit a few balls. See if my back can hold up. I have a tournament to play Monday. God help the Deer Park course – and the houses on the right side of the fairways. Until later ...
---
---