Fri., June 17, 2016
When there is a conflict, pick the team you've rooted for the longest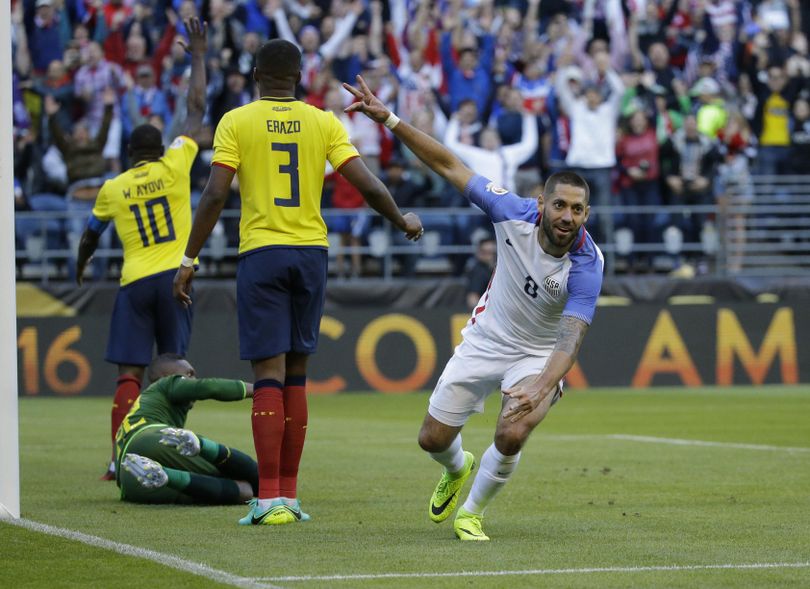 A GRIP ON SPORTS • Some nights this time of year there is little in the way of sports to watch, other than the M's of course. But last night the M's were already done and the evening still contained one event too many. Read on.
••••••••••
• Being a basketball fan, it is hard not to watch the NBA championship series, especially with a guy I watched practice and play at Washington State being a major factor. But being a patriotic American, it's hard for me not to watch our national team compete no matter the sport. Last night it came down to this simple fact: I've been an American longer than I've been a basketball fan, so I watched the U.S. team face our arch-rivals from South America, Ecuador, in the quarterfinals of the Copa America soccer tournament. OK, so Ecuador, the 13th-ranked team in the world, isn't our rivals. I'm pretty sure most people reading this would have a hard time finding it on a map without a LeBron James-like assist from Google. But this is a major international tournament. It includes the top-ranked team in the world – the most-likely U.S. semifinal opponent, Argentina. And there were more than 47,000 people in CenturyLink – including one of my favorite folks in the world – making enough noise to be heard in Issaquah. I knew my son Tyler would be texting me throughout the game, but little did I know he would send me a handful of video snippets that made me feel as if I was in attendance, without the $11 charge for a 12-ounce adult beverage – or whatever overprice the organizers decided upon. The videos supplied breaks in the tension, something I've come to realize is the lifeblood of the game. It's not the action that gets you into a soccer match, it's the worry. A tie match? Can we score? A 1-0 lead? Crud, they are only one well-placed strike away from tying. A 2-0 lead? If we let down a bit, they will score – and have all the momentum. All three score scenarios occurred last night. Clint Dempsey, playing in front of his professional team home crowd, scored the opening goal on a magnificent header (pictured, from the Seattle Times). He assisted on a goal that put the U.S. up 2-0 in the second half. But then all heck broke loose in the form of bad officiating – hey, this event and the one playing over on ABC had that in common at least – costing the U.S. the services of one player for nearly a half of this match and all of the semifinal. Our national team got there because, despite an Ecuadorian second half goal, the defense was stout enough to hold on to a 2-1 decision. Which means there is one more chance to wrap ourselves in the flag and root for Dempsey and Michael Bradley and John Brooks and the rest once more.
• There will be one more NBA game as well, though there is some debate if the league MVP will be part of it. Steph Curry was frustrated enough with the men in stripes he fired his iconic mouthpiece into the stands, which could have taken out someone's eye (thanks, mom, that's the first thing I thought of) and will certainly be on eBay today. Now the NBA will decide if he can play in game seven Sunday night. There has been precedent for suspending a player in the playoffs for throwing a mouthpiece, but that was at a referee – and wasn't Steph. So we will see if history repeats itself. By that, I mean if commissioner Adam Silver decides to determine the outcome of a game with a suspension (see game five and Draymond Green). Maybe Silver will suspend Curry for his wife's Twitter comments. Now that would be fun.
•••
• WSU: You a fan of the Pac-12 Networks? Well, commissioner Larry Scott seems to be. ... USC had a need on the defensive line. The Trojans found a graduate transfer to fill it.
• Gonzaga: There is a Jim Harbaugh connection to Gonzaga, in a roundabout way.
• Indians: The Northwest League season opens tonight with Spokane's starting pitcher hoping to show he's back on track. Josh Horton has the story. ... Everyone plays tonight and we have stories from Everett and Eugene as well.
• Mariners: Where would the M's be without Dae-Ho Lee? Well, that's not a season I would like to contemplate. The big first baseman drove in three runs yesterday as the M's held off Tampa Bay for a 6-4 series-ending win. ... The bullpen probably will not change. Say it ain't so Scott. ... Chris Iannetta doesn't like to sit.
• Seahawks: Pete Carroll is enthusiastic. He loves Russell Wilson. And he is also optimistic – I know, a shock, huh? – Thomas Rawls and Jimmy Graham will be ready for the season opener. ... Doug Baldwin may have a new contract by then as well. ... Former Hawk Derrick Coleman pled not guilty yesterday.
• Sounders: Speaking of the U.S. win, it was one coach Jurgen Klinsmann and his team desperately needed. The U.S. has fallen to 31st in the world and Klinsmann's job may have been on the line in this tournament. The team will find out its semifinal opponent in a couple days.
•••
• Vacation time is upon us. No exception here. Over the next few weeks we will be in and out of town, traveling for a variety of reasons. But thanks to miracle of the interweb, I'll still be here most mornings. I'll take some days off, but you'll get plenty of warning. And I will get plenty of In-N-Out burgers. Until later ...
---
---