Sat., June 18, 2016
If you have to be outside this weekend, make sure you figure out a way to bring your TV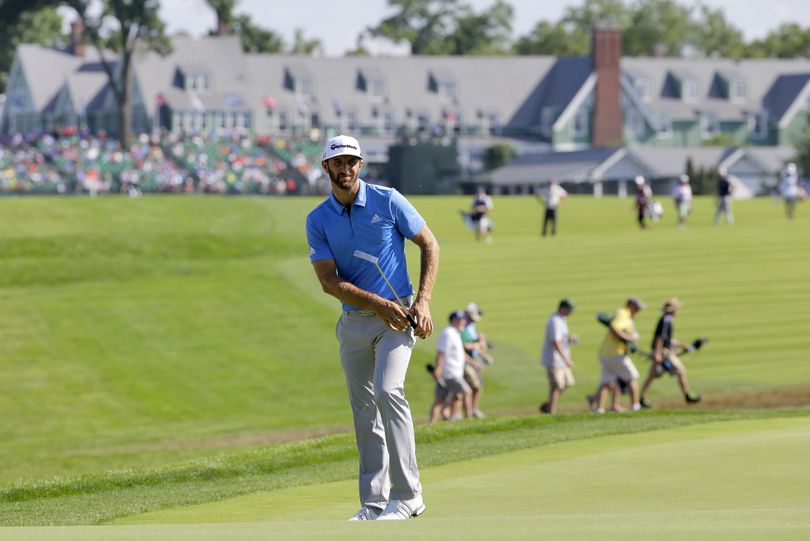 A GRIP ON SPORTS • What's on tap for your weekend? Is it as busy as mine seems to be? Read on.
••••••••••
• What is the best gift a mature dad can get on Father's Day weekend? For sure some "me" time in front of the television set. Let's examine what's on tap this weekend ...
• The highlight of my Father's Day weekends over the years has always been the U.S. Open. There was even the one year, 1985 actually, when a friend came over and we laid a backyard's worth of sod while listening to U.S. Open on my radio. Actually, we listened to the TV broadcast on the radio. You would hear the announcer say something about the length of the shot, there would be three or four seconds of silence, a clink would be heard and then some polite clapping. Riveting. Steve never let me forget it. We were listening to golf on the radio for goodness sakes.
• The Mariners are on both days, and both are day games from historic Fenway Park in Boston. I will say this for Boston baseball fans. I attended one game in Fenway years ago and my family was treated exceptionally well by those in attendance. They could tell we were as fanatical about the game as they were – Kim and I and our two young boys were decked out in Mariner gear from top to bottom – and they respected that. Besides, the Sox won. Handily.
• College baseball is also on this weekend, with the College World Series opening in Omaha today. As we've mentioned before, the West Coast was virtually ignored by the NCAA this year, with no one west of the Rockies hosting a regional or super regional. Yet UC Santa Barbara and Arizona advanced, giving the left side of the country a quarter of the College World Series participants. They both play today.
• If you are a soccer fan, today is packed. There are three matches from the European Championships on ESPN, two Copa America matches on fX and the Portland Timbers road match from Salt Lake City. Watching that last one at 7 tonight would mean one of two things: you are either a big Timbers fan or you are a little off your rocker. Just saying. If you really want to watch an MLS match, wait until Sunday and the house is empty. No one will know if you turn on the Sounders.
• Of course, if you do that, you'll either miss the end of the U.S. Open or the beginning of game seven of the NBA championship. Steph Curry will be playing, though his (and coach Steve Kerr's) wallet will be a bit lighter. A one-game showdown for the NBA title. Cool. I know many people are saying the Warriors' postseason struggles show they aren't as good as the 1995-96 Bulls, who won 72 regular season games and breezed through the playoffs. I would posit the rocky road proves the opposite. The NBA is better these days, top to bottom, and the Warriors, who were 73-9 in the regular season, have had to battle through three of the best players the league has produced in the past decade, Russell Westbrook and Kevin Durant in the Western Conference finals and LeBron James in the championship series. If they win Sunday night, they will have successfully completed the best season ever. If they lose? We'll talk about that tomorrow or Monday.
•••
• WSU: I like Saturdays for a lot of reasons and one is it is mailbag day at ESPN.com's Pac-12 blog. Thanks Ted. ... Boise State is playing two Pac-12 teams this football season, including the Cougars.
• Idaho: Lo and behold, the University of Idaho has extended football coach Paul Petrino's contract through 2020. That means he will keep his same salary even as the Vandals drop down a level to FCS football.
• Empire: We could have added the Empire game to our TV watching list above, but it's a local broadcast you can't catch outside of the Inland Northwest. Spokane (12-2) hosts front-running Sioux Falls (14-1) at 7, trying to make a statement before the playoffs. Jim Meehan has an advance of the game.
• Indians: Too bad the Indians aren't the Mariners' farm team. Then the blown ninth-inning lead in the season opener could be written off as just an organizational thing. Just kidding. But Spokane did lead by a run heading into the top of the ninth, only to fall 5-3 after Vancouver rallied. Josh Horton has the story. ... Defending Northwest League champion Hillsboro won its season opener. ... Eugene did as well. ... Everett fell at Tri-City.
• Golf: The Coeur d'Alene Resort has all new greens in place. They are in such good shape, even Jim Meehan doesn't have a problem with them. And we all know how much he hates putting.
• Mariners: One guy made all the difference yesterday. Well, two guys. Franklin Gutierrez homered twice and drove in six runs while Hisashi Iwakuma saved the bullpen by working seven solid innings in an 8-4 win. ... Wade Miley went on the disabled list with a sore shoulder and, a day after saying the bullpen would stay together, the M's made a couple changes there. ... The Seattle Times has a couple of baseball stories not to miss, including one on Ichiro and a special Father's Day piece.
• Seahawks: The off-season workouts are over. The Hawks ended mini-camp yesterday and don't get together again until training camp next month. Christine Michael hopes he showed enough to get another chance in Seattle. ... Tyler Lockett showed off his speed yesterday. ... Brandon Browner is showing something at safety. To quote a great American, I think I had that.
•••
• The road beckons. Is there anything more American than a summer road trip? Whether you are six or 60, driving down the interstate with the radio blasting, the sun in your face and your best friend by your side are the thing dreams are made of. And stories. Maybe I'll share a few. Until later ...
---
---