Thu., June 23, 2016
It's big night for a couple of Gonzaga players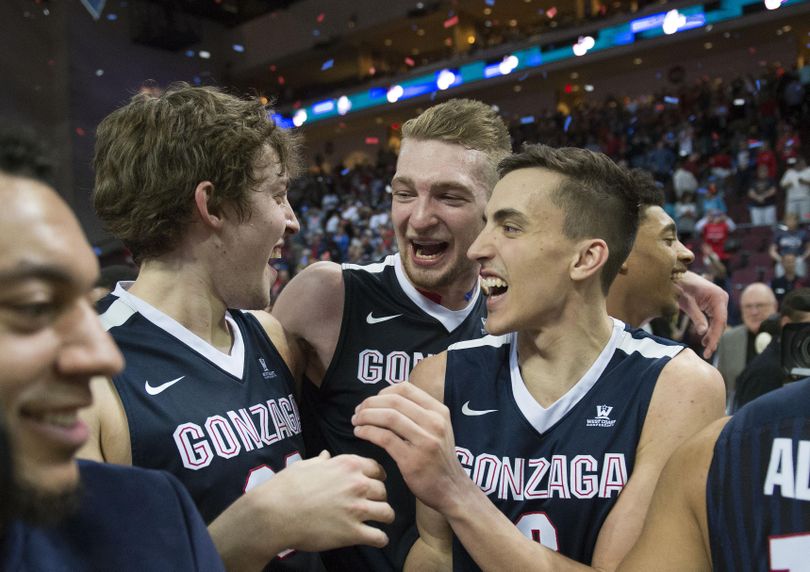 A GRIP ON SPORTS • OK, we lied yesterday. Well, what we said was true at the time. Circumstances changed. Anyhow, we are back today with a look at tonight's NBA draft and how it may affect the lives of a couple locals. Read on.
••••••••••
• Domantas Sabonis and Kyle Wiltjer expect to hear their names called tonight at the NBA's annual fashion/talent show. For Sabonis, his dream is sure be realized. It's just a matter of when. For Wiltjer, who began his college career at the NBA's Triple-A school, Kentucky, the chances are still good, but he'll have to wait a while. No matter. It isn't about getting drafted. It's about getting drafted by the right team, especially for Wiltjer. Sabonis has seemingly moved up the draft boards recently, which means he may be taken by a team that has struggled recently. That's OK. More opportunity. But there is a downside of being a high draft pick of a poor team: expectations. If too much is expected and the payoff isn't as quick as critics think, a career can implode. It's happened before. Even to Gonzaga products. But if Sabonis finds the right fit, a franchise that values toughness over flash, will over highlights, then he'll be fine. Heck, despite some flaws (eveyone has them), he's good enough he'll probably be fine no matter what. Wiltjer needs a bit more of a boost from his draft position. It would behoove him not to be chosen by a team that prizes athleticism, but feels one big outside shooter can be the missing link. Wiltjer's missing skills, ie., quick feet, will be exposed in the league, we all know that. But they really will be exposed on a team that has a bunch of guys who get after it. He needs a system he'll thrive within, one in which his inability to keep an opponent in front of him is less important than his ability to spread the court and give others a chance to operate. It's all about degrees. And positioning. Both players will find out where they stand sometime this evening. But that's for tomorrow. Tonight is about celebrating. Enjoying the moment. Fulfilling the dream. And wearing a really cool suit.
•••
• WSU: It seems like only yesterday the Pac-12 had moved into the big time financially. But the conference is now falling behind again. Larry Scott told San Jose's Jon Wilner how he intends to deal with that.
• Gonzaga: Jim Meehan has everything you need to know about Sabonis, Wiltjer and the NBA draft tonight from Brooklyn in this story. But we also found a couple other pieces to pass along.
• EWU: Portland State had a football player get in trouble recently. ... Weber State picked up a Pac-12 basketball transfer.
• Indians: Spokane not only lost a 3-2 decision at Tri-City last night, the Indians also lost a pitcher for the season due to injury. Josh Horton has the injury story. ... Eugene won last night, as did Everett.
• Olympics: Yep, it's that time again. Tom Clouse has a story on four area swimmers who will be at the Olympic trials, trying to earn a trip to Rio.
• Mariners: When we asked early this month if the M's would be over .500 at the end of June, most of you thought, sure, they'll be fine. Now that we've repeated the poll, a good majority of you think there is no chance. Could their June swoon, highlighted by the on-going five-game losing streak, have changed minds? Sure it has. The M's lost again yesterday in Detroit, 5-1. ... Larry Stone looks back at the career of long-time Seattle scout Bob Harrison.
• Seahawks: The Hawks this summer remind Dave Boling of the Hawks of 2013. That was a good year, wasn't it? ... How are the draftees stacking up?
• Sounders: Though the U.S. lost in the Copa America semifinals, there is always the third-place game against Colombia. Clint Dempsey will be there instead of in the Sounders lineup Saturday against New York. ... Real Salt Lake won yesterday while the L.A. Galaxy could do no better than a draw.
•••
• We did some work on our computer yesterday. And everything is running better. Plus, our internet connection is a bit faster. That's why we're here. And, yes, I know I said yesterday I wouldn't be. Sorry if I screwed up your schedule. Until later ...
---
---