From Sabonis to Hoopfest, the week has been pretty spicy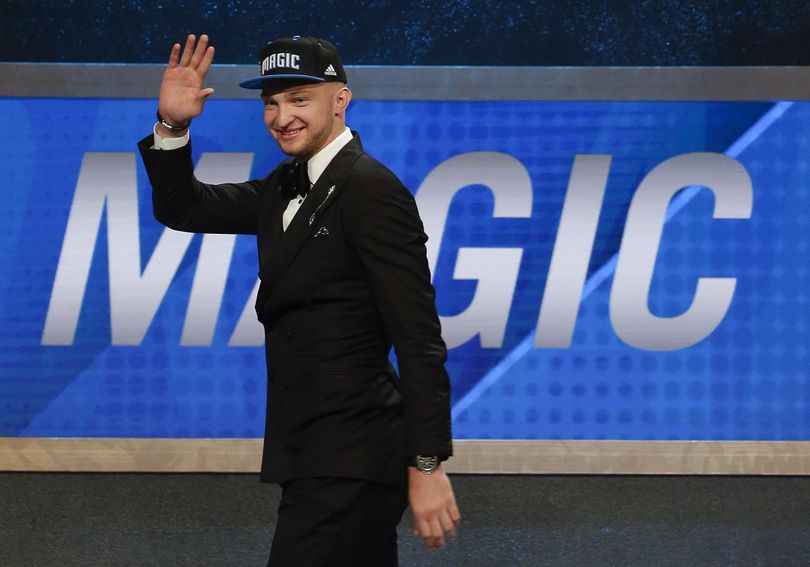 GRIP ON SPORTS • It may seem hard to believe, but there was a time when salt couldn't be used when it rained. Hence, the when-it-rains-it-pours saying. The post is a bit salty today. Read on.
••••••••••
• Really, magnesium carbonate in salt was a break through. It allowed salt, which up to then clumped up, to pour freely even when there was too much water in the air. Sure, it happened 100 years ago, but we still use the phrase today, don't we? And it's still true, even in its other iteration, signifying there is too much happening at once. That's the case today.
• Domantas Sabonis heard his name called early last night in the NBA draft, then became a pawn in a large trade. Or the king, it's hard to figure out which. Anyway, the Orlando Magic drafted Sabonis with the 11th pick of the first round. He then was part of a multi-player trade and ended up with Oklahoma City. It's probably a better place for him, especially if Kevin Durant sticks around. The Thunder values guys like Sabonis – Steven Adams and Enes Kanter have been doing the dirty work inside for them recently – and the presence of Russell Westbrook and Durant takes the pressure off everyone offensively. Meanwhile, teammate Kyle Wiltjer wasn't drafted but he did agree to a free agent deal with the Houston Rockets.
• The draft also produced some other Inland Northwest news – in a bad way. I didn't hear it, but it was widely reported ESPN analyst Jalen Rose got his Washington University's mixed up. Reportedly he credited UW coach Lorenzo Romar with Klay Thompson's development. No, Jalen, Romar didn't recruit Thompson. He attended the school on the other side of the state. And Sabonis didn't go to Seattle U. either.
• Why is it when the Mariners fall apart, the whole organization seems to join in? As the major league team's season sinks slowly in the West, outfield prospect Boog Powell was seen as insurance. Except he won't be available. He was suspended 80 games yesterday for PED use. It's nice to know performance enhancers aren't just for power hitters anymore.
• Hoopfest begins tonight in a couple of ways. The streets begin to close, the courts go up and, this year at least, there is a Gonzaga alumni game. Tom Clouse acquaints us in this story with the trash talk associated with the last one. I'm putting my money on Jeremy Pargo's team. I figured whomever picked David Pendergraft would win. Besides, Pargo's team includes Hoopfest director Matt Santangelo, so there is probably a bit of a homecourt advantage inherent there.
•••
• WSU: The Cougars yesterday announced an addition to their football schedule down the road. Well down the road. They will face Kansas State in Manhattan (Kansas, of course) in 2026 and in Pullman in 2029. Jacob Thorpe has more in this story and blog post. ... A defensive back has committed to WSU. Jacob has the particulars in this blog post.
• Gonzaga: Besides Sabonis being drafted and Wiltjer signing as a free agent (covered in depth in Jim Meehan's story), the Zags had some other personnel news yesterday. As expected, graduate transfer guard Jordan Matthews will be in Spokane next season. Jim also has this piece on the former California player deciding to attend GU.
• EWU: Former Eastern quarterback Vernon Adams is adjusting to the CFL. ... Another Big Sky player was taken in the NBA draft.
• Idaho: Another Olympics, another chance for Vandal Kristin Armstrong to win a cycling medal.
• Indians: Spokane turned up the offense and held off Eugene 11-9 in Oregon last night.
• Empire: OK, so no. The Empire's defensive coordinator was not a double for the Rock recently. Jim has the story.
• Mariners: Losing game after game is one thing. But discovering different ways to lose them is another. The M's have been creative at least. Yesterday, in their getaway game in Detroit, they hit four solo home runs – two from the slumping Nelson Cruz – but lost 5-4 in 10 innings when Steve Cishek wild-pitched home the winning run. And, by the way, the scheduled starter, Adrian Sampson, was injured in warmups.
• Seahawks: In what's becoming an offseason staple, Bob Condotta answers more of your questions. ... How many new receiving targets does Russell Wilson need?
• Sounders: This hasn't been the Sounders' best season, But it's almost July and the club hasn't made a coaching change yet, so there is that. ... They are still the MLS' most successful expansion franchise in almost every measure. ... Jordan Morris is learning how to be a professional.
•••
• Calcium silicate is now used in table salt to keep it moving in rainy weather. Just thought you would want to know. Information for life. Until later ...
---
---