Sun., June 26, 2016
To reach the pinnacle you have to be able to change with the times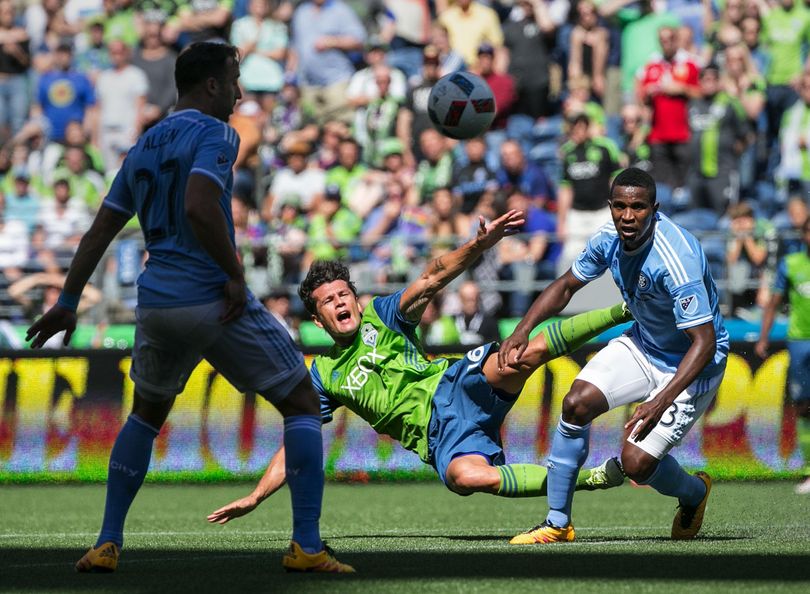 A GRIP ON SPORTS • "Big time" means a lot of things to a lot of people. To some, it has a negative connotation, as in "he big-timed me." To others it means having reached the pinnacle. It's the latter we are concerned with today. Read on.
••••••••••
• To give you an example of the latter, we present Hoopfest. Anything that is the biggest in the world is probably, by definition, big time. The world's largest three-on-three basketball tournament began yesterday and finishes today. But even though we wish Hoopfest was the subject today, it isn't. Nope, we're going a little farther afield, to a sport in which using your hands is not only frowned upon, it is illegal. Except when it isn't. Soccer really wants to be big time in this country, as it everywhere else in the world. The biggest time, actually, from Germany to Peru, from Ghana to Great Britain. But here, even at its highest level, it is decidedly second-class. In 2016, we have come to expect certain things from our professional sports. We want the best athletes to play against the best. Winning is always important, with playoffs more so than the regular season. And we expect those who adjudicate the sports to do a good job. If they can't, we now expect any means needed to be used to "get it right." The MLS, the top level of professional soccer in our country, understands all those things. The league also understands it will never have the best of the best playing here. There isn't enough money to make that happen. But the powers that be in the MLS office get that Americans want playoffs. In most professional leagues worldwide, the long season determines the champion, not some condensed two-and-out playoff system. That's reserved for competitions between leagues. That mentality doesn't fly here, so the MLS has a playoff system that determines its champion. It's a change made to accommodate the American appetite. Which makes it even harder to understand the league's reluctance to join every other U.S. professional organization – and major amateur entities as well – and embrace video replay. Sure, international soccer has disdained the use of 21st Century technology, preferring to keep its sport in the 19th – in more ways than one. But that doesn't fly here. You want to be considered "big time," you better have a replay system in place. Heck, even major league baseball, until recently the most tradition-bound sport in the world, has embraced replay for some plays. But the MLS still doesn't get it. Replay is expected. It's also needed, as yesterday's 2-0 loss by the Sounders showed. Late in the first half, New York City FC scored to give it a one-goal lead. Except the goal came courtesy of Frank Lampard's left arm. That, in case you didn't know, is a no-no in the self-proclaimed beautiful game. None of the four officials on the CenturyLink turf saw it and, to be fair, it was tough to determine in real time. But the 47,537 in the stands knew the truth. They saw it on the video board. And yet, even if referee Alan Kelly had looked up, saw the angle that showed the ball hit Lampard's left arm and change direction into the net, he couldn't have changed his decision. Nope, getting it right isn't the goal. According to the administrators of soccer worldwide, they either a) don't want to take the human element out of the game or b) they don't want to introduce something that breaks the flow of the on-field action – depending on what day you get an explanation, if you get one at all. They don't give you the real reason, which is c) it costs a lot and they don't want money going toward video systems instead of bribes. That isn't the reason here, of course. Soccer folks, like baseball folks for years, are just afraid of trying something new. Yet video replay wouldn't take the human element out of 99 percent of calls. It's just that goals are so rare, each should be reviewed before the ball is brought to midfield for play to resume. If there is no discussion, it should take only seconds to make the determination. And if, as was the case yesterday, there is a question, the review wouldn't take any longer than what happens currently, discussions between the main referee and his fourth assistant as each of them try to figure out what they saw. Meanwhile, behind them on a video screen the size of Rhode Island, the truth is being displayed for everyone else to see. The MLS has introduced innovation to the soccer world before. You know that can of foam the referee uses to set up kicks following a foul? That started here. Now just about everyone around the world uses it. If the major world competitions and leagues don't want to use replay, so be it. But here, we need it. The MLS needs it. It does if it ever wants to be considered big time.
•••
• WSU: The Cougars are reaching far and wide for football recruits these days, receiving a commitment yesterday from a defensive lineman from South Florida.
• Indians: Spokane lost its second consecutive game at Eugene, this one 5-4. ... A long-ago Indian player died recently.
• Empire: Injuries can be overcome. So can turnovers. But mix the two together and it's like a bad entrée on "Chopped." You aren't winning. Such was the case last night in Billings as the shorthanded Empire turned the ball over five times in a 35-21 loss to the Wolves.
• Shadow: The Shadow women moved into first place in the Northwest Premier League with a 4-0 win over the Twin City Union.
• Chiefs: Forward Hudson Elynuik was drafted in the third round by Carolina yesterday.
• Preps: Though boxing isn't a prep sport, a couple of Lewis and Clark students are headed for the Junior Olympics. Tom Clouse has the story and Dan Pelle has the photographs.
• Mariners: The M's have won two consecutive games, including yesterday's 5-4, hang-on-to-your-cap win over the Cardinals. The highlight (lowlight?) of the game was when a seemingly inebriated fan ran onto the field and almost caught a fly ball. No, I wasn't in Seattle yesterday but thanks for asking. ... It's been obvious for a while but the M's are going the wrong way in the standings. That's tempered our enthusiasm a bit, hasn't it? ... The jinx seems to also have struck a member of the pitching staff.
• Seahawks: The Hawks will have some sleepers at training camp. They always do.
• Sounders: The missed hand-ball call on NYFC's first goal wasn't decisive by itself, of course. The Sounders lack of urgency and inability to put the ball in the net were much more important. The former earned the disdain of team captain Brad Evans. It makes you wonder how coach Sigi Schmid can keep his job. ... Nelson Valdez isn't fit enough to keep his starting spot. ... San Jose and Los Angeles played to a 1-1 draw. ... FC Dallas shut out Real Salt Lake.
•••
• OK, I'm pretty sure you didn't expect a soccer column today. And, if I was writing one, you probably would have put your money on me pontificating about the U.S. team's 1-0 loss to Colombia in the Copa America third-place game. Sorry, but sometimes I like to keep you guessing. Until later ...
---
---