Wed., June 29, 2016
Another day, more news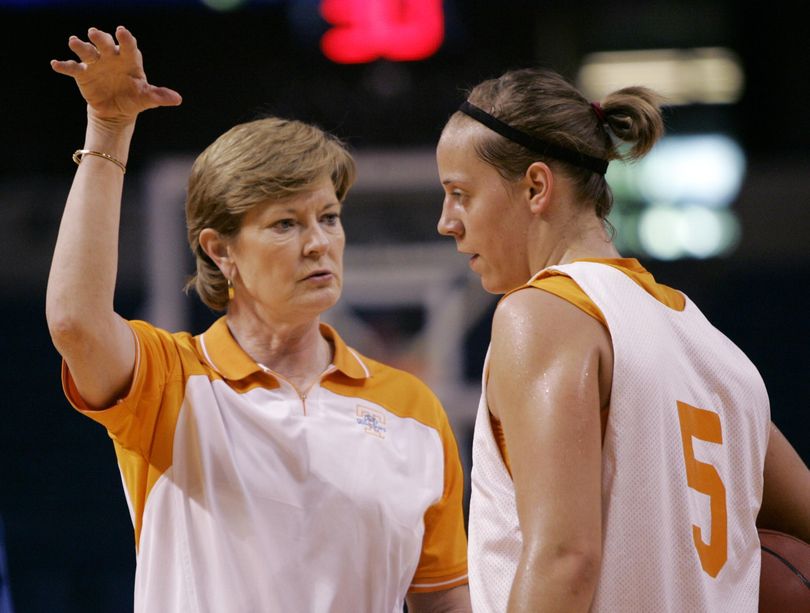 A GRIP ON SPORTS • You step away for a day and some important things happen. Read on.
••••••••••
• One of the legends of women's college basketball, Pat Summitt, died early Tuesday, but the 64-year-old was more than that. She was the most successful college basketball coach in the country for a stretch, male or female, and someone who helped lift the women's game to the heights it is at today. She also came to Spokane at least a couple times, once for the AAU national tournament and the other to recruit quite possibly the best high school player this area ever produced, Angie Bjorklund. I had a chance to talk with her a bit that latter time. She displayed an accent that took me back to my youth, to summer weeks during my high school years spent in Eastern Tennessee. A friend was attending college in Dayton, the town that hosted the Scopes Trial, and I visited him twice for long stretches. Sports are a big deal in that area for boys and girls, and Summitt was a product of that. Nothing was off limits for her athletically and she carried that anything-is-possible attitude throughout her career. She should still be coaching, but the scourge of Alzheimer's disease took her from that arena a few years back and ultimately took her life. She will be missed.
• The Seahawks went all in with Doug Baldwin yesterday, giving the former free-agent wide receiver a four-year contract extension worth a reported $46 million, more than $24 million of that guaranteed. If there was anything positive for the offense coming from Marshawn Lynch's retirement, this is it. The money freed up when Lynch called it quits made it that much easier for the Hawks to keep Baldwin and not lose him as they did with Golden Tate a few years back. Baldwin was as good a receiver as there was in the NFL the second half of last season. With the extension, Hawks fans are assured of seeing if he can be that good for the next five years.
•••
• WSU: Tom Clouse caught up with the local Division I women's basketball coaches yesterday and talked with them about the influence Summitt had on their careers. ... The Pac-12 once again showed well in the NBA draft.
• Empire: Spokane signed a defensive lineman yesterday as they rest and await their playoff opponent.
• Chiefs: The Chiefs drafted two Czech players yesterday and, if you are old enough, you may wonder of they are "two wild and crazy guys." ... The WHL schedule was announced Monday and Tom has that story.
• Indians: Spokane is suffering through a five-game losing streak. Josh Horton has the story on the Indians' loss Tuesday to Everett. Josh also had this feature on a couple of Indian players who went from college roommates to minor league roommates.
• Golf: The Fairways will be a bit tougher for the participants in next week's Lilac Invitational. Jim Meehan has the story.
• Mariners: Hisashi Iwakuma pitched well, Nelson Cruz launched a home run and the M's won again, moving a game over .500. The 5-2 win opened a home series with the Pittsburgh Pirates. ... Nathan Karns has six wins this year but he's now in the bullpen, making room in the rotation for a healed-up Taijuan Walker and newcomer Wade LeBlanc.
• Seahawks: As we said, Baldwin will be making a boatload of money down the road. ... The guy the Hawks signed yesterday to compete for the long snapper spot won't be making quite as much.
• Sounders: It's been a bad MLS season, but the Sounders will continue to play in the U.S. Open Cup after they defeated Real Salt Lake on the road in a shootout.
•••
• Another day of driving, today through Oregon and Eastern Washington. When it's over, though, we will be home. Until later ...
---
---