Thu., June 30, 2016
A quick stop and some quick hits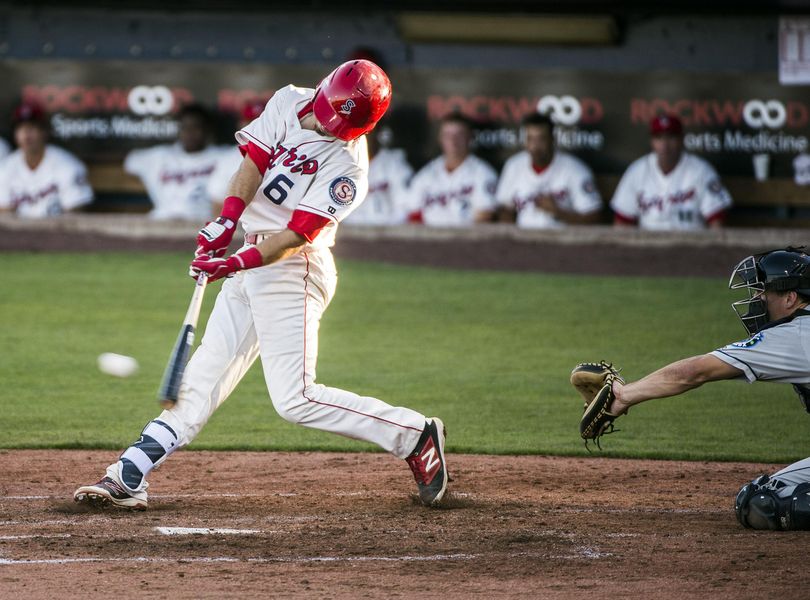 A GRIP ON SPORTS • We're back in Spokane. And it's good to be back. But we're only here for about a week. So, in that time, there is a lot to catch up on. Lets get started. Read on.
••••••••••
• Usually when we return from being away, there are more dead to worry about than the most recent episode of Game of Thrones. In our case, plants. But, thanks to the efforts of one of our sons, we came home to a green house. And an over-grown yard, but that's another story. And another son's responsibility. Anyway, it's nice to back on the big computer, where the internet is fast and the autocorrect accurate.
• The Mariners lost a game last night – and a backup catcher. Now the question is, will they stick to their plan and leave Mike Zunino at Tacoma or bring him back to catch once a week at the big league level? The decision will cast a light on two elements at once, no matter which way the M's go. If Seattle decides to leave Zunino at Triple-A, can we say Jerry Dipoto is willing to stay a course he said before the season would be the best for a player still bursting with potential? Or would the decision be made because Zunino hasn't shown enough to merit a call-up? (Despite hitting .282 with a team-high 15 home runs and 51 RBIs, Zunino has still struck out 62 times in 248 at-bats.) If Zunino is recalled which way do we go? Do we chastise Dipoto for changing his mind mid-stream or do we praise the ability to recognize Zunino has made the necessary adjustments? It seems smart to leave Zunino where he is, as he's not going to be the regular catcher – Chris Iannetta has that job – and playing every day is the best thing for his future.
• Now that Doug Baldwin has signed, the next big Seattle free agents on the horizon are coach Pete Carroll and general manager John Schneider. Does the duo remain (they have one year left on their contracts)? It would make sense to say yes and move on, but it's not all that long before the season is to start and owner Paul Allen hasn't announced anything yet. Maybe that's by design. Maybe one or the other is asking for new duties or way too much money (though, with Allen's resources, "too much money" seems to be second cousin to an oxymoron). But more than likely there will be a press conference in the next couple weeks announcing contract extensions. And Carroll will retire a Hawk.
• Is there anything more traditional than baseball on the Fourth of July weekend? The Indians will be in Vancouver (that's in Canada, folks) for the weekend but cross the border in time to host Boise for a fireworks night on the Fourth itself. If you need a baseball fix – and half-burnt hot dog while your body is roasting in some aluminum stands – than there is the annual wooden-bat tournament hosted by our local American Legion teams. Now that's traditional.
•••
• WSU: The Pac-12 has no plans to expand, according to commissioner Larry Scott. ... There will be fewer late night football games this year, but California hasn't found that to be true yet.
• Preps: Liam Bell helped Gonzaga Prep win a 4A state title last fall. Now the quarterback will say goodbye to high school football with an all-star game appearance. Greg Lee has the story. ... A G-Prep swimmer just missed the finals at the Olympic Trials. Tom Clouse updates us in this story.
• Indians: Spokane's five-game losing streak is over, as the Indians got past Everett 9-3 last night. Josh Horton has the story. ... Tri-City and Eugene both won on Wednesday.
• Mariners: Wade Miley returned from the disabled list but success didn't come with him. The left-hander was battered by the Pirates in an 8-1 Pittsburgh win. ... Steve Clevenger took a foul ball off his right hand and broke a bone in his wrist. He's headed for the disabled list. ... Ken Griffey Jr. is on Sports Illustrated's cover again. ... Felix Hernandez has changed his look again. ... The M's made some roster moves up and down their minor league teams.
• Seahawks: Like any contract, Baldwin's deal has some devilish details. ... Is Baldwin this generation's Steve Largent? ... Now that Andrew Luck has the biggest contract ever, Russell Wilson has moved down the quarterback salary pecking order one spot. ... The Hawks have depth at a few positions.
• Sounders: Nelson Valdez and the Sounders are stuck together. ... Portland had a U.S. Open Cup run set up at home – until it lost last night at home to the L.A. Galaxy.
•••
• I thought we left the hot weather in California. I was wrong. Again. Until later ...
---
---