Thu., March 3, 2016
There are a lot of lessons that can be learned in – and out – of the classroom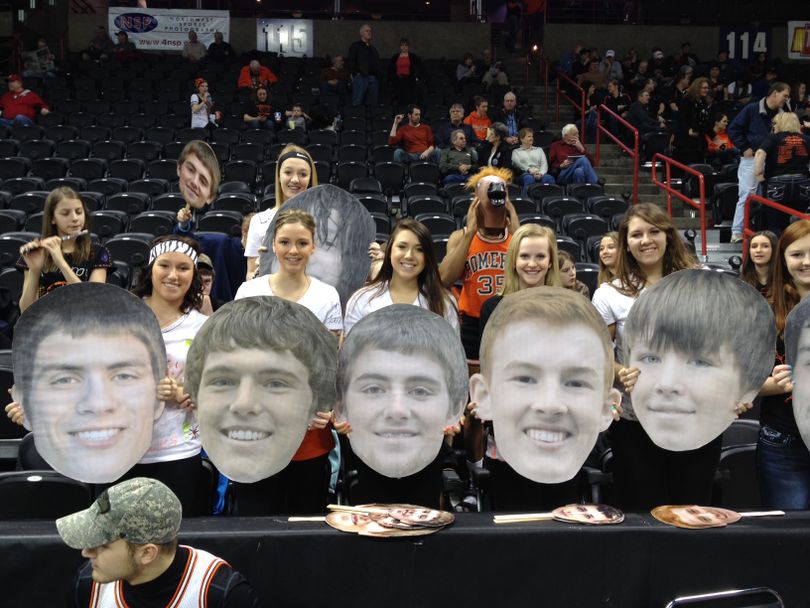 A GRIP ON SPORTS • Back in the early 1960s, the nuns at my Catholic grade school used to use a cartoon character to get us to do our work. "Busy" was a bee (Busy Bee, get it?) that was supposed to make us want to knuckle down and get our work done. This time of year I do believe we just told old Busy to buzz off. Read on.
••••••••••
• I'm grateful for a lot of things my father did for me, but none more than his feelings about school. It was important and all that, but as a Depression child who survived a world war, it was never more important than living life. And life was made up of, in my dad's eyes at least, experiences. Homework, get it done. Reading books, great. A sunny spring day in Palm Springs watching the Angels? Even better. Dad understood a kid could learn a lot of math trying to figure out a batting average, sure, but that wasn't why he would take me out of school for a week each spring. Nope, he took me out so that we could bond. My dad's dad died when he was less than a year old. There was no father figure in his life. He wasn't going to let that happen to us because I was too busy in school or he was too busy at work. We didn't have a lot in common – you know that book thing? I always had my head in one, even, say, while pops was trying to get me to fish with him – but one thing we did share was a love of sports. Baseball in particular. So when the other kids were trying to figure out what the heck a gerund was, I was chasing foul balls in the desert. Standing in line with him for a hot dog. Waiting patiently for an autograph. You know, living life. And why would I think of that this morning? Partly because the Mariners played their first spring training game yesterday (they won 7-0 so you might as well make your World Series reservations now), but mainly because I'm headed down to the Arena later today to cover some B basketball. I know a St. George's eighth grader who, last week, was really rooting for the Dragons to make the tournament. Not just because, you know, it's his school and all, but also because, if both teams earned berths, he would be excused from class so he and his friends could watch games. He was not alone, I'm sure. All over the state there are kids who will not be in school today. Instead, they will be with their peers cheering on their classmates as they compete for a State basketball title. To me, that's having your priorities in order. Kids work hard at school, laying a foundation for their life. It's important. Crucial, in fact. But so are life experiences. They shape who we are. Maybe I would have made something more of my life – waiting to hear today, perhaps, that I've been nominated for the Supreme Court – if I hadn't skipped a few days each spring to watch the Angels boot ground balls. But I wouldn't have the still-bright memory of winning the race for a Bobby Knoop foul ball. Or how happy my dad was when I showed him Joe DiMaggio's autograph on my game program (in case you were wondering, Joe D. was an A's assistant coach then). I still have that ball. And the program. And the memories. And the ability to figure out a slugging percentage. None of which would have happened in math class. Well, the last one, sure. So, see, school is important for kids. As is what happens outside of it.
•••
• WSU: The regular season ended last night in Seattle. It ended with a bang – from Washington's Andrew Andrews, who scored a career-high 47 points. It also ended with a whimper – from the Cougars, who finish this part of the year on a 16-game losing streak. Next up is the Pac-12 tournament. Of course, Jacob Thorpe was at UW and he has a game story and video of interviews with Ernie Kent and a trio of WSU players. Jacob also has his weekend preview, which actually covers next week's game. ... Jim Allen has a feature on senior guard Dawnyelle Awa as the Cougar women begin the Pac-12 tournament today. ... Elsewhere in the Pac-12, UCLA lost at home to Oregon. The win not only clinched a share of the conference title for the Ducks, it also led to this column. The Bruins are not doing well. ... USC is, and the Trojans got past Oregon State last night. ... Jacob also wrote this blog post yesterday on WSU's football coaches receiving raises, linking Stefanie Loh's story in the Times.
• Gonzaga: The women open the WCC tournament tonight in an unusual spot for them: the fifth seed. Jim Meehan has an advance of their first-round game with Santa Clara. ... Jim also has his weekend preview for the men. ... Just about everyone knows the WCC may be a one-bid league this season, so winning the tournament is crucial. Even if you have the player of the year. ... The Coeur d'Alene Press has a feature on Georgia Stirton, who played at NIC.
• EWU: Bogdan Bliznyuk may have an unusual name, but that's all right. He also has an unusual game. Jim Allen tells us more in this feature on Eastern's sophomore big man. ... Jim also has his weekend preview. ... The Eastern women lost on the road at Idaho State.
• Idaho: Sean Kramer has his Vandals' weekend preview as well.
• Chiefs: The playoff race is getting higher for Spokane and not in a good way. The Chiefs lost 5-0 last night in Kamloops. ... Everett's owner gambled and won.
• Skating: The European team for the Team Cup Challenge was announced yesterday and Tom Clouse has it covered.
• Preps: The State tournaments begin today on both sides of the border – only the boys, however, in Idaho – so there is a four-page section devoted to the contests in today's paper. Greg Lee has the Idaho tournaments covered, as well as this feature on the 4A and 1B boys who are looking to pull off a pretty neat double. ... Greg also has a feature on Central Valley's Cameron Tucker, another on CV's young starters on the girls' side and a story on Mt. Spokane's amazing season. ... Sean Kramer covers the 2A with a feature on Clarkston's Trevon Allen while Steve Christilaw has a story on East Valley's Hannah Burland. ... in the 1A ranks, Steve writes about Freeman's Ryan Maine. ... From the Bs, Jim Allen covers the family nature of Northwest Christian, Mike Vlahovich introduces St. George's Hailey Higashi and Josh Horton writes about the last in a long line of Mosers for Colton.
• Seahawks: We are on No. 9 in the Hawks' free-agent countdown. ... Kam Chancellor had an interesting experience last evening.
• Mariners: OK, so the M's won. James Paxton survived. And we got our first look at Cuban outfielder Guillermo Heredia. ... Robinson Cano is onboard with the new rules concerning sliding at second base.
• Sounders: It isn't easy to win in Mexico City and the new-look Sounders couldn't get it done. They lost 3-1 and are eliminated from the Champions League. ... Real Salt Lake was also eliminated after a 1-1 draw.
•••
• I know you're busy. We all are. But if you want to build a few memories, grab you son or daughter and take in a State game with them. Maybe 50 years from now they will write about it. If anybody is still writing. Until later ...
---
---